Are you in search of the best website hosting service provider for your organization or individual webpage or website? Hosting will enhance your website, as well as improve your performance. That means you have to transfer your website to a hosting company.
You may have heard about WordPress from friends and families. WordPress is a free-to-use content management system that doesn't offer hosting services. However, you can use it if you take care of your own hosting.
The article will provide you with in-depth information about factors you should consider when choosing a web host, the best hosting companies in the UK, and how to switch from one web host to another.
What Is Web Hosting?
Web hosting refers to the storage service offered by hosting providers. The web host assigns you a space on a web server, thus allowing your website to store its data and content there. That means your website will be available for viewing online, including its images and code. Therefore, all websites are hosted on a server.
The amount of space that web hosting provider will allocate your website will depend on the type of hosting you want. Some of the common types of hosting are dedicated, shared, reseller and VPS. They all offer different hosting services based on the level of management they are offering you, the type of technology being used on their server and the extra services they are willing to provide their customers.
In summary, web hosting is like renting or acquiring a house or space for your website on the World Wide Web. You have to get this space on a server to allow content such as CSS, HTML and images to visible online.
A server connects your site to other websites and users around the world. However, this connection is only provided by a web hosting service provider for they have those servers, associated services and connectivity that is needed to host websites.
Therefore, these companies can serve a wide range of companies starting with a small blog to an iconic brand. They are able to cover a wide range of hosting needs. For that reason, you need to understand your hosting needs before approaching a website hosting provider.
Define Your Hosting Needs
What are your business's hosting needs and goals? Understanding your needs will help you when selecting a web hosting provider.
You should also incorporate both short-term and long-term goals. For instance, your website might not be having high traffic levels because it's a startup. However, your business might experience significant growth which requires you to migrate in order to retain the service levels. This migration is very costly; therefore, you need to factor in long-term plans as you source for hosting services.
You can determine the type of services, servers and site architecture that is needed by establishing your needs first. The following are questions that you should ask yourself.
What type of website are you creating for your company- will it offer most of your company's information, or will it need additional interactive features?
Which platform will you use? For instance, WordPress.
What are the functionalities that your site needs-will the private and secure information be transferred and is the customer database available?
How much traffic are you expecting- will your blogs or eCommerce attract a huge traffic growth?
Will you scale up when your business grows?
Will you have other websites that will require hosting thus the need for several subdomains for your site?
Do you have software integration with third-party software?
Will your site require any special coding like java, php or net among others?
Is your business growth pegged on your website? This will determine the impact of downtime on your revenues
How many pages does your site need?
Will your site require email hosting as well?
You must have realized that most of these questions touch on your business's growth and technical requirements. Answering these questions correctly will help you determine the features of an excellent hosting plan for your business website.
Factors to Consider When Choosing the Best Web Hosting Provider
Server Uptime: Web hosting server should be available 247 for you don't want your site to go down now and then. Therefore, you should select a web host that has a powerful server, stable network connections and good hardware.
Further, the hosting service provider should have an over 99.5% uptime score and don't accept anything below that for your web hosting. Other factors that you should consider are daily back-ups, RAID protected storage and bandwidth.
Scalability Options: A shared option is the best hosting plan for a new website for it will be less expensive as your business grows. The option will sustain an adequately optimized WordPress site with more than 35,000 visitors.
Nonetheless, the plan should have upgrade options before signing up. Your start will grow, and you will be required to upgrade to a dedicated or VPS server that has higher memory capacity, disk storage and security features and processing power.
Customer Service:You won't be happy waiting in a queue for long when you are experiencing problems. Therefore, choose a web hosting provider that has superior customer service.
Specific WordPress Services:there are two options. A Linus Hosting server that has PHP will be able to support your WordPress needs. On the other hand, you can opt for a web host that offers specific WordPress hosting services like WordPress optimization, patching or virus removal.
Site Backups: Your website my crash when a hacker interferes with the entire database, or it may become inaccessible to your users. Thus your web host should perform site backups regularly for this is what will help you restore the site after a crash.
Refund policy: Your web hosting provider should have a trial period that will help to judge their services before continuing. On the other hand, your account will keep running once the trial period is over. Therefore opt for those web host companies that don't require payment information during a trial to minimize chances of applying for a refund. More so, you can choose a company with a favorable refund policy
Email Features: You can select a provider that has an email option, spam, malware, and virus protection.
Types of Web Hosting
There are many options of hosting your site based on your needs, storage capacity, server reliability and speed as well as technical knowledge requirements. They include;
Shared Hosting: It's an excellent option for startups since there is limited traffic on their site. Therefore, your website is hosted together with other websites. They all share the available server resources like CPU, RAM and the cost of hosting is lower when compared to different types of hosting. You will also access other tools like WordPress hosting,website builders and emails.
Dedicated Server Hosting: The option gives you control of the server that hosts your website for you are renting it exclusively. The host server contains your website alone; you have full admin and root access, operating system and security.
However, this control has a price for it's the most expensive web hosting services. For that reason, this type of hosting is used by well-established companies with high traffic levels and in need of absolute server control. More so, the option requires adequate technical expertise during installation and maintenance.
Virtual Private Server (VPS) Hosting:The option lies between the shared and dedicated hosting. It's ideal for websites that demand more control but not from a dedicated server. Therefore, each website has its own space since multiple sites share the same server.
However, the option gives you additional services such as more storage space and customization. The option is not able to handle increased traffic levels due to the influence of other sites sharing the same physical server. It's mostly used by companies that need a dedicated hosting but lacks adequate Technic knowledge.
Cloud Hosting:it's the new technology in the market. In this option, several computers run applications via a combined computing resource. That means that there is no need for building or maintaining your computing infrastructure because you can access several resources that are spread across different servers. This reduces the chances of downtime as a result of a server malfunction. The option is also scalable, and the users pay for what they need.
Reseller Hosting
It's an arrangement where a website owner uses his allocated bandwidth and hard drive space to accommodate the website of a third party. Therefore, the initial account owner serves as the reseller in this arrangement. The option is only applicable when the allocated resources can be shared, and the amount of space that was purchased is more than what the website owner requires.
Thus, a web host can offer particular reseller such an option to accommodate those businesses interested in providing such services. The option is also applicable to account owners with multiple domains.
Best Web Hosting Companies
There are several web hosts companies in the market. They include:
Bluehost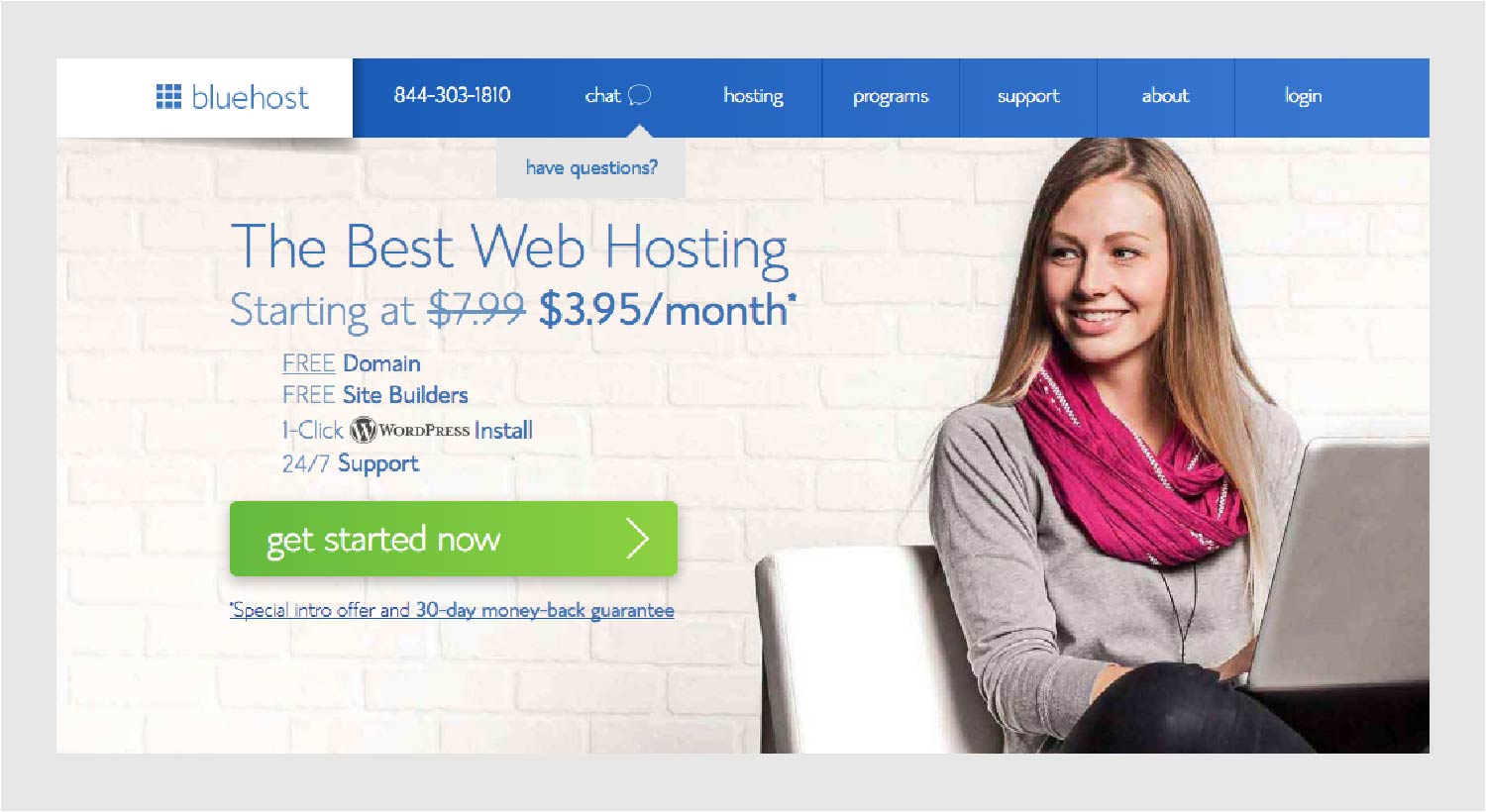 The Utah-based web hosting services provider has been in operation since 2003. The web host provides website owners with three hosting options, namely, shared, dedicated, and VPS hosting. The host has several innovative ways of delivering services to its customers.
You are guaranteed of 24/7 support services from its trained experts, WordPress installation in all of its three plans, refund policy and marketing tools and services to enhance your website's global reach.
Cloudways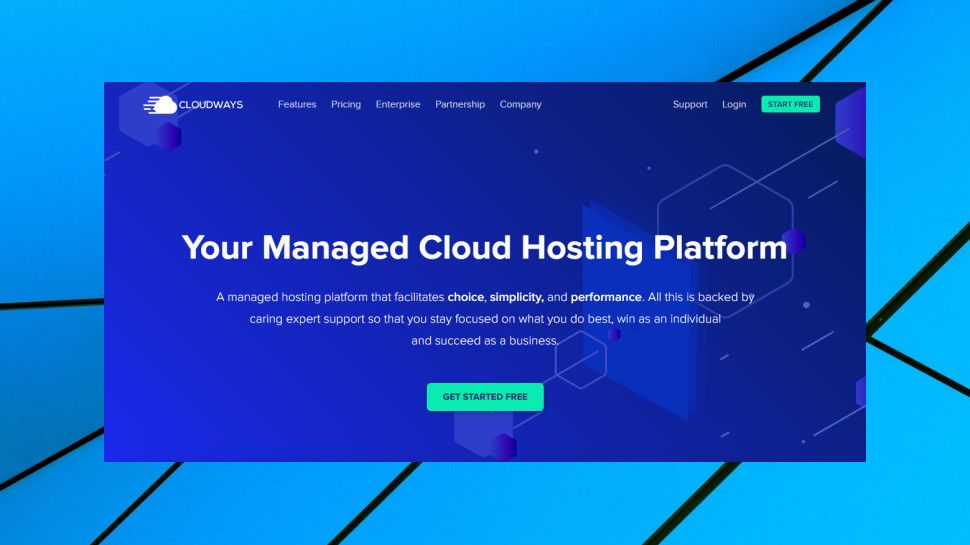 The firm is a cloud hosting platform that offers eCommerce business and digital agencies choices and flexibility. The cloud host has 5 innovative control panels, unlimited applications, and all PHP apps supported.
DreamHost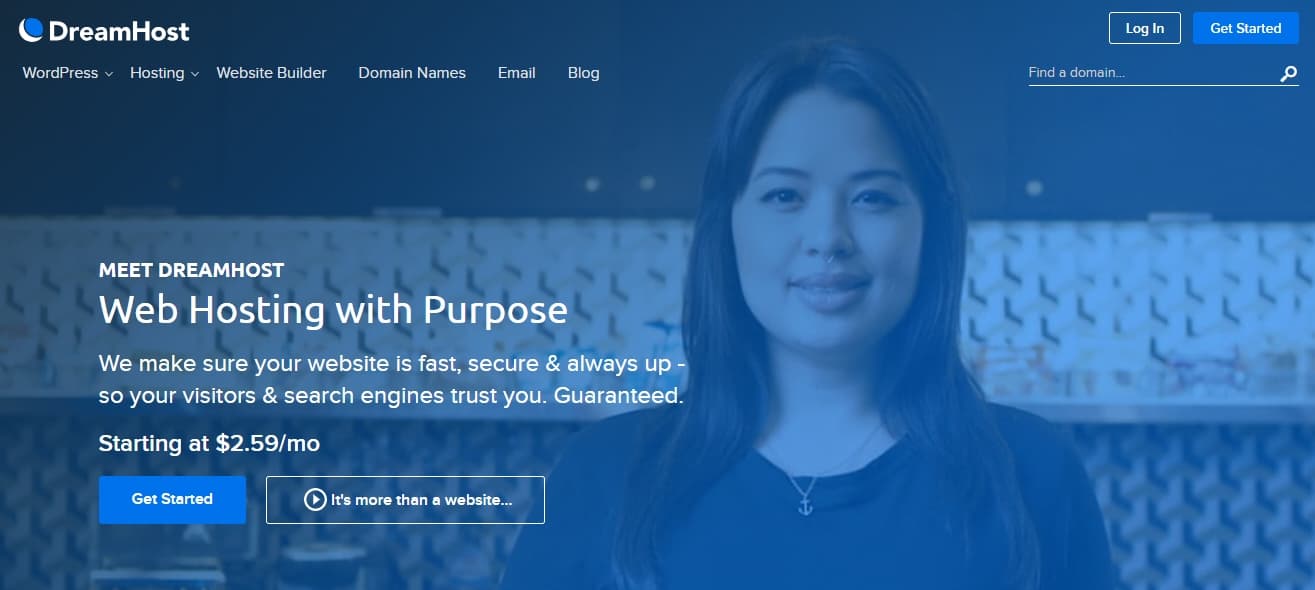 The company has been offering WordPress hosting, website hosting, VPS hosting, cloud hosting dedicated hosting WP website builder for the last 20 years. The employee-owned web host focuses on bloggers, online businesses, developers, and web designers. It's committed to security; thus, it provides auto-enables SFTP, multifactor authentication, and let's encrypt.
Evolution Host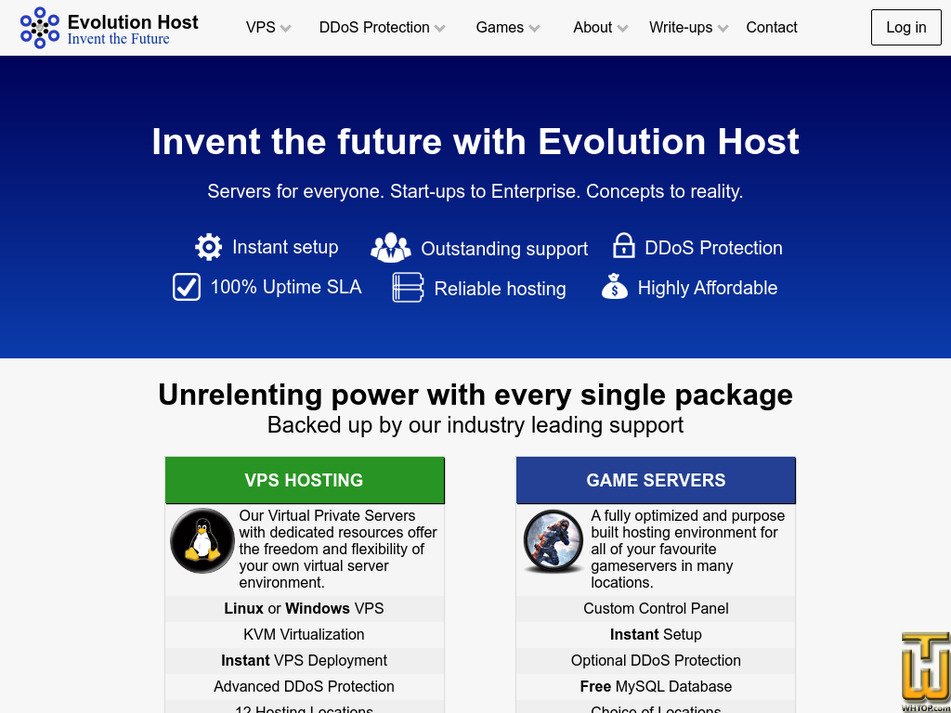 Evolution Host gives users the ability to install and manage their own web hosting software inside a DDoS-protected SSD VPS. This gives you full root control over the installation and maintenance of your web hosting solution, with the option to install any plugin or module your website desires. The performance benefits that come from running your website through a KVM-based VPS should not be ignored. The resources allocated to your VPS are not shared with other users on the node, as is the case with shared hosting solutions.
In addition, having a unique IPv4 address assigned to your website is likely to yield some SERP benefits. With shared hosting, your website's IP address is likely being used by thousands of other websites on the same node – some (or many) may have a poor SERP reputation. This problem is avoided by hosting your website on one of Evolution Host's DDoS-protected VPS hosting packages.
While it is a more hands-on job to run your website through an unmanaged VPS, the benefits should not be overlooked. Full control, dedicated resources, and a unique dedicated IPv4 address may make the extra bit of work worth it.
Host4Geeks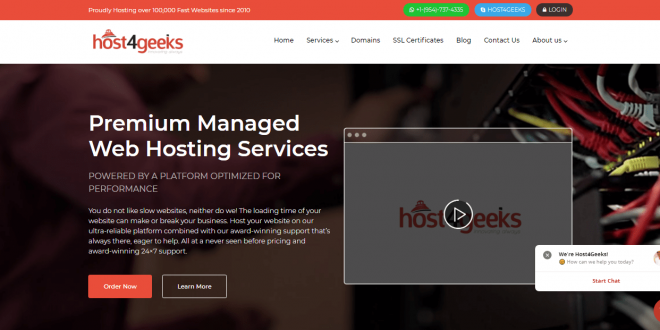 host4greek is the leading web hosting provider established in 2012 that offers premium web hosting services in India, US & UK. Starting from shared, reseller, VPS, WordPress, Dedicated, Odoo hosting, domain registration, and many other addons with better-advanced features for your website. You can choose fully managed VPS hosting as per your need from this company.
Their web hosting plans start at just $2.95 per month with full advanced and better features at an affordable price. You get a free domain, free SLL, and DDoS protection for your web hosting accounts with a guarantee uptime of 99.9% and instant 24*7*365 days support. You just get to pay for the services that you have availed, there are no hidden charges as other web hosts and also you get free migration as well.
Flywheel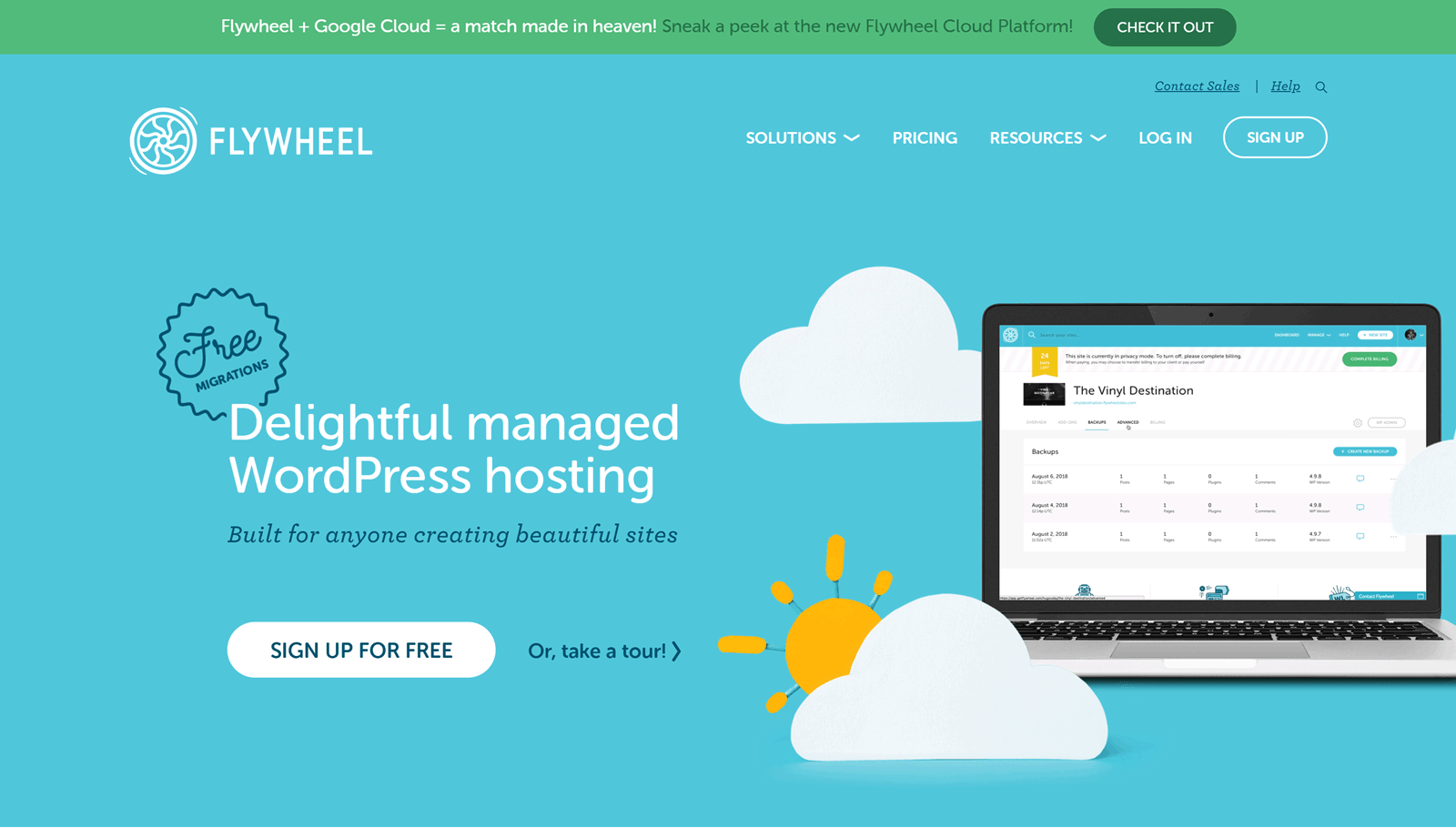 The company is a WordPress hosting provider that began in 2012. The host provides services for a wide range of WordPress sites and requirements to cater to the needs of freelancers to a well-established creative team.
HostGator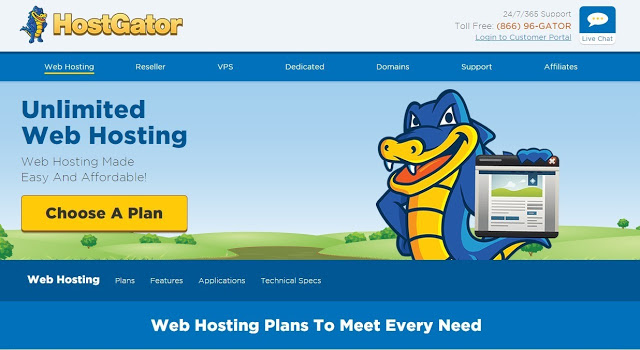 The web host provides shared hosting services to website owners. Some of the best applications you can access from HostGator are WordPress hosting, Drupal hosting, Joomla hosting, Wiki hosting, Magenta hosting and phpBB hosting.
Inmotion Hosting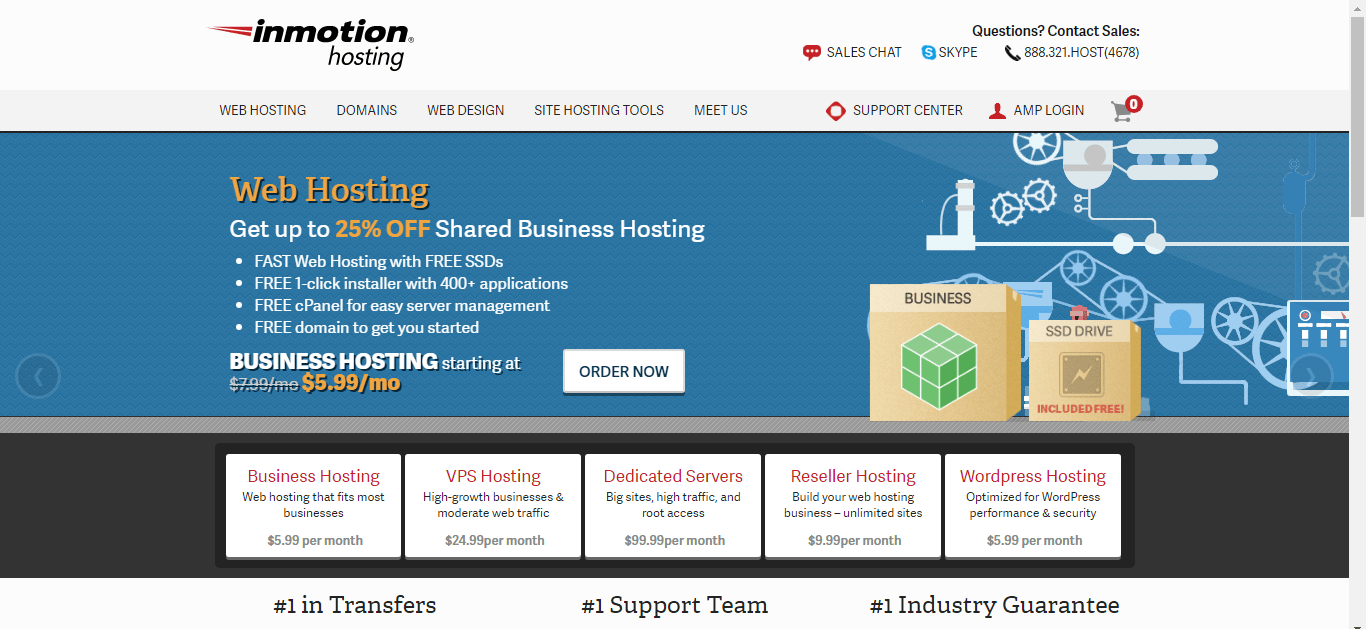 The firm offers shared, dedicated and VPS hosting, WordPress solutions like website building and WordPress hosting. The web host guarantees you free SSD drives, free domain, data backups, and secure IMAP email, among others.
Ipage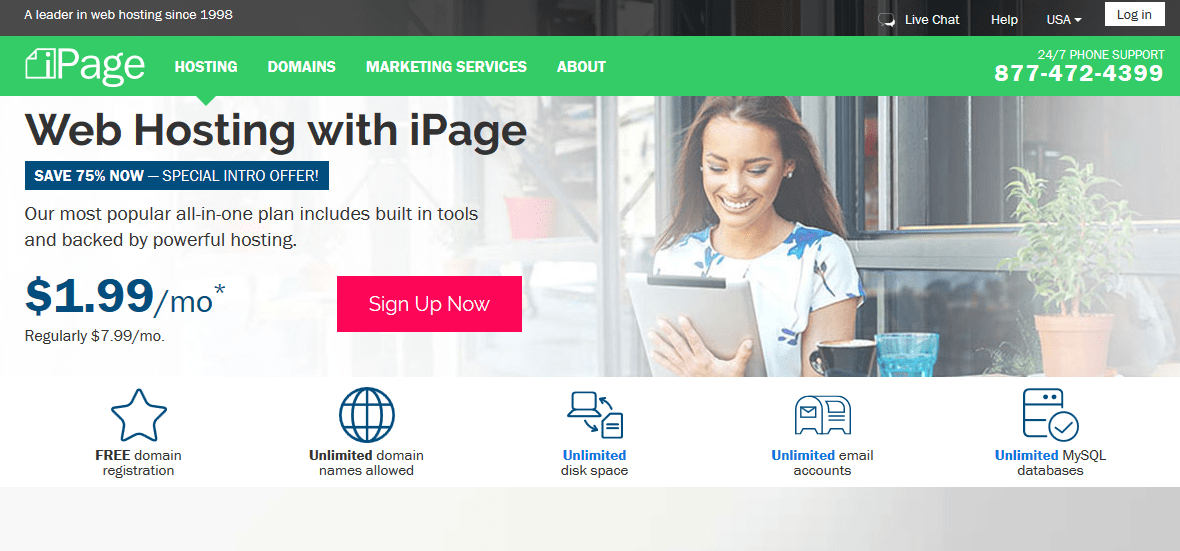 The company was founded in 1998 and serves more than a million websites on its platform. The web host has two data centers that offer web hosting services as well as a salable bandwidth, unlimited disk space, unlimited MySQL databases and domain. Further, the web host promises comprehensive training and tools needed when hosting a website as well as a 30-day money-back guarantee. The web host is suitable for small to medium size companies.
Kinsta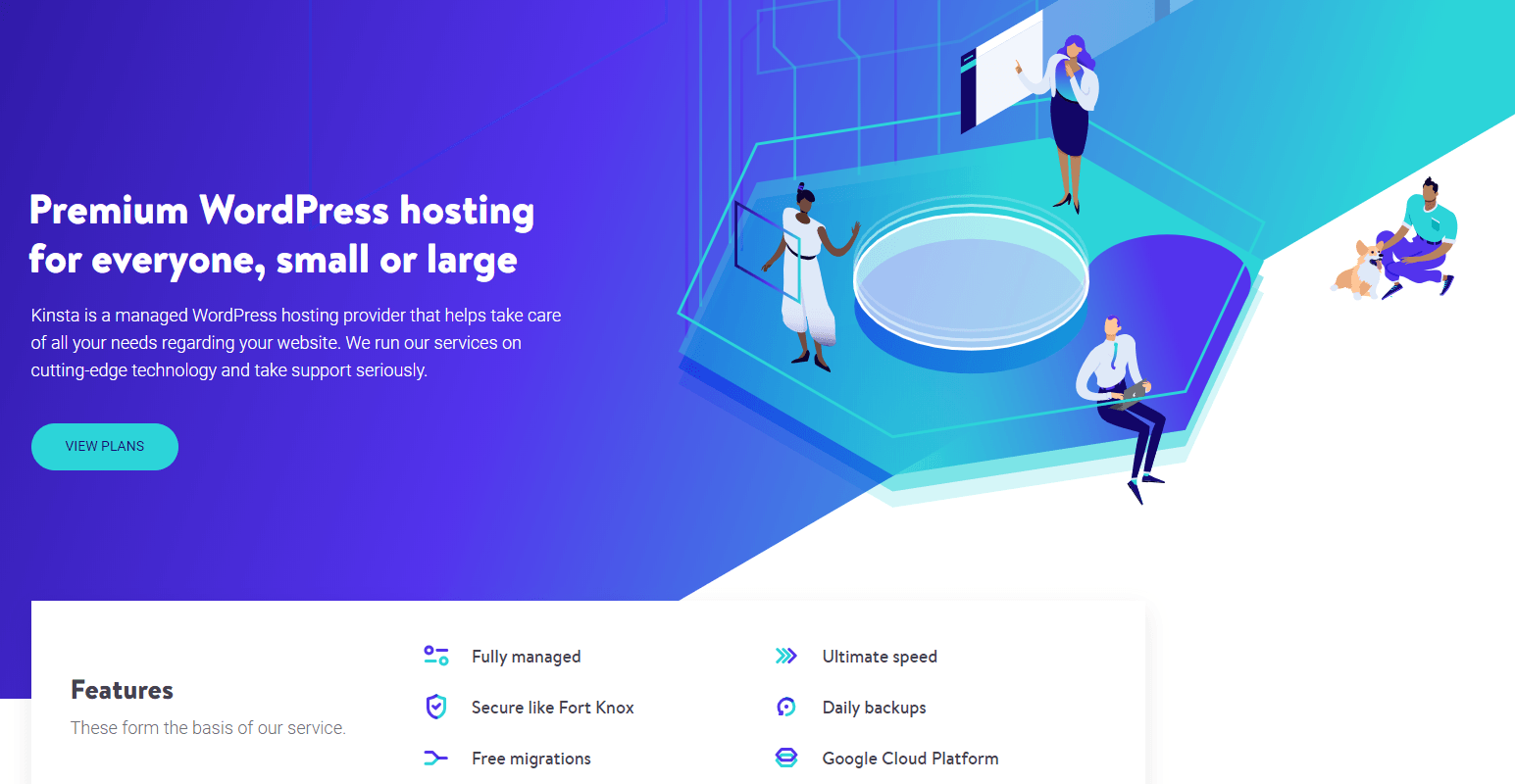 It's a WordPress hosting provider that takes support seriously and run it services on cutting-edge technology. The premium-managed web host provides services to a broad category of website owners such as bloggers and established businesses with high traffic.
The web host uses the Google Cloud Platform to support its infrastructures; thus, you will not have speed-related challenges. Further, the host has additional security features such as automatic backups, daily uptime, malware scanning, SSL integration, hack fix guarantee as well as DDoS attack detection.
Kinsta has approximately 18 data centers worldwide to choose from, readily available support staff, and a site management dashboard tailored to your needs. The host has plans that cover a wide range of customers' needs from a starter, pro, different levels of business, and entrepreneur. These services have hack-fix guarantees and free migrations from one plan to the other.
Siteground

The web hosting platform was established in 2004 to provide web hosting, WordPress hosting, cloud hosting and woocommerce hosting to its wide range of customers. Google Cloud powers the platform. Although the firm was started by university friends operating from their dorm room, today the web host has approximately 320 employees and is trusted by more than 2 million domains.
A2 Hosting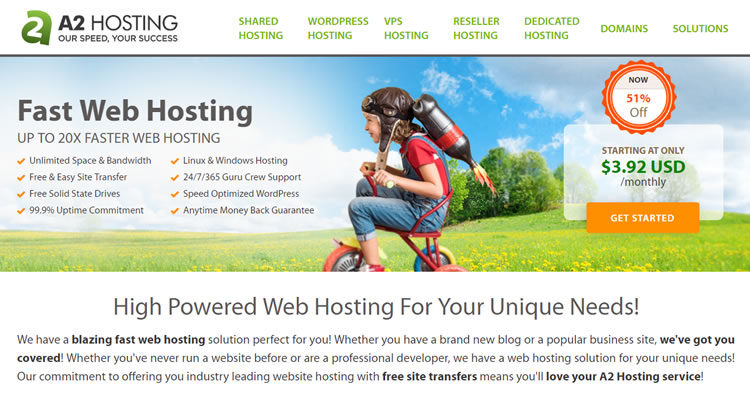 A2 Hosting is your high powered web hosting provider! Get 20X FASTER page loads on their Turbo Servers. Featuring ultra-reliable servers backed by 99.9% Uptime Commitment and their industry-leading 24/7/365 Guru Crew Support. Try A2 Hosting completely risk-free with their Anytime Money Back Guarantee.
GreenGeeks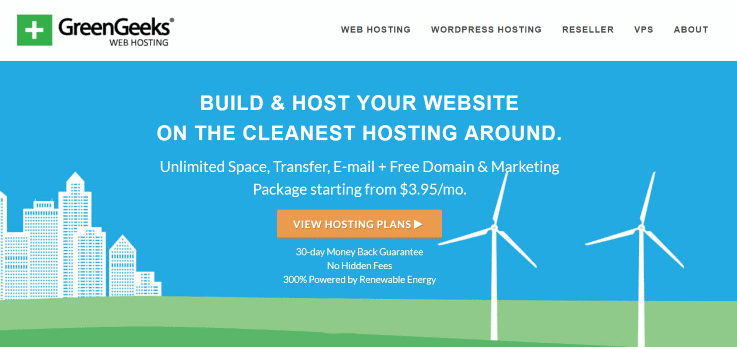 GreenGeeks delivers a web hosting platform dedicated to being faster, secure and eco-friendly. No matter your hosting requirements, the GreenGeeks hosting platform will fit your needs. They provided highly reliable shared, WordPress, VPS, and dedicated server hosting and allow you to choose where in the world your hosting account is set up too.
Standard Features of Web Hosting Plans
The article has provided you with a list of the best web hosting providers in the UK. There are certain essential features that each web hosting provider must have, and they include.
Uptime
It's a very important feature that every reliable web host should tell you. They should offer you a guaranteed uptime of at least 99.9%. The offer should comprise server uptime, network uptime, service uptime, and web server uptime in addition to 24/7 customer service support.
Disk or Storage Space
Web hosting entails renting space for your website on a web host's server. The amount of space that the provider allocates your site should be enough for the media content, files for download, and emails. You may also need additional space for log files generated by a web application that tracks visitors and what they click. Therefore, the host should provide you with enough space for your website needs and provisions for additional disk space for more content like downloadable files, music, pictures, and videos.
Control Panel Tool
It's your goal to create and manage a site and its content appropriately. A control panel is a tool for managing FTP accounts, domains, subdomains, web pages, add-on domains, parked domains, redirecting directories, spam filters, virus protection, and backup data among others. Therefore, cPanel is a tool that is dedicated to the security and privacy of your website.
Data Transfer/Bandwidth
Data transfer and bandwidth are crucial factors that you should consider when choosing a suitable web hosting provider. Data transfer is the quantity of data that is transmitted every month. Compare the allocated limit each web hosting provider is offering. Go for a web host offering more data transfer options because going over what was agreed on the plan will attract additional fees or contribute to a temporary shutdown.
On the other hand, bandwidth refers to the amount of data that can be transmitted at a given time. A lower bandwidth will lead to a slower website irrespective of the users' internet connection speed. Higher bandwidth will consume more server resources, thus affecting other users, particularly in a shared hosting platform. That is the reason why the option is charged higher than lower bandwidth.
Domain Name
It refers to the name and address that you secure on the World Wide Web (WWW). You have to register the domain and pay for it for a given period such as a year, but it can be extended upon renewal. Otherwise, the domain will become available for purchase by another user.
Most web hosts control the domains they register, and for that reason, they can transfer them to another registrar. Therefore, you should select a web host that allows you to retain the provision of the domain transfer.
Privacy and Security
The web host should prioritize your communication security to prevent the transfer of sensitive data or unauthorized access to information. Therefore, it should offer SSL secure servers and certificates, firewall protection, antivirus protection, reliable authentication, strong passwords, email encryption, secure payment processing, and strict privacy policies.
Building Tools
Building tool is part of web hosting services. Most web hosts provide advanced building tools such as guestbooks, photo albums, FAQ modules, banner rotators, visitor trackers, galleries, forums, blogs, and newsletters, among others.
Email Features
Web hosting provides email features for businesses and individuals. They should offer you import/export address books, customized email addresses, webmail accessible via mobile gadgets like phones and tablets, unlimited storage, autoresponders, mail forwarding, email filters, and calendar alerts in addition to tech support.
Subscription Period
Ensure that your web hosting company doesn't force its customers to accept an unreasonably long contract. For instance, a company may have a hosting contract that lasts 5 years; however, it is advisable to opt for a 2-year contract and money-back guarantee option.
Support
The web host should be available 24/7. Thus you should be able to raise an issue via telephone contact, email support or chat service and get instant assistance.
When Switching Web Hosting Providers
A website owner may decide to switch from one web hosting company to another due to bandwidth, storage, or customers services challenges, among others.
The thought of changing may be traumatizing due to the potential effects of the failure or delayed process. However, the process can flow without hitches if you keep the following things in mind.
Choose a web host based on your website requirements. For instance, a website that requires Microsoft-specific technologies should be supported by windows operating system thus choosing a web host offering such a platform.
Maintain your present web hosting account active until you're through with the transition process. The new web host has to create your account, set up your email, transfer your files, and perform DNS modification and propagation.
Back up your information by downloading all old files. You should download them using a similar tree structure you will use when uploading them.
Ensure that the new host is offering FTP access
Cancel your old account when the new DNS has finished propagating. The old account should support your website and email until the new setup is up and running.

Conclusion

There are several web hosting providers in the UK. Although these companies offer hosting services to website owners, they are differentiated by features such as customer service support, bandwidth, and data transfer amounts, privacy, and security as well as storage space.

Therefore, make a list of your website requirements and select a web host that meets and surpasses your needs. On the other hand, you can switch from one host to another when the present one fails to meet your requirements. However, don't close your account with the existing web host provider until your new account is up and running.