Hey readers, In this article, I am going to talk about the top 5 best SaaS software. So keep reading.
Have you done everything possible to market and sell your products and services, but still, people are not buying them?
If so, you're among thousands of marketers.
Regardless of whether you work in a team or fly solo, keeping abreast with the latest marketing tactics, tricks and approach can be challenging, especially if there are hundreds of strategies waiting for you.
What your business needs are a revamp or up-gradation to your existing marketing approach.
Luckily, with the growing technology sector, you don't have to do it all yourself. There are many tools out there that can make your life less messy. With the right software in your kitty, you can plan your marketing approach and improve the results you obtain from it.
With eight out of ten businesses failing within 18 months of inception, having the right software could change the destiny of your business.
But with so many tools boasting of bringing a paradigm shift in your business's bottom line, choosing one that makes an impact can be difficult.
In this article, we will discuss some must-have SaaS software.
Let's get started!
5 Best SaaS Software To Improve Your Marketing Approach
Here are five tools to breathe new life into your existing marketing approach:
Table of Contents:
1. Whisbi
2. Attest
3. Ahrefs
4. Zendesk
5. SalesLoft
1. Whisbi – Live Video Streaming Software
Marketing experts have been laying their bet on live videos as the most popular marketing strategy of recent times. The monumental rise of TikTok showed the world what videos are capable of achieving, and live video streaming tools just take video marketing to an altogether different level.
Customers expect live videos at every step of their sales journey. With such videos, you seize the moment and connect with your potential customers straightaway. Interestingly, retail and eCommerce sectors benefit the most with such live streaming as the content directly reaches the target audience. As a result, customers can make a purchase decision on the spot.
That's where live video streaming tools like Whisbi makes an entry.
Using Whisbi's live video shopping guide, you can learn how to present your product to the customers, interact with those watching you live, and help them make a purchase with a single click of a button. Instead of filling a virtual shopping cart, your customers can see the product live before making a purchase decision.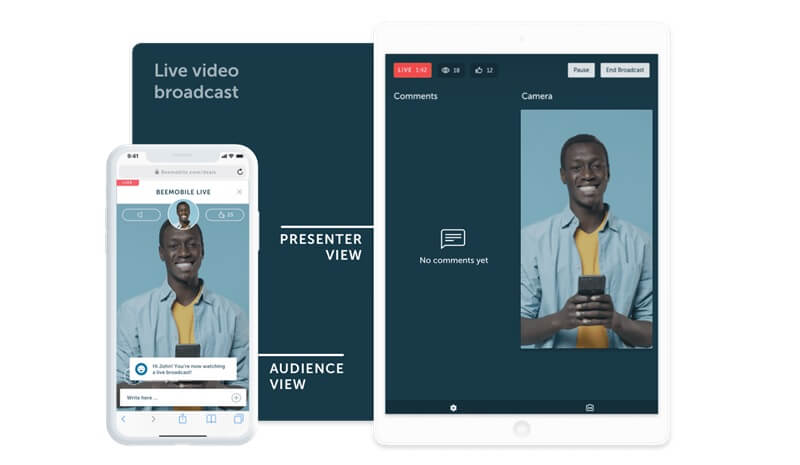 By embedding a single line of code on your site and downloading the Broadcast app, you can bring the in-store shopping experience online. This shopping tool will educate, inspire, and entertain customers in a way that ensures real-time interactions. From driving product sales to engaging your customers, it's the best tool for increasing your sales.
Statistics supporting this tool: Two-third of marketers that target customers use live streaming to engage them.
---
2. Attest – Global Survey Software
Market research is the bread and butter for a company because it collects, analyzes, and interprets data about your target market, competitors, and even your industry. Through market research, you can decide who your customers are, how they perceive your brand, and what they like and hate about your offerings.
To effectively carry out market research and ensure you receive valuable insights from it, it's essential to invest in a global survey software like Attest.
For understanding the unmet requirement of your customer Attest offers an innovative Jobs to be Done survey template. This JTBD framework can help you decode the customer requirement and address them before they make a shift to your competitors. So, it will help you understand what factors trigger a customer to buy, use or consume a product. Interestingly, you can run this survey at any stage of product development.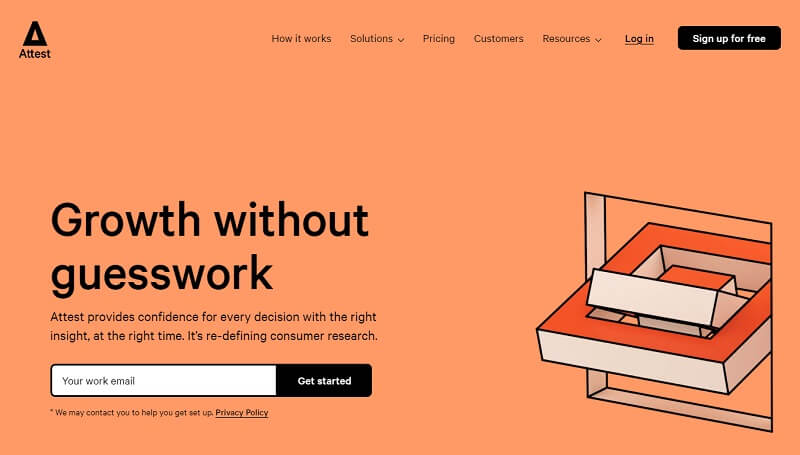 Use the JTBD survey when building a product roadmap, when optimizing your homepage or before you define a customer's value proposition. This template has questions that can answer all questions bothering you to build a product that resonates with your target audience. Apart from this survey template, Attest offers market analysis, creative testing, concept testing, brand tracker, and price testing templates.
Finally, with Attest, you can create any custom survey within a few minutes. It's a one-stop destination tool in your arsenal that provides meaningful and valuable insights about your target audience.
Statistics supporting this tool: With 40% of customers responding better to visual information, creating well-designed surveys could be the key to improve your survey response rate.
---
3. Ahrefs – SEO Keyword Software
You have a revolutionary product, but your financial numbers tell a completely different story. Why?
You're probably not showing in your customers' search results, and the keywords you're targeting are probably not matching the search intent of your potential customers. In short, your marketing is going for a toss. As a result, your website doesn't speak the same language as that of your customers. And, you rank on the 3rd or 4th page of SERPs.
That's where an SEO keyword tool like Ahrefs makes a grand entry. Google, it's one of the largest website crawlers. It highlights every part of your website that requires changes for ranking better.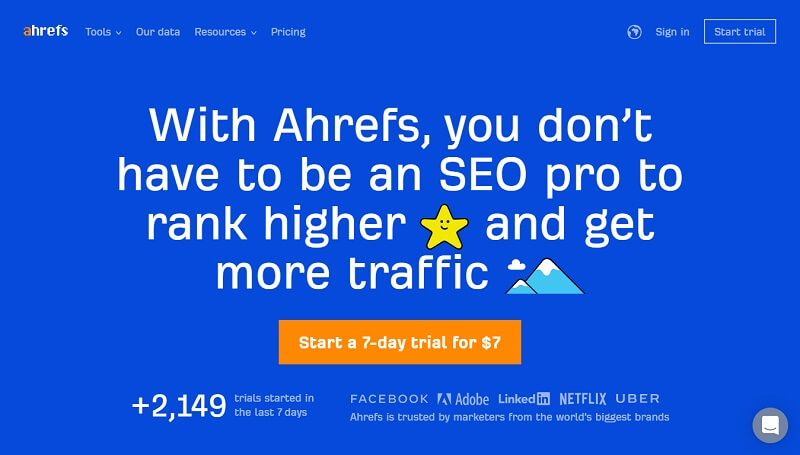 This tool analyzes your competitor's backlinks to use them to improve your ranking. When it comes to SEO, Ahrefs can do a little bit of everything, including keyword research.
It's a SaaS software that can optimize your website and ensure you're never short of customers.
Statistics supporting this tool: The first page of Google captures 92% of the search traffic clicks while the second page comes a distant second with just 6% clicks.
---
4. Zendesk – Customer Service Software
With growing digitization, customer loyalty is becoming the Holy Grail for businesses. Your loyal customers are more likely to become brand advocates, less likely to switch to competitors and help in your marketing efforts. And, the best way for companies to build loyalty is by providing a superior customer service experience.
Using a customer service software like Zendesk, you can address customer service requests without any delay.
Zendesk is one such tool that helps in creating an unforgettable and seamless experience for your customers. It offers end-to-end service solutions that help you manage and scale your business. From routing tickets based on the customer service agent's skills to updating tickets based on certain instances or periods, ticketing is their backbone.

Interestingly, all your customer's interaction lives in a dynamic interface with pre-defined ticket responses, web widgets, and complete customer history. In addition, it can integrate various collaboration and communication tools like Slack, which helps boost your customer service agent's efficiency.
In short, Zendesk set up your team to succeed and make your customers happy – two ingredients required for a successful business.
Statistics supporting this tool: According to PwC, 75% of customers prefer interacting with a real person instead of chatbots.
---
5. SalesLoft – Sales Acceleration Software
Nailing sales in 2021 and beyond is not at all an easy job. Apart from requiring a solid online presence, business requires empathy, drive, and grit to build connections with customers and an innovative marketing approach to increase sales. You also need to understand your potential and existing customers at every touchpoint.
Enter sales acceleration software like SalesLoft.
This software harnesses the power of technology and streamlines processes to help you maximize your efforts so that customers quickly reach the bottom of your sales funnel.
SalesLoft seamlessly automates dynamic sales and provides insights to achieve exceptional results. It works as a co-pilot to your CRM and helps in automating human interactions across different buyers and sellers.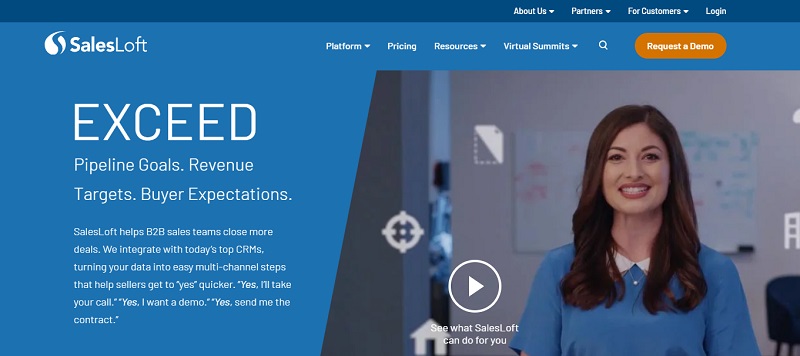 This one-of-a-kind sales acceleration tool can help your business understand the impact of your sales conversation and helps in implementing the best customer representative behavior across your entire sales team. Apart from helping you increase your sales and leave a positive impact on your bottom line. It helps you build a sales team capable of providing a seamless customer experience.
With this tool, you can constantly optimize your sales process and strategy to ensure you're never short of customers.
Statistics supporting this tool: According to research, companies with tightly aligned sales and marketing functions win 38% higher sales win rates.
---
Choosing The Best SaaS Software
Are you ready to master your marketing approach in 2021 and beyond?
With these SaaS tools, there is no reason why you can't achieve the desired success level.
Always remember that not every tool is relevant to your business. Furthermore, not every tool will provide the desired functionality. Often, you may have to choose 2 to 3 tools to improve the marketing approach and reach your target audience like never before.
Hopefully, with these five best SaaS software, you can improve your marketing strategy and approach on the right foot.
Once you've nailed your marketing strategy and you're happy with the outcome, don't stop because there is always room for continuous improvement.
Now, it's up to you to browse through and select tools you're planning to use to ensure a business that generates constant revenue.
Which of these tools are you planning to use?
Please share your thoughts with us.
So that's all from my side. I hope you liked this article on the best SaaS software. If you like this article then please share it with your friends and social media followers.