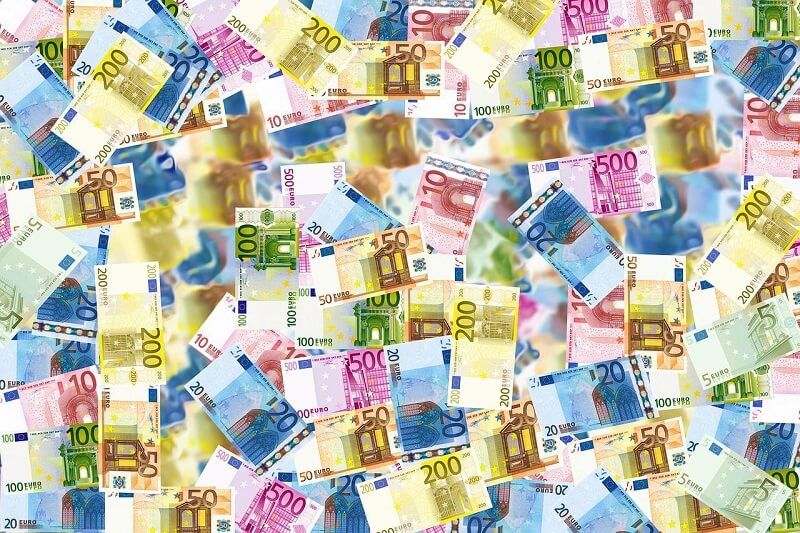 How To Choose The Best Multi-Currency Converter For Your WooCommerce Store?
in
Detailed Guide
on May 6, 2022
Hey guys, today in this article, we are going to discuss how to choose the best multi-currency converter for your WooCommerce store? So keep reading.
Do you want to run a global online store that attracts customers from multiple countries like Australia, Canada, the United Kingdom, and many more? As you have several customers, you should have all the facilities in your store that usually cater to your needs, including a currency converter that converts the prices of your products into multiple distinct currencies. To fulfill this, you need to install a multi-currency extension on your WooCommerce store.
Once you've decided to open the dimensions of your online brand for customers across the globe, you should make certain amendments to your WooCommerce store. If you want to sell products globally, then the essential tool you need is a multi-currency converter for your WooCommerce store.
If you want to start accepting payment from multiple currencies for your WooCommerce, you need to set an identical (one-base currency) means that it is a single currency by default. Eventually, some payment processors such as PayPal, Stripe, and Square can easily accept multiple currencies and automatically exchange your shop base currency. You need to set up WooCommerce multi-currency support can have the following considerations to choose the best multi-currency converter for your WooCommerce store.
1. Avoid Currency Misinterpretations
It seems a great exposure to writing a three-character country code if you are in a country using dollars regardless of the US. For instance, "strawberrynet.com offers multiple currencies, but they write the currency in the form of "$." Hence, most people think it can be interpreted as USD, and visitors leave the site after a few minutes finding that their products are massively expensive.
Significantly, Currency Switcher for WooCommerce is a powerful and robust extension for WooCommerce that converts your currency during the shopping period. The patterns of the currency can be shuffled at the shop, cart, and checkout pages. It automatically updates and displays the currency of your customer based on the country or language.
A similar process has been witnessed with other plugins as well via using the geolocate function is added here. There will be multiple options to switch back to your store's base currency during the checkout process. In particular, this plugin also offers multiple options required to update the layout and the format of the currency switcher.
2. Control Price Display of Multiple Currencies
Suppose you've adopted the concept of psychological pricing parameters. In that case, you are conceived to set up the price for multiple currencies instead of allowing the payment processor to make an instant exchange.
For Instance, always say that you are based in the UK and have a price rate of GBP49. A US customer will be presented the total amount of USD65.36. It would have been more attractive for US consumers if you've priced it at USD69, and the manual prices can easily be set up with the most multicurrency extensions for WooCommerce. Hence, with the little difference of one dollar, you would usually leverage your conversion rate, generating enormous revenue.
3. Exchange Range of Currencies to Choose
Currency exchanges tend to fluctuate rapidly. It would make a suitable choice for you to accept and make it a simple currency and exchange it when the conditions are favorable instead of always exchanging the currencies on the exchange rate. Suppose your WooCommerce can be considered a multi-currency. In that case, you can always ensure all the relevant currencies in PayPal, Stripe, and Square and simply withdraw them, where the exchange rate seems to be the most favorable option. Significantly, a multi-currency extension converts the price rates of your products from your basic currency to any relevant currencies. From your side, you need to set up the price rates in your currency, enabling different currencies and adjusting the exchange rates for both of them.
If you don't have a WooCommerce-based multi-currency extension, you need to manage things manually, which isn't a seamless approach to proceed ahead. In this way, millions of businesses tend to use some of the best multicurrency extensions for their WooCommerce stores, and you should also put a huge emphasis.
Best Multicurrency Convertor Extensions for Your WooCommerce?
If you are potentially convinced that a WooCommerce multi-currency converter is a seamless way to proceed, now it's a great time to choose which extension will be used to accomplish this timeframe. There are multiple ways of multicurrency extensions in the market segment, and you cannot go through each of them. Among the several options available in the market segment, some are the best multicurrency extensions for WooCommerce in 2022.
1. Currency Switcher for WooCommerce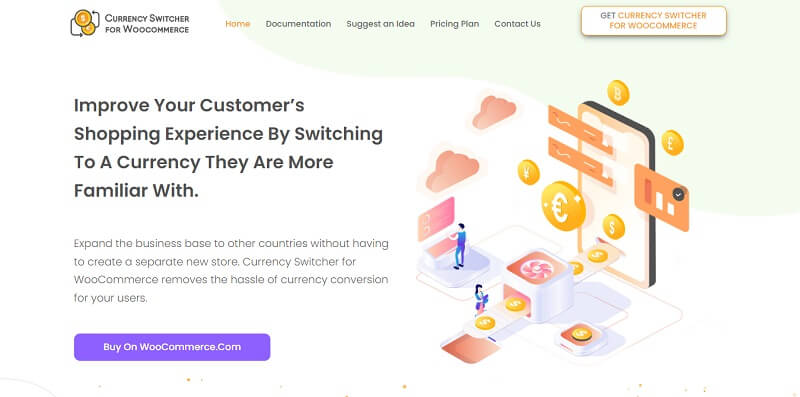 Currency Switcher for WooCommerce is a powerful and robust extension for WooCommerce that helps users change the currency while shopping currency can be switched at the shop, cart, and checkout pages. The admin can easily set a wide list of currencies placed on the shop page as a sticky switcher. Furthermore, currency switchers can be added as a menu item where the exchange rates can be showcased against the selected currency. Hence, the admin can manually adjust the exchange rate of currencies or configure it via an API. The rates for the conversion are updated at regular intervals to enable a seamless experience for your potential customers.
Features
The following are certain features of the above plugin:
Highlights the option that enables customers to switch between the currencies.
Enable or disable the payment gateways based on the currencies.
Highlights the currency symbols and country flags on the frontend screen.
Easily manages the multiple price tags.
2. Multi-Currency Switcher
Being a feature-rich plugin that enables instant currency conversions and currency switching aspects for your WooCommerce store. It allows you to choose from over 160 different currencies, easily sorted and prioritized in a manageable and seamless way.
The customers will be able to switch the currencies even during the checkout process, and you will be able to relate certain payment processors with multiple currencies. It offers an intuitive user interface and will be very much pleasing to work in the backend interface.
Features
The following are some of the features of this plugin:
Switches currencies that constitute of automatic currency conversion option.
Supports over 160 currency units available that can be organized based on your preference.
Intuitive and skeptical design to connect your site to mobile devices.
Enables the customers to choose a preferred currency within the checkout.
3. WooCommerce Currency Switcher by Aelia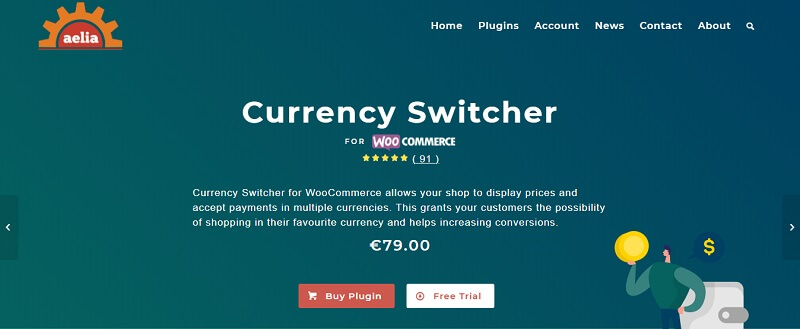 WooCommerce Currency Switcher by Aelia is one of the major plugins that allows multicurrency in the WooCommerce platform. Hence, they have gone through a versatile range of optimization patterns and testing purposes that ensures the robustness of your plugin's code.
In particular, technical support answers your queries within a few hours, so you can have peace of mind to know your purchase will be well supported.
Features
Some of the key features of the WooCommerce multicurrency convertor by Aelia:
The easy interface is provided for both the customer and merchants.
Allows customers to shop in their preferred currency.
Updates the exchange rate instantly using the various currency exchange providers
Setting up exchange rates based on customer preferences and not automatically.
Automatically detects the visitors' country based on geolocation with the set currency accordingly.
Filters the available payment methods based on the specific currency.
The preferred currency of the visitors is persistent, and it becomes automatically active at each timeframe.
Final Verdict
Hence, choosing the best multi-currency converter for your online store requires a significant range of traits or criteria to pick up the suitable one for your website or an online store. The discussion above highlights the patterns and selected extensions or add-ons suitable for your online store based on the extensions' compatibility, scalability, performance, and reliability, making it a competitive plugin.