Tumblr is the most popular social micro-blogging platform. It is easy for users to share short form and media-type content. You need to choose a suitable theme to make your blog look more attractive. This is a collection of the best free Tumblr themes. You can use them for various purposes, from simple portfolios to regular blogs or photo galleries. you can download or install the theme from the preview page.
Indy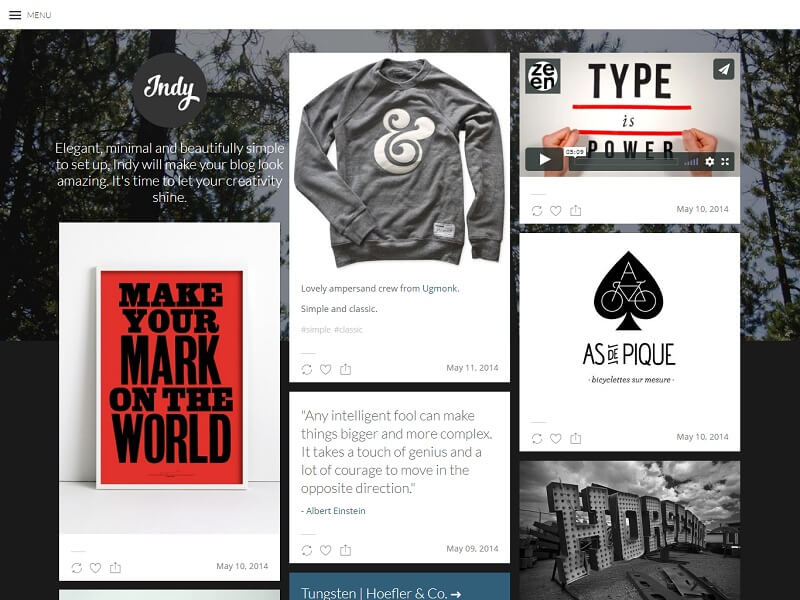 With its impressive design, expertly chosen fonts, and clever layout options, Indy has everything you need to make your Tumblr blog look stunning.
---
Basic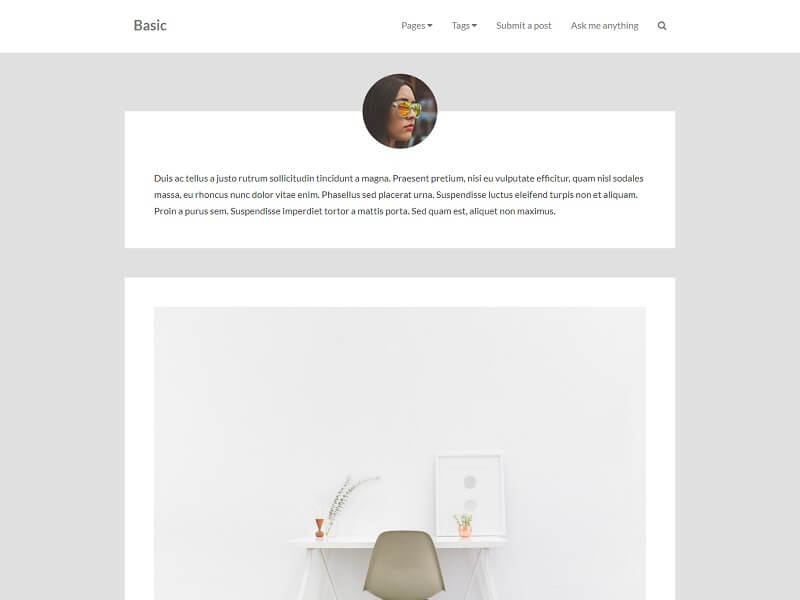 Basic is a simple starter theme to get your blog up and running in seconds.
It's pixel perfect, built with Responsive design, powered by the latest web technologies making the theme available on any device and/or screen size.
---
Illustfolio 4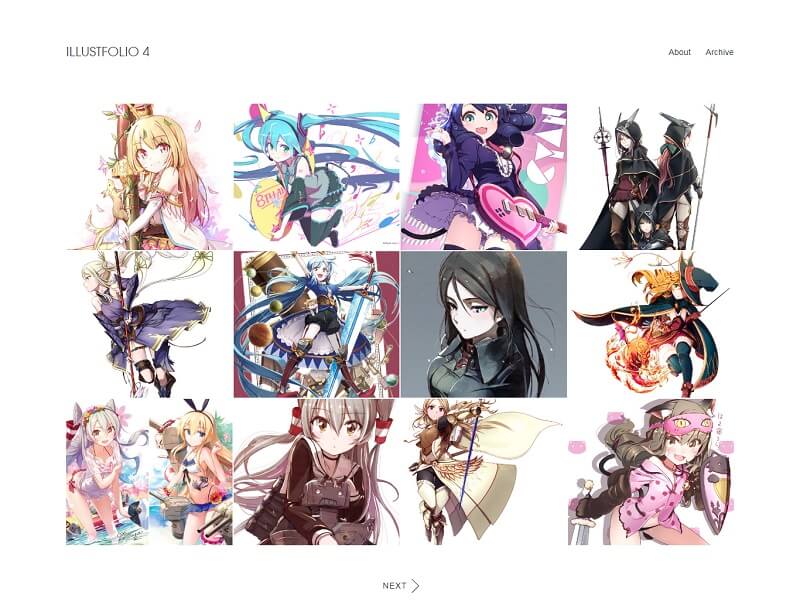 Illustfolio 4 is a simple, clean, and responsive free Tumblr theme built for illustrators. You can make your own online portfolio.
---
Curly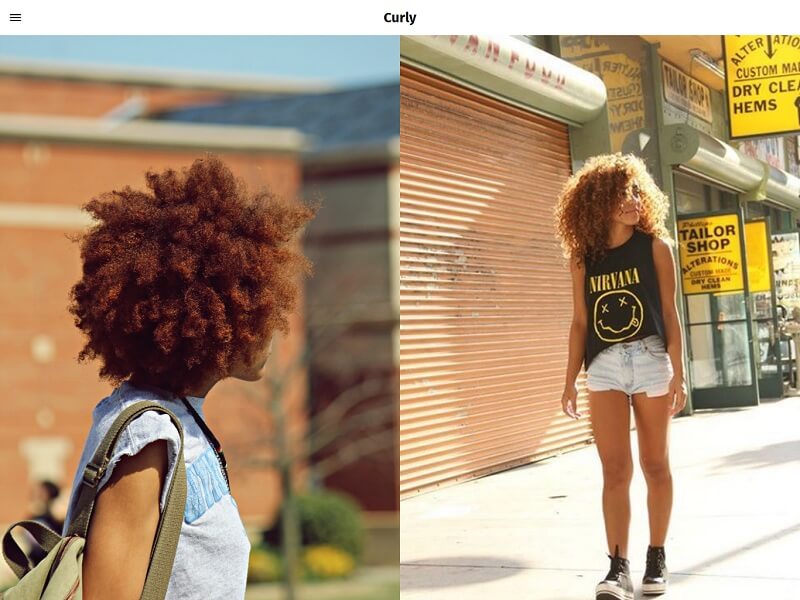 Curly is a fully responsive Tumblr blog. Its flexible and clean layout is what makes this theme really stand out, like curly hair.
---
UltraZen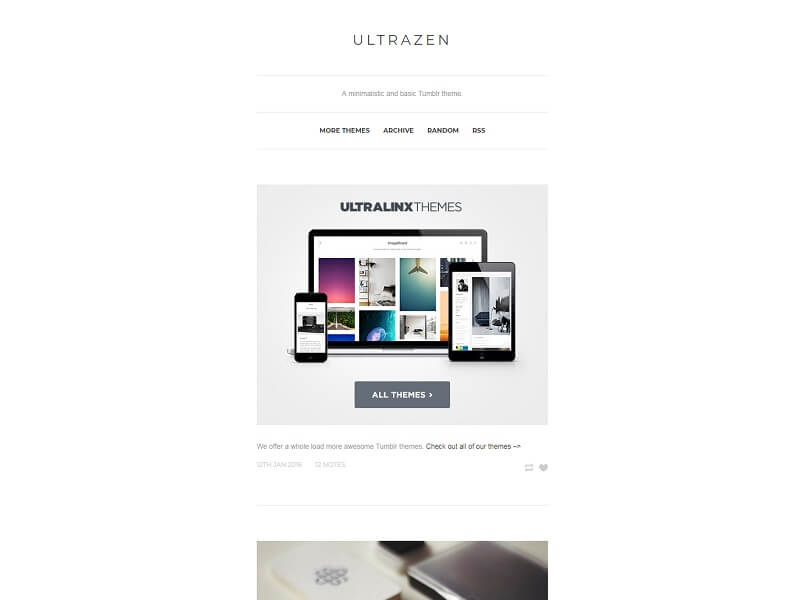 UltraZen is a very simple and minimalistic single-column Tumblr theme. It has basic color options, infinite scroll, a wide-view option, and logo upload.
---
Carter
Carter is a Tumblr theme built with high customize-ability and robust coding, equipped with a smart sticky sidebar (sticks different sections according to the height of your sidebar) and a clutter-free layout.
---
Maverick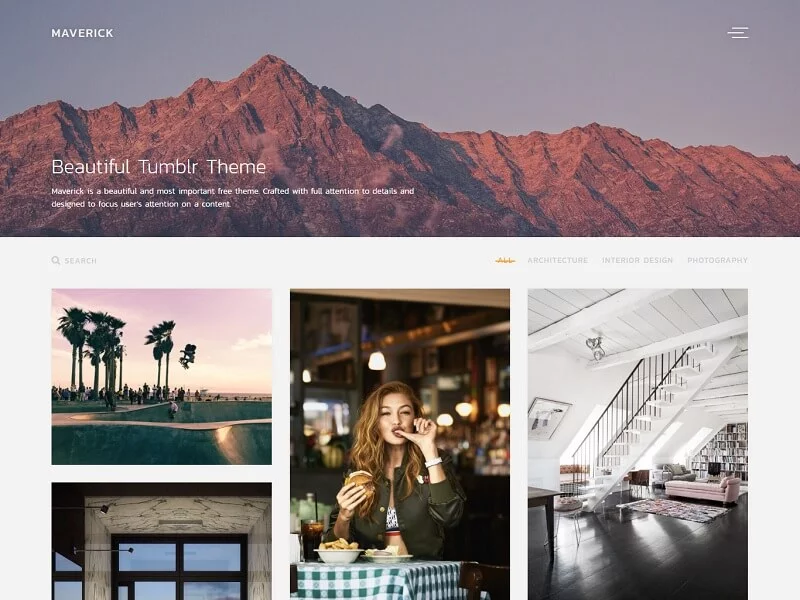 Maverick is a beautiful and most important free theme. Crafted with full attention to detail and designed to focus a user's attention on content.
---
Pop Gallery Lite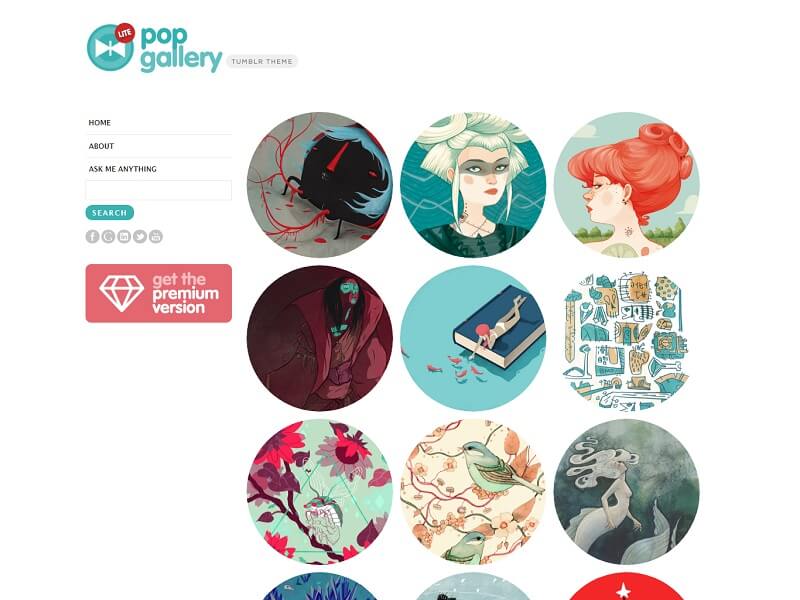 Pop Gallery Lite is a Tumblr theme for visual portfolios, galleries, handcrafts shops, with the unique possibility to present distinct thumbnails on the front page.
---
Labrador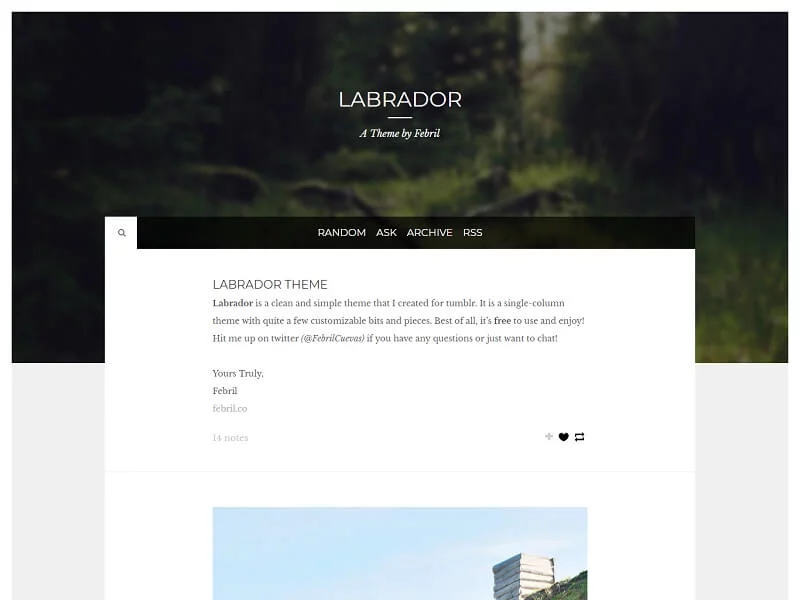 Labrador clean and simple Tumblr theme for showcasing anything your heart desires. It is a single-column customizable theme, designed for elegance and simplicity.
---
Vertigo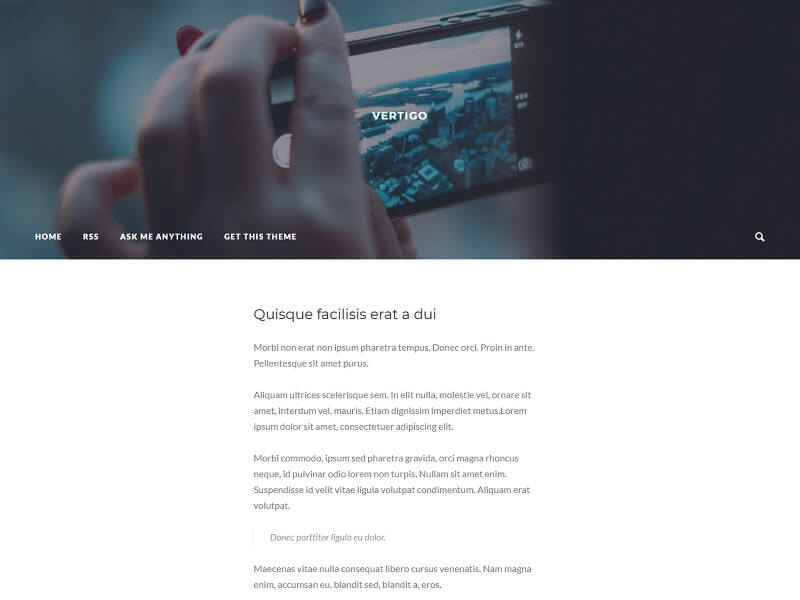 Thematic is proud to present Vertigo — a minimalist and fully responsive Tumblr theme built for photographers and storytellers.
It comes with a variety of turnkey features such as integrated Google Analytics support, Disqus comments, and a beautiful, customizable design.
---
ArtFolio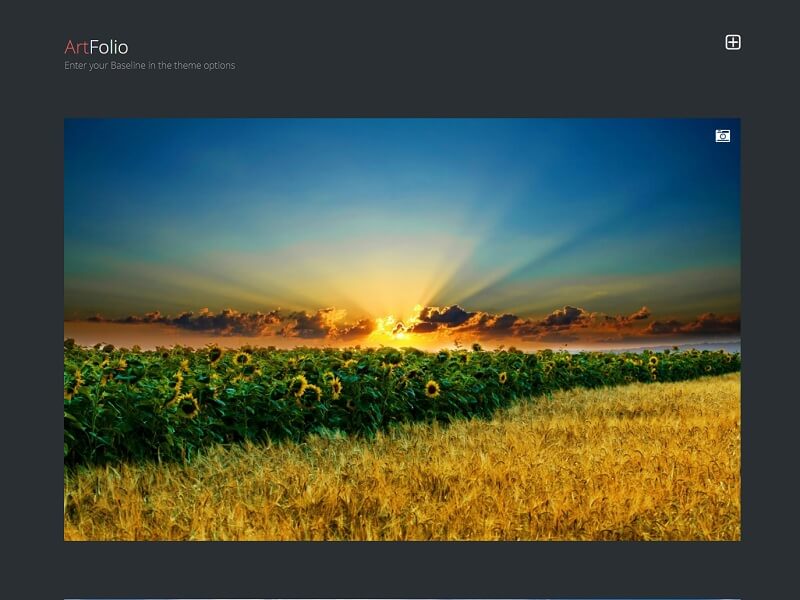 ArtFolio enables you to geotag your posts and show a map extracted from Google Maps. This is activated cool for photos and photoset posts for now and quite convenient if you are often out of town or planning a trip.
---
Muddle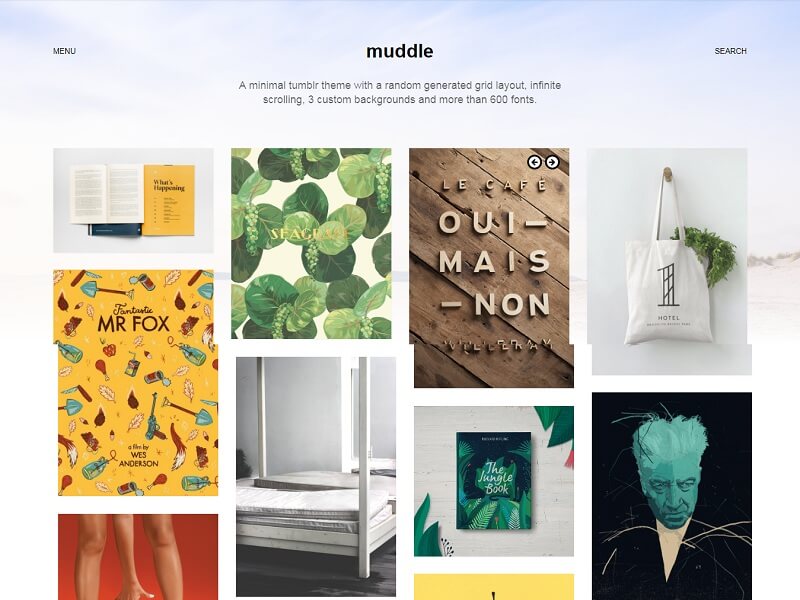 A minimal Tumblr theme with a randomly generated grid layout, infinite scrolling, 3 custom backgrounds, and more than 600 fonts to choose from.
---
Susan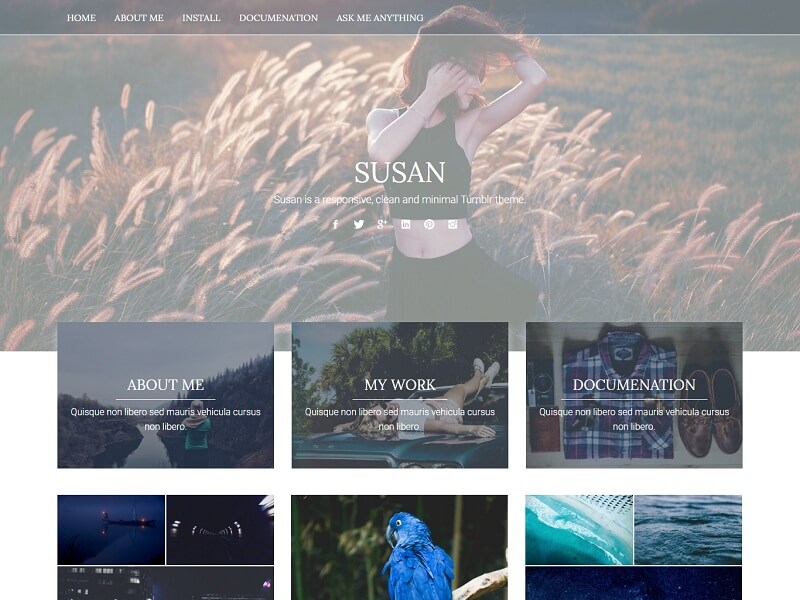 Susan is a responsive, clean, and minimal Tumblr Theme. It will look great as a magazine, portfolio, or photoblog.
---
Vintage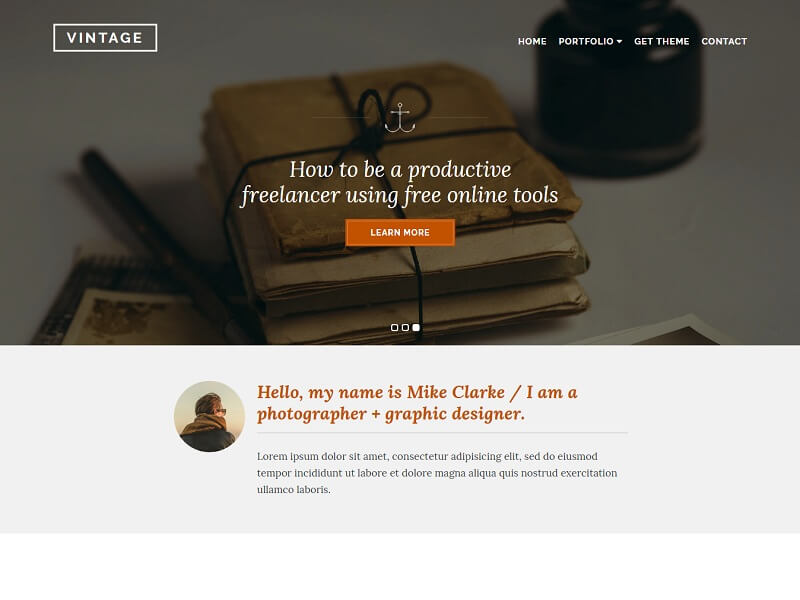 Thematic is proud to present Vintage — a beautiful, retro-inspired theme. Completely vintage, completely free, Vintage is a class act. It packs a powerful punch with features and design, is fully customizable, and makes it easy to create a beautiful Tumblr site.
---
Explore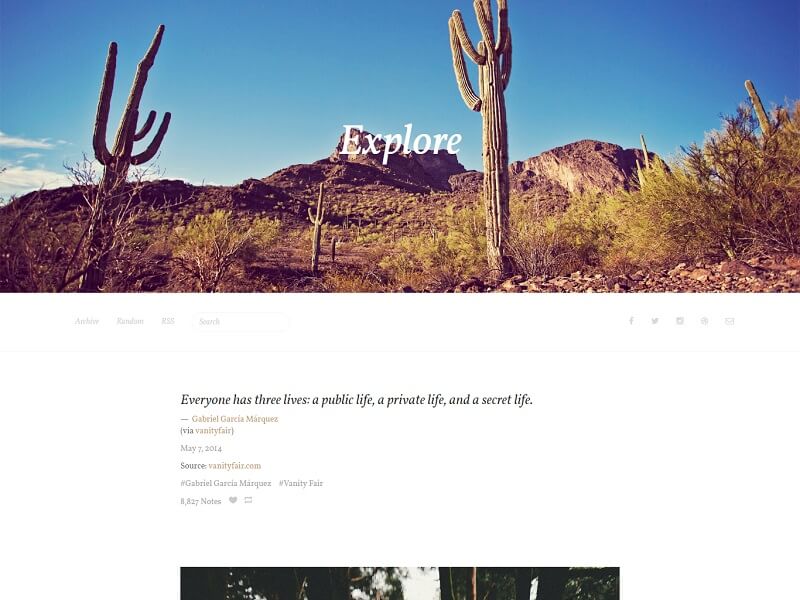 Explore is a single-column Tumblr theme designed and developed with love.