Hey guys, in this article, we are going to discuss the 7 advanced Instagram marketing tips for small businesses. So keep reading. When you're creating content to promote your brand and your business, it's a great idea to be up-to-date on the best Instagram marketing tips. After all, you want to make sure you're maximizing your time and impact and getting your biggest ROI possible for the effort and money you're investing. One proven way to save time is using an Instagram bot when it gets hard doing everything on your own. This is pretty useful if you've just started spreading on the network.
Today we'll go beyond the basic Instagram marketing tips you've probably heard multiple times. Instead, we'll be looking at seven advanced Instagram marketing tips that can help you take your Instagram game to the next level.
7 Advanced Instagram Marketing Tips:
Table of Contents:
1. Start With An Instagram Audit
2. Create An Instagram Stories Strategy
3. A/B Test Your Sponsored Ads
5. Make Sure You're Tracking The Right Metrics
6. Take Advantage Of User-Generated Content
1. Start With An Instagram Audit
Before you start making any changes, you need to have a solid understanding of where your account is now. How many real followers do you have? What kinds of content are performing well? What topics do your audience engage with more frequently? These are all great questions you can answer with an Instagram audit.
To perform one, begin by going into the analytics section of your Instagram app and write down any statistics you can find. From audience demographics to the number of likes, shares, saves, and comments on your last week's worth of posts, nothing is too small. This will give you a great starting point, and when you look back in weeks or months, you can see how much of a difference your new strategies made.
You'll also want to audit your follower list and delete fake Instagram followers. I know you might be shocked that I just told you to delete some of your followers. Trust us though, if you have bots, spam accounts, or any other fake followers, it's actually hurting you.
When you have fake followers, your follower count increases, but your engagement rate decreases. Your engagement rate is the relevant number, as it tells you how much your followers like your posts. Fake followers won't like or comment on your posts, and they certainly aren't going to eventually convert and become customers, so why do you want them around in the first place?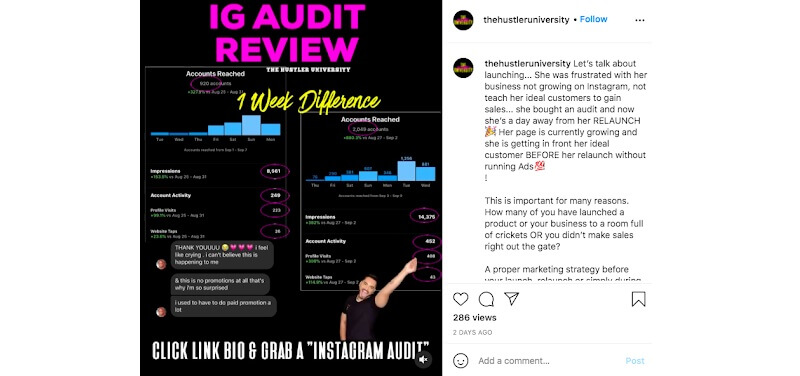 Fake followers often have no one following them, their usernames are gibberish and they don't have a profile picture or bio. Auditing your followers and removing fake ones can take a long time, but you'll appreciate it when your engagement rate goes up.
---
2. Create An Instagram Stories Strategy
People love watching and engaging with Instagram stories, but you want to have a solid strategy for how you're going to use them. Otherwise, your followers might get bored of what you're showing and start clicking away instead of watching your content.
There are countless best practices we could share regarding Instagram stories, but we'll pick just a few of the most important. First of all, ensure that any story set you create has a beginning, middle, and end. If you tell your followers that you'll show them how something is made, make sure you follow through. Also, if at all possible, complete these story arcs quickly. If you're showing something that has to wait to dry or set, you'll need to post some sort of "come back later," but otherwise, don't leave your audience hanging.
You'll also want to use calls to action consistently. Whether you're asking them to answer a poll, swipe up, or send you a message, ask them to take action regularly. This helps them get accustomed to responding and engaging in the way you want.
Speaking of swipe up, if you have 10k followers on Instagram, try using the swipe up feature to send your audience to your website, blog, or online business. This is a great way to help convert followers to customers.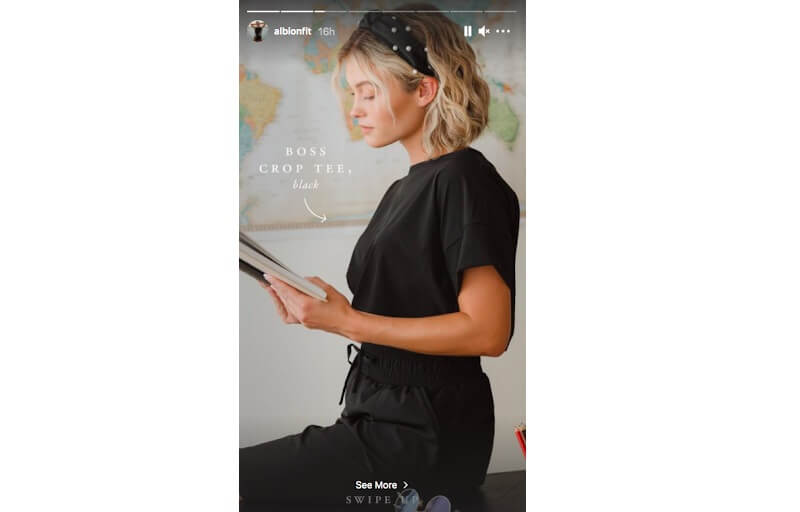 Keep your stories short and sweet. If you have too many slides on a given day, your followers are likely to become overwhelmed and just click through. Instead, plan out what you want to say, and then say it succinctly and clearly. Then, look at your analytics to determine which stories, topics, and CTAs are working best. Keep using those regularly, but don't be afraid to try new tactics, too.
---
3. A/B Test Your Sponsored Ads
Performing A/B tests can make sure you're creating the best possible sponsored posts so you can reach your audience in the best way possible. With an A/B test, half of your audience is shown one version of an ad, and the other half is shown another version. This can be a great way to test different copies, images, or even kinds of ads.
When you A/B test, you can easily compare two versions of the same ad to see which resonates with your audience better. Then, you can take this data and implement it as you create new ads so you can make sure you're using your ad spend to create a high ROI.
Within your Instagram ads manager, you can test various types of sponsored posts. Whether you're doing a traditional feed photo or video ad, carousel or dynamic ads, or a story ad, you can test and compare results. You can also test different images or copy sets to find the best messaging for your audience.
---
4. Create An Instagram Shop
With an Instagram shop, you can link the items you sell to your Instagram account so your followers can purchase without even leaving the app. If your first thought was "but I want them to visit my website," keep reading, because you might change your mind.
The best scenario would indeed be to have someone leave Instagram and visit your website to shop. While they're on your site, they might decide to sign up for your newsletter, subscribe to your podcast, or even buy additional products.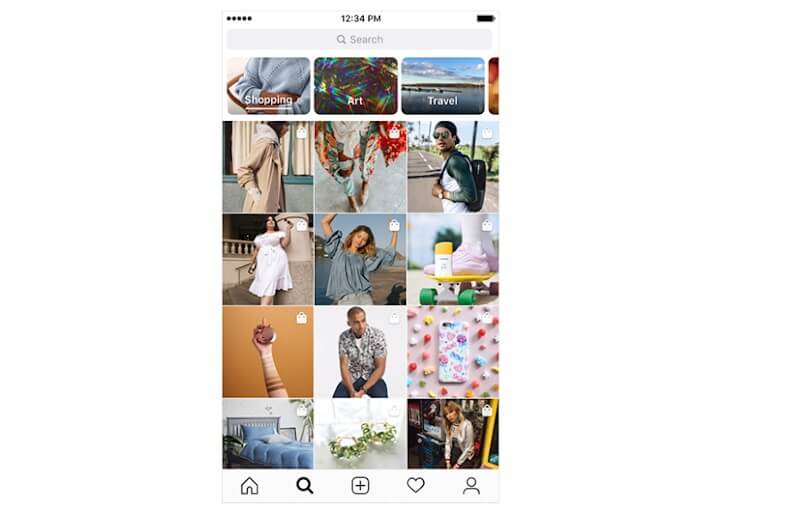 However, many people who are on Instagram don't want to leave Instagram. In this case, they can visit your Instagram shop, load up their cart and check out without leaving the app. You just made a sale you wouldn't have if they needed to visit your site to make a purchase. (And remember – if they like your product, they might head to your website when they're ready to purchase again!) Having an Instagram shop makes it easier, and selling is often about making things easy for your customers.
---
5. Make Sure You're Tracking The Right Metrics
We started off this list of Instagram marketing tips by talking about an Instagram audit and how you should start by writing down all of the data Instagram provides. You'll want to get into a habit to keep tracking your data and metrics so you can see when something's working or if you need to change course.
You don't need to track every single thing, though. Instead, track things like:
Content interactions
Likes, comments, shares, and saves of individual posts
Actions taken from individual posts
Story reactions, like tapping through or swiping out
If you have a shop or are running ads, you'll want to track all related metrics, since those are directly related to income and spending, respectively. As you track all of these metrics, you can begin to notice patterns. See what posts and products your audience likes and comments on the most, or which stories they swipe out of quickly. Then, create more content like the posts that perform well so you can give the people what they want.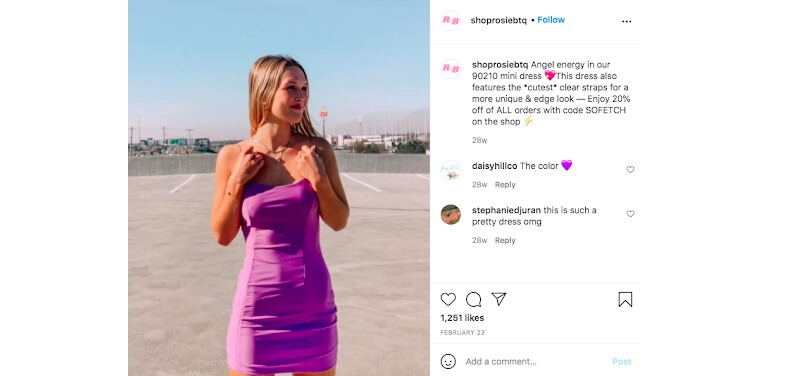 ---
6. Take Advantage Of User-Generated Content
You don't always have to be the one to create every single piece of content. Did that surprise you? It doesn't have to be someone on your team, either. Instead, take advantage of the content your audience is creating for you. Chances are if people love your products or services, they're posting about them. If they aren't, you can encourage them to do so by creating a contest or a giveaway.
User-generated content (UGC) is incredibly helpful, especially for building trust with your audience. It's easy for a brand or a business to talk about how great they are. However, if someone else posts about how wonderful a product is, people are more likely to believe them. If individual people are willing to voice their opinion and support a particular brand or product, others are willing to listen.
This is real, authentic content that resonates with other people, especially new or potential followers. UGC is also great because it saves you and your social media team time in content creation. Now, you'll want to find a balance, because posting just UGC isn't a good strategy, either. Instead, work on mixing UGC into your typical content.
---
7. Improve Your Copy
Yes, your copy is important, even on a highly visual platform like Instagram. People might "like" your post just because the visual is great, and they might even leave a quick comment like "oh, cute puppy!" But, if you want them to comment on something meaningful, share, or save your post or take any other kind of action, you'll need to have a well-written copy.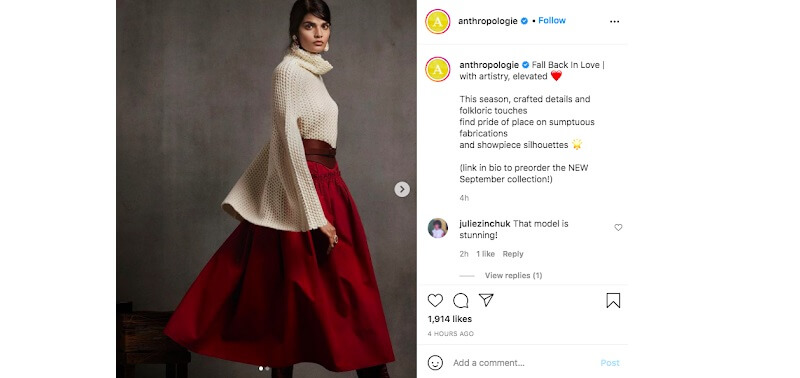 By improving your captions, you can capture someone's attention and get them to read your entire post. This is where you can share about your business or product or just ask them a question so you can begin to build a relationship with your followers.
Once your captions are dialed in, it's time to focus on CTAs. A strong, concise, and clear CTA is the key to actually generating the response and engagement you desire. If your CTA is too long, your readers will likely lose interest. If it's not clear, they could easily get confused. By improving your copy, you can strengthen your Instagram marketing strategy.
---
Wrapping Up
While any of these seven Instagram marketing tips are helpful and powerful on their own, they work best when you do them together. Make sure you start with your audit so you know where you are and can clear out any fake followers. Then, improving your copy will help you write better captions and CTAs for use in your ads that you A/B test.
Creating an Instagram shop will give you something new to promote in your stories. The possibilities are endless, but now it's time to stop learning and start doing. Implement these Instagram marketing tips and see what happens to your account this year.