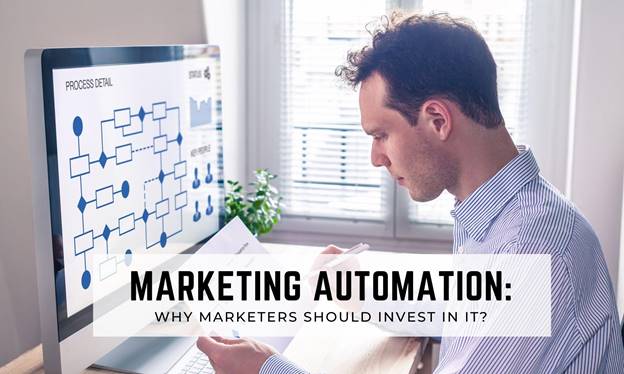 What Is Marketing Automation and Why Marketers Should Invest in It
in
Technology
on November 10, 2021
To define it simply, Marketing Automation is the use of a software platform to simplify and automate tasks to aid the consumers in their buying journey; and according to EmailMonday, at least 51% of companies are utilizing Marketing Automation on average. And with 58% of B2B companies that are planning to use this technology.
What is Marketing Automation?
Marketing automation is a growing technology that enables businesses to move further through automating marketing processes and customer engagement tracking, allowing them to deliver their campaigns and various engagements online to the right target market.
This technology helps businesses and companies establish effective processes for every stage of their marketing goals, and since data is gathered, it optimizes how they can keep things at maximum potential, making every customer engagement meaningful.
You can utilize automation tools to customize the experience for your customers based on their preferences and purchasing activities. It somehow reaches a more personalized level and it helps them build trust and loyalty towards your brand—and not to mention, increase others' brand awareness if they tell others about your business.
What Marketing Automation is Not?
Yes, it's easier to understand if we define it by its purpose or function, but it also helps if we understand what it's not and some misconceptions about it:
1.     Marketing Automation is not just a single tool of function.
It does not just exist for multiple email send-outs or a tool to drive your lead campaigns. It comprises different tools that enable businesses to maximize their branding potentials. This comes with managing social media, a built-in Customer Relationship Management (CRM) technology, landing page builder and more. Graphic design tools can also be part of the marketing automation process.
2.     Marketing Automation is not a Turn On and Off feature tool.
One of the common misconceptions about these kinds of automation technology is that once you have it all ready, you don't have to look into it as often since it'll work on its own. Of course, it is a great supplement to your website marketing strategies, but you also need to invest your time and effort in it to ensure that your campaigns are aligned with your objectives.
It is meant to enhance and to give support, not to replace the major gameplayer—You.
3.     Marketing Automation is not all about Email Spamming.
 Marketing Automation is not just about sending out as many emails as possible to your target market. Spam is mostly irrelevant email content but the former is the opposite. You get to make things personal with marketing automation.
Make your email content more personal and targeted so that you know you're getting the right message across and that you're building enough opportunity for your market to increase their brand awareness of your business.
What Can You Automate?
 So with all these in mind, what are those tasks that you can automate?
1.  Analytics
The truth of the digital world is, everything you put out there can be tracked and measured. It's no different with your marketing activities. You can maximize the use of this data, even in real-time, so you can grasp more of what your business is about- what impact it has created, who it has engaged, and from these, you can determine your steps to make necessary improvements.
With automation, you don't have to wait until the end of your marketing campaigns for you to know the results, you can have visibility with your projects and make adjustments as you go.
2.  Social Media Posts/ Campaigns
With the right marketing automation platform, you can ensure that your social media posting is on the dot, relevant and engaging. You can do this out of one platform and publish it on different channels. When things get busy, you need to find what works for you and what will help you manage your campaigns better. All the more if you're doing it on social media. Automation allows you to compose and approve posts in advance and numbers. You can also automate how you make engaging graphics to go along with your campaign. You can use an online photo editor to create visuals instantly. This will help you easily make the graphics needed for your campaign.
3. Customer Engagements and Communications
Yes, it is possible. You can now automate standard customer communications to help assist customers and provide them with efficient customer service. Now you don't have to worry about replying to that email.
4. Nurture Campaigns
These are your personalized email campaigns that enable you to hit the mark and deliver the message you want to your target audience. When you use targeted data, you have a huge chance of increasing your brand awareness. Nurture campaigns are necessary for inbound marketing because these lead to further conversations and engagements with your market. That's why "nurture" is the nature of the process as it helps you build relationships while educating your audience with what your business is about—and all these you can automate too.
Why Should Marketers Invest in Marketing Automation
1.  Save time, save resources.
 It's true, Marketing Automation assists you to do all those tasks that you do repetitively when you do marketing campaigns. It enables you to go beyond since you can do things in advance.  To make things more specific, here are some ways that it helps you save time and resources:
a. Scheduling
If you've done this before, you'd know that for every marketing automation platform, there's always a scheduling feature. And because of this, you can reclaim your time. Auto-scheduling social media posts, email send-outs, blog postings, video postings, even appointments, and reservations help you save time, and yes, even money.
b. Growth in Revenue
Because of the productivity boost, client engagement, and satisfaction, work efficiency, marketing automation has proven to have allowed businesses have experience revenue growth. According to statistics, 78% of marketers have claimed that automation has increased revenue for businesses.  Automating your marketing communications is one of the most common ways to make your brand known—and don't forget your analytics. Utilize it as much as you can.
c. Lead Campaigns
Lead campaigns, nurture programs, nurture campaigns have, in general, helped increase lead generation and most especially the sales that come in. All the more when marketing automation came into play that it has helped increase and double the number of leads being generated through these campaigns. Not only that, because you can make things personal with your content, using a photo editor to create accompanying visuals, targeting the right audience, all while doing this at a pace and timing that is convenient to your sales and marketing team.
2. Complete complicated tasks easily
 With all these time-saving opportunities, marketing can become a more dynamic playing field. Customer engagement need not be boring even if your tasks are automated. Marketing automation comes into play here by helping you accomplish tricky tasks easier.
a. Automate and incorporate content that is based on what sites a customer has visited
With this data, you can be more specific with the content that you're going to put out, making customer engagement more personal. This allows you to have a wider and better reach of leads and it adds a whole new level of dynamics to your campaigns.
b. Submission of forms and follow-ups
Following up with customers with their next steps in subscribing to your brand or business sometimes gets tedious. But with automation, you can easily set this up and create personalized responses and email send-outs to them. Even creating forms becomes an easy task with automation, plus you can schedule it in advance.
c. CRM Integration
This platform helps your marketing and sales team have a healthier cross-collaboration to streamline your lead generation, sales efforts, and more. With CRM integration, you can connect each application you utilize so data can be more fluid. Now your team can move with efficiency and time-saving strategies even while doing email marketing, social media posting, and scheduling, accounting, helpdesk, proposals, business intelligence. Challenges of CRM are big issues in this process and you need to know each challenge to avoid any adverse impact on your efforts.
3. Makes you focus on other important tasks
Since some of the tedious tasks that you can do before have now become automated, you can have more ease in focusing on the other important tasks that could shape your branding and marketing.
This includes improving your digital marketing strategies which aim to strengthen your nurture campaigns. Aside from this, you can focus on planning on how you can improve the customer service experience; along with this, you can also now start working on your new ideas and begin implementing ones that are on the pipe.
4. Measures results with precise metrics
Since you're using a technology that utilizes data, you can see and measure the results. What you'd want to double-check is that your automation platform is working right and being used the right way to gain a meaningful return of investment. Also, there has to be a heavy flow of activity to have valid results to measure.
Some things you can measure and carve out pathways of improvements on are:
a. Segment Activities
As you have begun mapping out consumer data and purchase behavior, you have rolled out the lead segmentation process. With this, you can already check activity levels for each segment. You should have visibility and an acceptable level of activity for each of your segments. Depending on what tool you're using, it will be easier to track your segments and other metrics as well.
b. Website Traffic
You can double-check to see if you have increased site traffic in comparison to the time is where you have not yet utilized marketing automation. In general, you should be able to notice an improvement in traffic once you have rolled out your automated marketing campaigns.
c. Conversions
At different stages in your marketing funnel, you can check your conversion rates. You should be seeing a spike in your conversion rates once your automation is correctly being utilized. You can determine the contrast in rates based on timings such as pre-automation, during automation, and post automation conversion rates.
These are your signposts to determine your performance or if there are reconversions even (like for those customers who purchased or subscribed to your brand/product again). It tells you how well you're doing, and how well you optimize the data you already have in your hands.
5. Saves money in the long run.
 It's probably true when they say that time equates with money. The latter ties up with the former. Marketing Automation makes the money you've invested in it work for you. You have technically invested your budget to serve your marketing goals better and deliver optimal results. You can save money in the long run as you have put your resources where it's needed the most. When you start automating tedious tasks, you save your time, work more efficiently, have lesser labor costs, and can be guaranteed a positive return on investment.
Takeaway
Needless to say, marketing automation can be a real booster for your business and brand. It helps you optimize your sales cycle, increase conversion rates, and strengthen your lead campaigns. But beyond that, it helps you focus on other things that you may have lost sight of prior—like better strategizing and creating ways to reach your clients on a more personal level.
By leveraging the use of marketing automation, you can see incredible results in the long run. You'll have a whole history of targeted improvements and successful marketing campaigns.
The one thing to take note of is that even if technology has once again saved the day (and our time and money too) by assisting us to work better, it does not mean that we can just lay low and let it do the major hustling. Automated platforms are not replacements for the human and personal touch that we get to incorporate in our branding and marketing. At the end of the day, it's the personal factor that gets to the core of how a consumer trusts your brand. And again, marketing automation is meant to enhance and to give support, not to replace the major gameplayer—You.
Author's Bio:
Shelly Solis is a content specialist and a passionate blogger. She is the co-founder of SaaSLaunchr: SaaS Marketing Agency. She is currently working as a blog outreach specialist and SEO for SaaS startups and businesses.