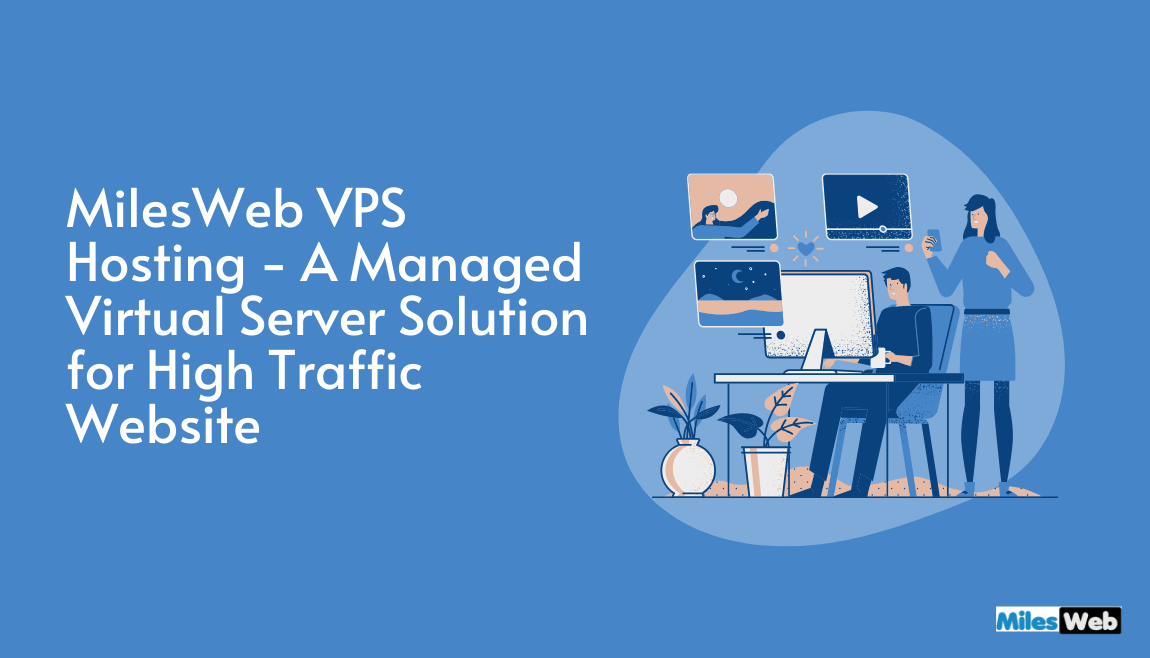 MilesWeb VPS Hosting | A Managed Virtual Server Solution for High Traffic Website
in
Hosting
on April 23, 2020
Do you have a basic website? If you are a startup and have a basic website, your website is probably hosted on a shared server. Although you may not require a lot of resources for your basic website, as your website pages, functionality, visitors grow, you may need to upgrade your web hosting plan. Simply upgrading to a higher version of the shared hosting plan may not be a long-term solution. At this time, you will have to make a decision to upgrade to a VPS.
In VPS, a physical server is divided across multiple virtual servers. While shared hosting shares your website with other websites on the same server.
To understand what is a VPS watch this video:
Now that you know what VPS hosting is, let's see one of the leading web hosting company "MilesWeb" that offers cheap VPS hosting plans that are highly reliable along with managed services.
About MilesWeb
You must have already seen this name on the web a lot of times. Here, we will take a look at this company in detail.
On the current date, MilesWeb's client base is more than 18000. Although this company has started in 2012, it has achieved a lot of popularity in the market.
Not only VPS hosting, but you get several different services under one roof at MilesWeb. Right from shared hosting, reseller hosting, business hosting, WordPress hosting, unlimited hosting, Magento hosting, dedicated hosting, domain registration, cloud hosting, etc. They've got plans for all. They also have collaboration tools such asG Suite and Office 365.
They are mainly known for their affordability, timely customer support and uptime. Here, we will discuss in detail about their VPS hosting plans, it's pricing as well as its features.
VPS Hosting
Unlike other web-hosting providers, MilesWeb provides MilesWeb VPS Hosting Plans. This way you can be worry-less about the management of your server. With that in mind, let's look at MilesWeb VPS Hosting. A virtual private server gives you accelerated capacity and efficiency for your website due to the available server resources. MilesWeb supports Linux VPS hosting and Windows VPS hosting.
It depends on whether your website or application is built in Linux or Windows. You can choose the hosting platform accordingly.
Technical features ofLinux VPS hosting:
Full Root Access
SSD Disk Drives
Dedicated IP
Cloud-Based VPS
24/7 Support
IPv4
PHP / Perl / Python
SSD Storage
rDNS / PTR Records
Django / FFMpeg / Ruby on Rails
Host Unlimited Domains
Crontab Access
JSP / Tomcat / Java / Node.js
Host Unlimited Sub-Domains
Secure Shell (SSH)
MySQL / MongoDB / MariaDB
Unlimited Email Accounts
Ruby Version Manager (RVM)
Apache / Nginx / LiteSpeed
Subversion Repository (SVN)
XCache / Varnish
Access to Raw Log Files
Other Features
Free Migration
When you decide to migrate your site to the MilesWeb server, you don't have to shift all your website data from the old server to theirs. Their technical team of experts will move all your website files without any trouble. Their availability is 24/7 for all the 365 days. Just get in touch with them and they will begin with the migration process as per your convenient time.
Excellent Speed Performance
When you look from a user's point of view, it's obvious that they dislike slow loading websites, as all of us do. This urges us to leave the page because in the first few seconds it doesn't load. With this thing in mind, MilesWeb promises speed that can't be beaten in the industry. This is very clear from my observance that the website loading period was the lowest relative to any other on the market hosting providers.
Guaranteed 99.95% Uptime
The aim of making a website is to ensure that the audience can access your business anytime. Keeping this in mind, MilesWeb prioritizes that your website remains up all the time. Thus, MilesWeb delivers 99.95 percent uptime with its Tier-3 and Tier-4 data centers.
Round the clock customer service
Whether you are launching your website for the first time or if you are a skilled expert, chances are you may need help at some point or the other. Or you may come across some difficulties that can be solved only by a highly skilled expert who has good hands-on server and its functioning. When you choose MilesWeb, you don't have to worry about all this at all. Need any help? Just get in touch with their team and they will assist you at any hour of the day or even night. You can contact them via email or live chat. They also have their knowledge base available so that you can go through it for some basic issues.
Conclusion
This is a reality that no hosting company is flawless but to some degree, they may be fine. MilesWeb gives you a lot of features for the price you're investing so if you're not trying for anything excessively extravagant, you're not going to be disappointed with MilesWeb – the only inexpensive web hosting company. I can confidently conclude that it provides tremendous value for your time, in addition to ease of usage.