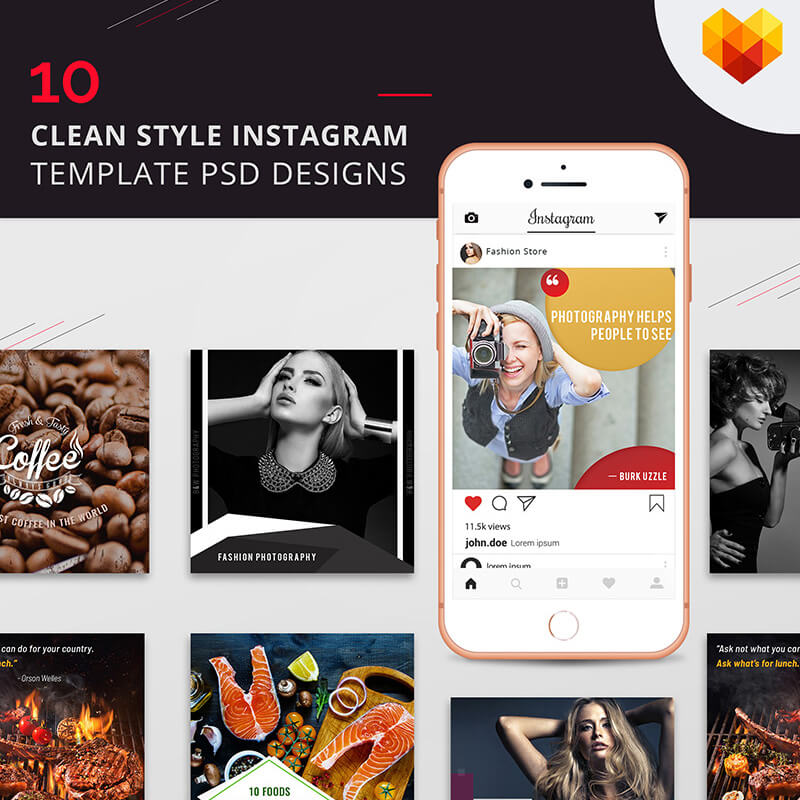 How to Double Your Audience without Extra Payments: 10 Must-See SM Templates
in
Technology
on June 10, 2019

When it comes right down to sales, today's businessmen are ready to do anything to get new customers. They do their best to stay in fashion! To attract more people, company owners keep an eye on all upcoming web design, even the boring ones. Obviously, products, services, or company promos have never been so easy-to-create as they are in 2020. Every single year, technologies become more and more user-friendly. Nowadays, they are quite affordable, and, what is more important, extra easy-to-use. So, what's the problem?
Although today you don't need to run out of your budget to create a remarkable business promo… Well, it is still not easy to stand out from the crowd. Simply because now everyone has access to multiple ready-to-use items. The variety of such products is super rich so that you can create a worthy showcase just in a few minutes. Would you like to introduce your business to a huge online audience? Thanks to social media templates, you can do it without trouble! Are you going to impress people with a real-life promo? Just choose your perfect PowerPoint presentation template, and voila!
As the name of the post says, today I'm going to answer the most popular question any businessman asks. Is it possible to double your audience without making any extra payments? Long story short, the answer is yes! Moreover, you won't need to have any special experience or skills as well. So, what should you start with?
Shortly, all you need to do it to use social media for your business. They are:
Facebook,
Instagram,
YouTube,
and Pinterest.
There is nothing complicated at all! Below I listed 10 must-see social media template packs that will be useful. I also added some fresh stats to help you with the final decision-making. Still, no matter which of the named SM platforms you choose, your promo will be lucrative.
SINBAD Social Media Pack Social Media
Let's start with SINBAD – a stylish social media package with absolutely ready-made designs inside! Are you looking for a way to catch prospects' attention with Instagram, Facebook, and Pinterest? In this case, SINBAD would be a quick solution for you, as it has lots of pre-designed SM banners.
Here is what you get by choosing SINBAD pack:
14 Square templates for Instagram (1200×1200);
14 Horizontal templates for Facebook (1200×627);
14 Vertical templates for Pinterest (1200×1500);
2 Colors of all templates;
highly organized and labeled layers & Fully editable files.
---
10 Clean Style Instagram Pictures Social Media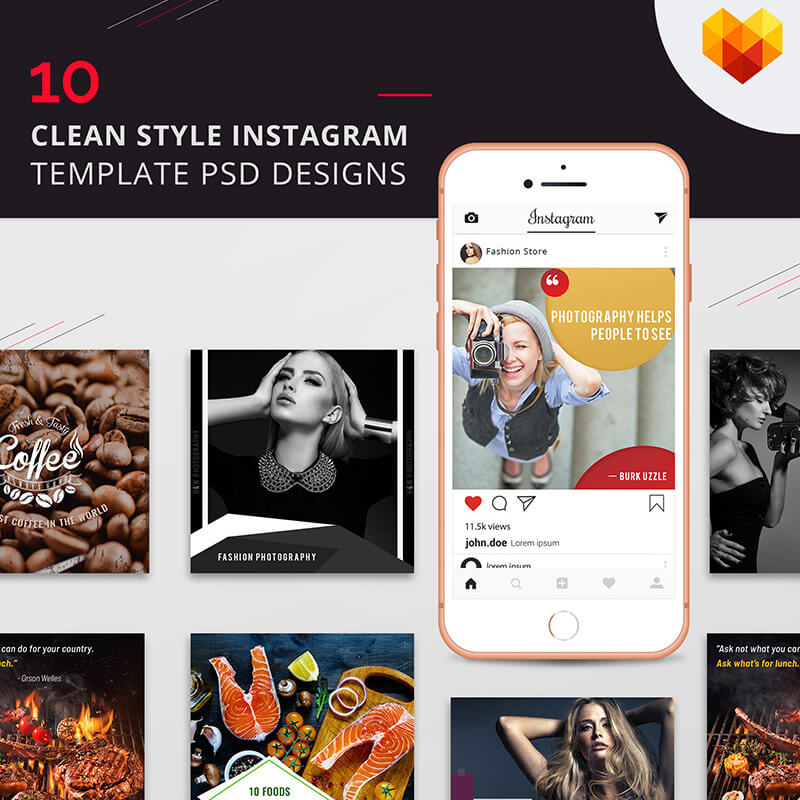 Before everything else, I want you to take a quick look at the recent Instagram statistics! Nowadays, 1 billion users visit the platform every month, and 500 million of them use Instagram on a daily basis. Seeing that, you should understand that an adequately created social media promo can enlarge your audience without overrunning the budget. That's why I recommend you to look at this minimalist Instagram pics bundle which includes 10 flexible styles.
---
Clean Style Instagram Story Social Media Package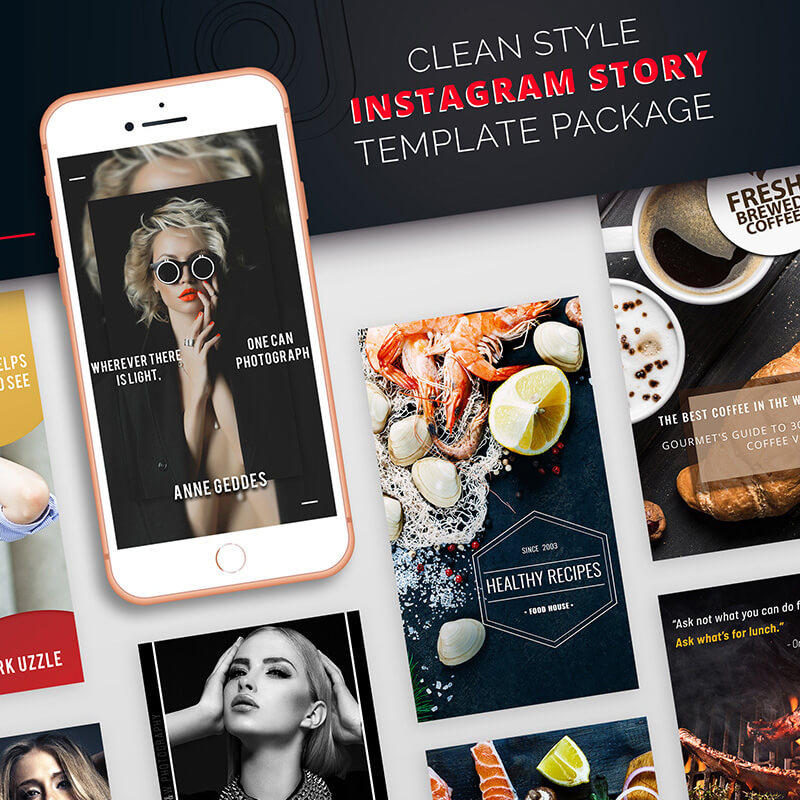 To continue, Instagram Stories usage also raised! In October 2017, there 300 million people used them daily, and now, almost 500 million users use Instagram Stories every day! As a result, most brands (nearly 2 million companies) say that their sales received a 50% increase thanks to the feature. Finally, ⅓ of the most viewed stories relate to businesses, so don't you think it's your turn to try the option? Inside the pack of this ace product, you can see some pre-styles variations for your bright SM promo.
---
Colorful Instagram Banner Pack Social Media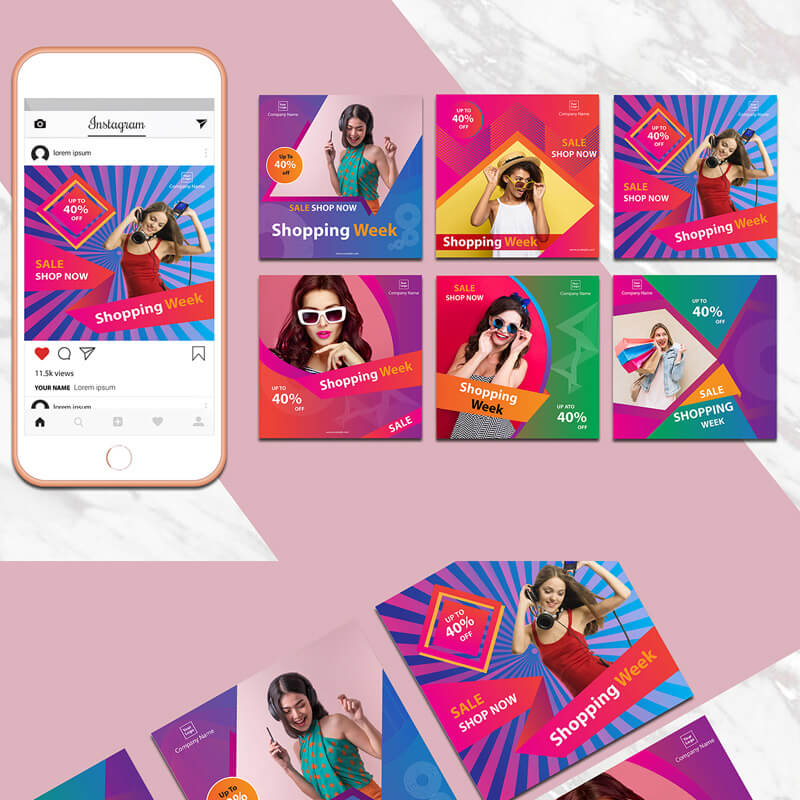 Without a doubt, in 2020, you can't stay popular without being online. However, owning an up-to-date business website is not enough to stand out from the crowd. I guess you already realize any young company startup requires a robust social media promo. Would you like your company to look professional on SM? You can use this colorful Instagram banner pack tho! No extra skills needed! Just replace the text and pics, and here we go! Besides, all the components the pack contains come in 300 dpi resolution. You can edit them via Adobe Illustrator without a hitch.
---
GOLD Pack Social Media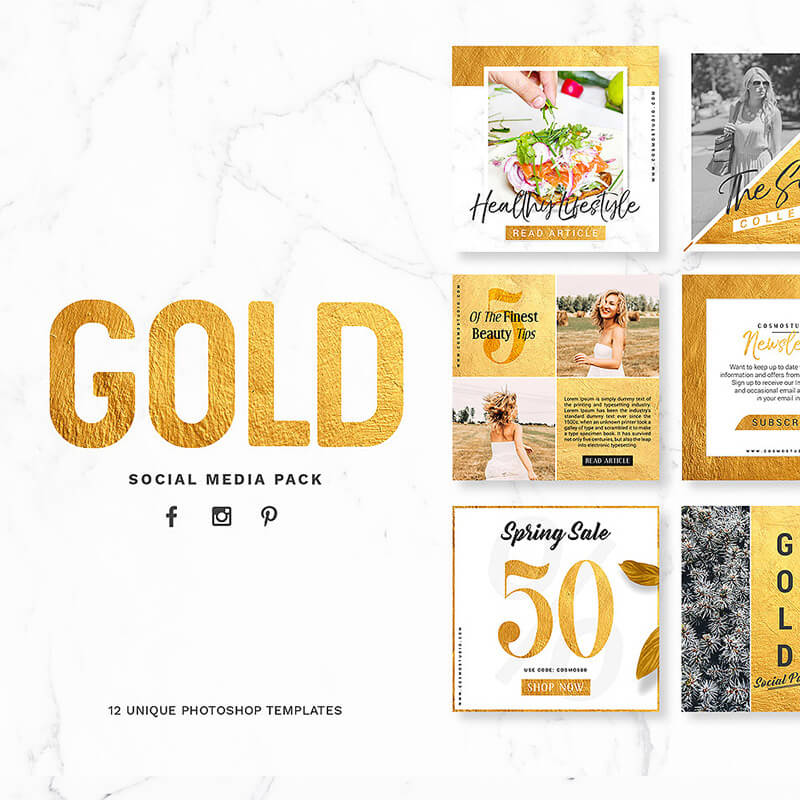 To make a long story short, this product is an all-in-one solution for everyone who needs a cool SM showcase. By choosing a GOLD template, you can design eye-catching social media banners without lots of work! These handy templates are 100% creator-friendly and were optimized for the most popular social media platforms, including Facebook and Pinterest. What is waiting for you inside the package?
By purchasing GOLD template, you get:
12 Square templates for Instagram;
12 Horizontal templates for Facebook;
12 Vertical templates for Pinterest;
free high-resolution images;
free web fonts.
---
Hello Pack Social Media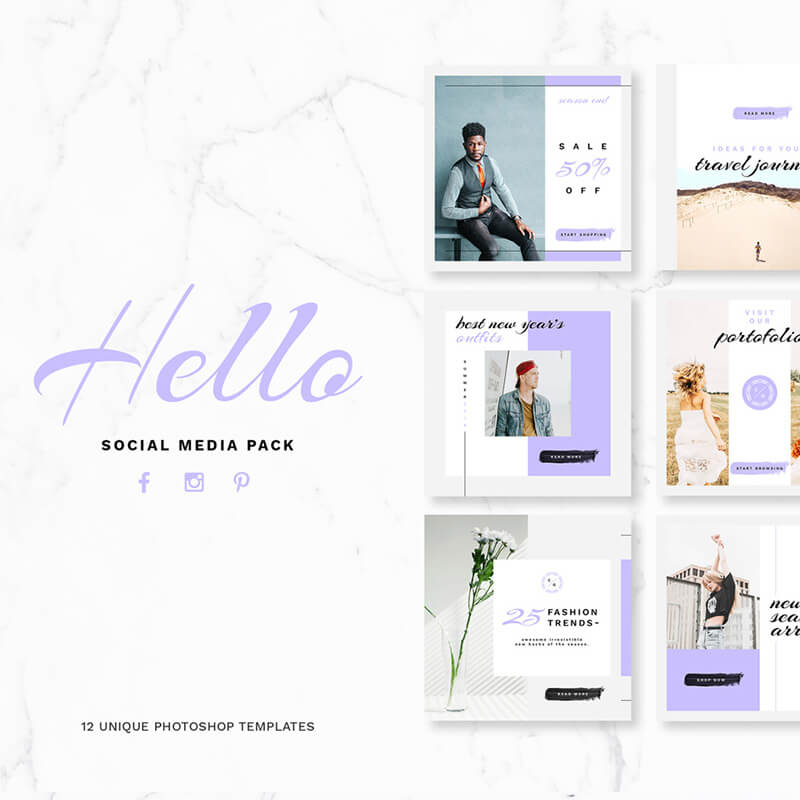 At the outset, Hello contains 12 pre-made social media banners optimized for Instagram, Facebook, and Pinterest platforms. They suit so many needs, like:
lifestyle,
business,
blogs,
and social media ads.
Each component is highly versatile. You can change it according to your personal taste via Adobe Photoshop. What will you get by choosing Hello? Here are the features this social media package contains:
12 Square templates for Instagram (1200×1200);
12 Horizontal templates for Facebook (1200×627);
12 Vertical templates for Pinterest (1200×1500);
highly organized and labeled layers;
fully editable files,
and free readable fonts.
---
Pastel – Instagram Stories & Posts Social Media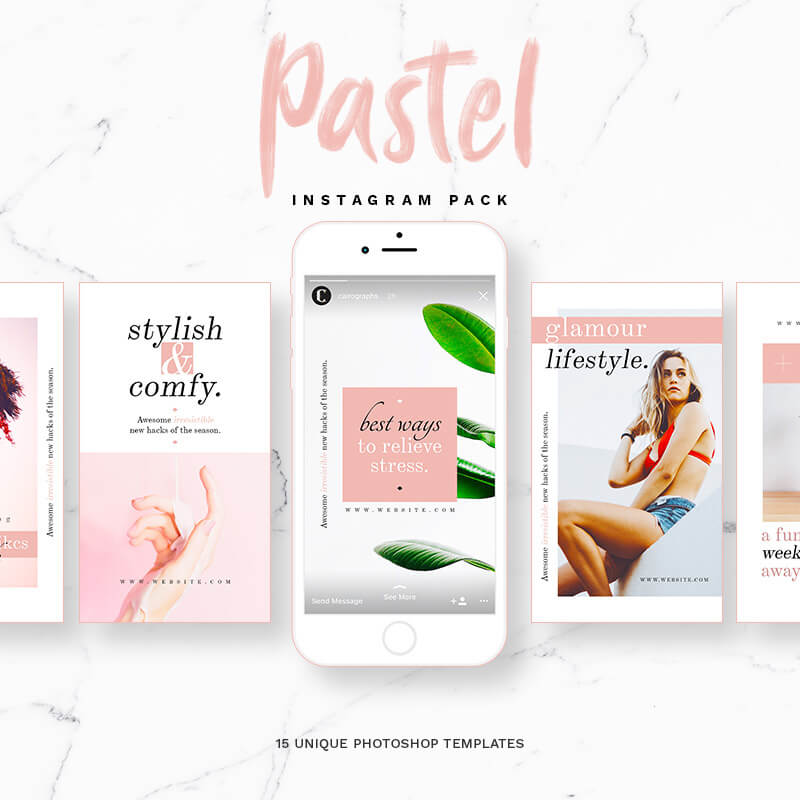 For those who are looking for something more elegant, Pastel is definitely a must-see! In a word, this is a soft and fully ready-to-use Instagram package which contains 15 various templates. It provides you both with posts and story designs. Still not sure you need story banners to present your business on social media? In this case, here is another cognitive fact for you: in 2020, under-25-year-olds use Instagram 30+ minutes a day. That's an impressive result comparing to 24 mins for 25-year and older users, and guess why it happened? Thanks to Instagram Stories! People find it comfy to add fast content and view it out rapidly. Why won't you do the same for your business?
---
Facebook Cover Photo Design Social Media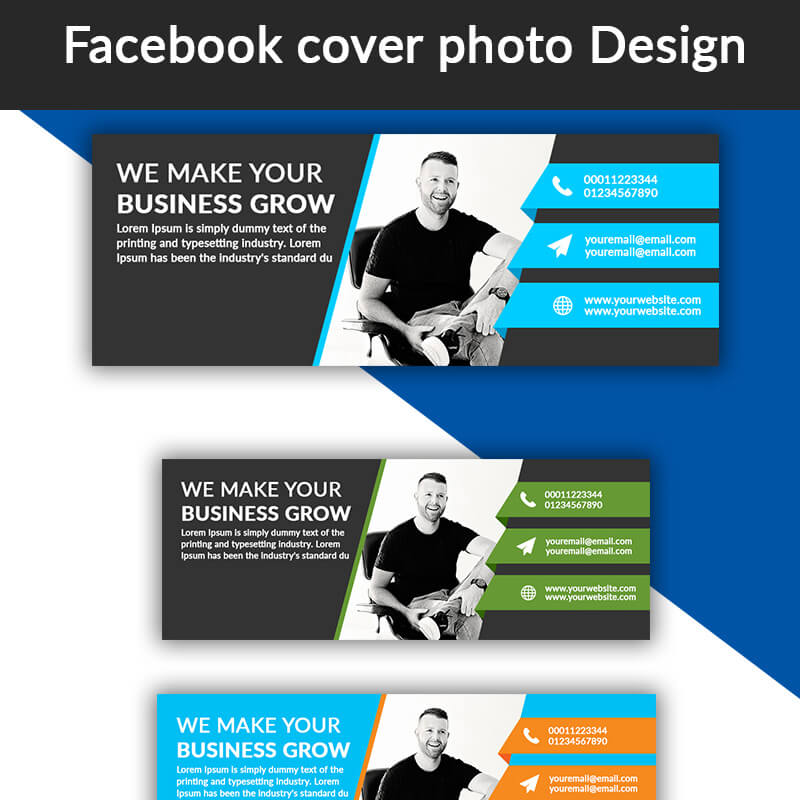 When it comes to social media campaigns, Facebook is another platform which surely needs your attention. Just check out the latest FB stats for business:
in 2020, Facebook has more than 80 million pages for small and medium-sized businesses;
6 million businessmen regularly advertise on the platform;
FB is still the top platform for B2B and B2C businesses;
78% of US shoppers say they discovered some products to buy on FB.
Actually, when it is a question of purchased items, Facebook outranks even such popular platforms as Instagram and Pinterest. Each of them has inspired 59% of US customers to buy something. Would you like to start a notable FB campaign for business? Above you can see a voguish template for these needs.
---
YouTube Channel Art for Auto Shop Social Media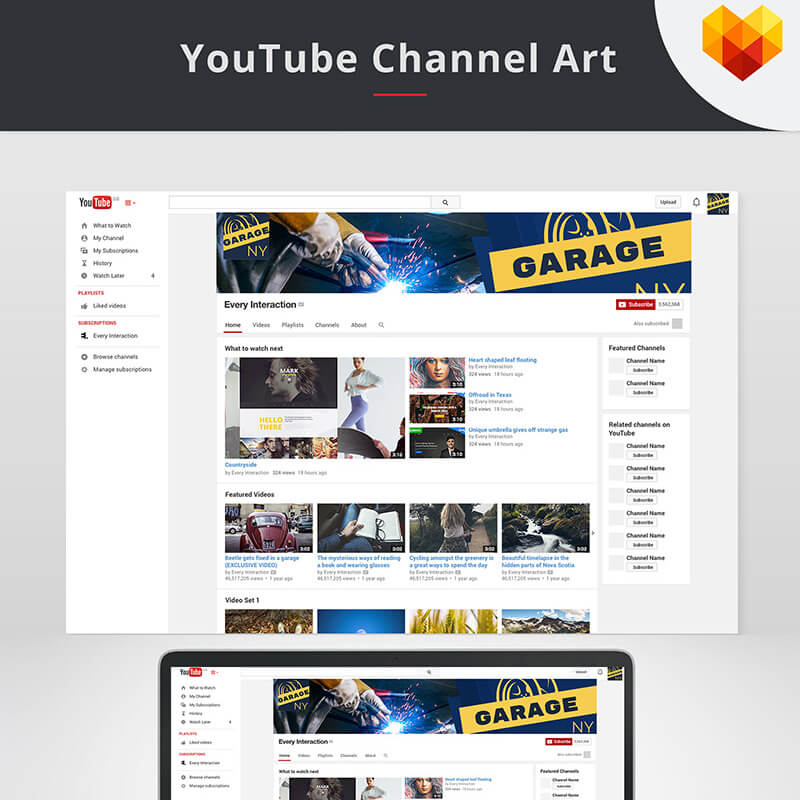 According to Alexa, YouTube is the 2nd most-visited website in existence, so you can't forget about it! What's more, stats show that 96% of 18-to-24-year-old Americans use the platform. It is also one of the most popular ways to advertise any business. It looks like you definitely should think of a worthy YouTube promo! Whatever your business is about, you have to start with an official channel design. There is no needs to waste money on custom designs! Just try this editable YouTube channel template. It is compatible with Adobe Photoshop and allows you to edit images and texts with lightning-fast speed.
---
Gravity – Creative Instagram Social Media Pack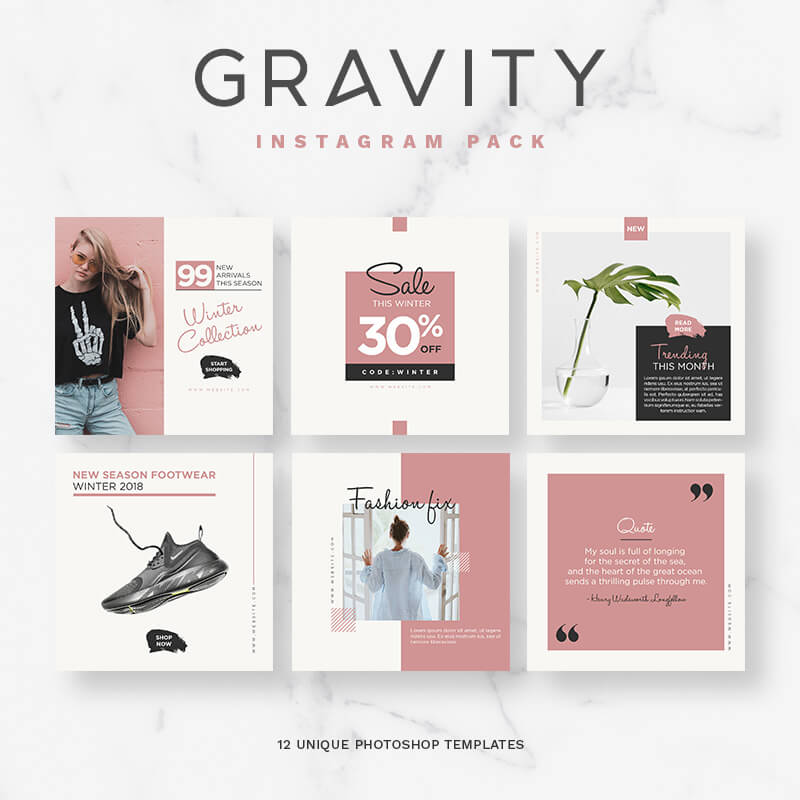 Are you looking for something truly creative to build a wonderful Instagram promo? As the name of this point promises, Gravity is just what the doctor ordered! It's a multipurpose product that fits both business and personal purposes, so use it as many times as you want! What will you find in the pack of this attention-grabbing Instagram banners bundle? Basically, the package provides you with the following features:
20 square templates for Instagram,
2 trendy color schemes,
100% editable files,
free typefaces and images.
---
In Summary
To sum everything up, I should admit social media became a huge part of our routine. These days, it is much more than just a way to communicate or share pictures. People use SM for many purposes and business needs don't make an exception. You may be surprised but using social media for your company makes even more sense than using various business-oriented platforms.
For example, let's compare Facebook to LinkedIn! I already mentioned that 98% of B2C businesses and 89% of B2B ones use FB. When it comes to LinkedIn, B2B usage is 86% and B2C usage is only 46%. According to SM report, lots of B2B marketers say that Facebook is the top place for business. Why? Just because the lines between professional and personal use are more fluid there. Seeing that, are you ready to promote your deal with social media?