Without a doubt, the travel industry is all about selling experiences. Add more value to your business with any of the travel agency HTML templates below. The only way to succeed is to provide a highly personalized service that solves complex tasks. With so many self-service online solutions out there, consumers book a simple trip themselves. But once in need of the complex trip, your travel agency should be right here to provide the solution. Don't let your website do you a disservice. Check it out on three things: good design, compelling content, and easiness in usage. If any of the things are missing, your business is doomed.
The best thing is that even if you're not tech-savvy, Bootstrap website templates give you plenty of opportunities to get started quickly. This could be your must-go-to tool necessary for improving process efficiency. It's in your own interest to be a good marketer. If not, it's time to focus on selling. Expenses, not things, do make sense today more than ever. That's why selling deals on your website is a big no-no. Transfer your business and your ad message to sell expert advice and personalized service. At the end of the day, it can help build trust with customers and improve sales conversions.
As the travel industry changes constantly, your website desperately needs to stay ahead of these changes. Better yet, the pace of change will only accelerate, so should your website. It should be ready to adapt and adopt new ways of selling experience and high-quality service online. So, get inspired by the travel agency HTML templates below to keep your website up to date no matter what. Be different in your passion for sharing the world with your target audience. Now treat yourself.
SkyBooking – Online Travel Agency Bootstrap Template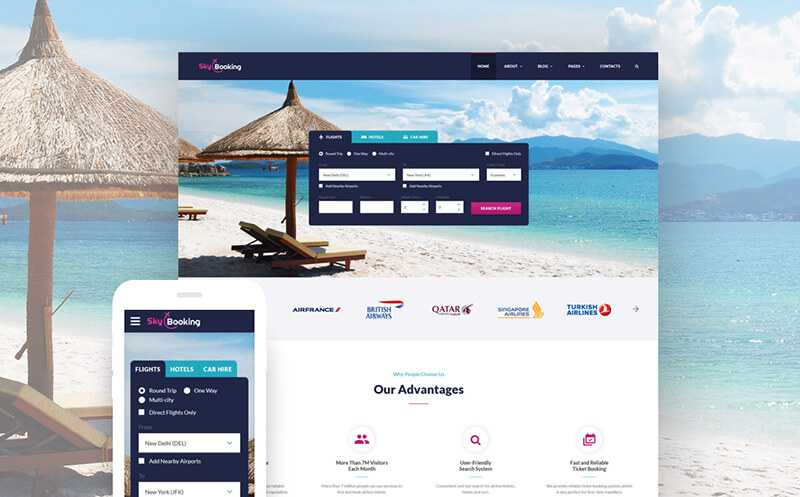 If you're not satisfied with the efficiency of your travel website, it's time to refine it with SkyBooking. Responsive and SEO-optimized, chances are your website keeps its ranking safe & sound. Take advantage of over 35 ready-made HTML5 pages to represent your services & products in the most appealing way possible. Besides, make the full use of multiple headers & footers, gallery & blog layouts. Better yet, a working contact form will keep you in touch with your target audience. All in all, no matter your niche, SkyBooking is your smart bet.
---
Sun Travel – Travel Agency Online Web Template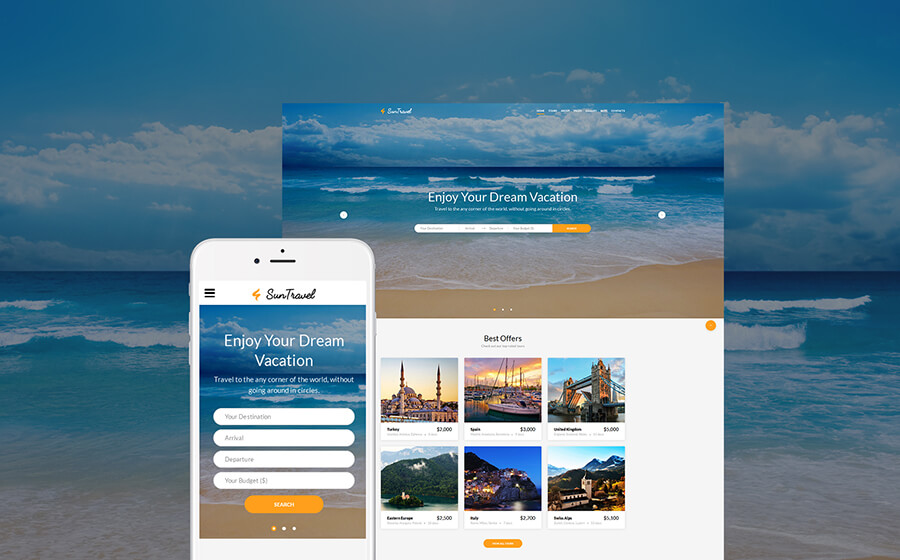 You can no longer ignore the importance of a responsive website. If your target audience can't enjoy your travel agency website on a mobile device, you lose them. Once you decide to go for Sun Travel, expect a boost in conversion. Modern, eye-catching and powerful, it's one of the best travel agency HTML templates on the list. Indeed, it comes with a set of pre-designed HTML5 pages, multiple gallery styles, and Parallax scrolling animation. On top of that, multiple web forms can help satisfy their needs.
---
Sunway – Travel Agency Multipurpose HTML Template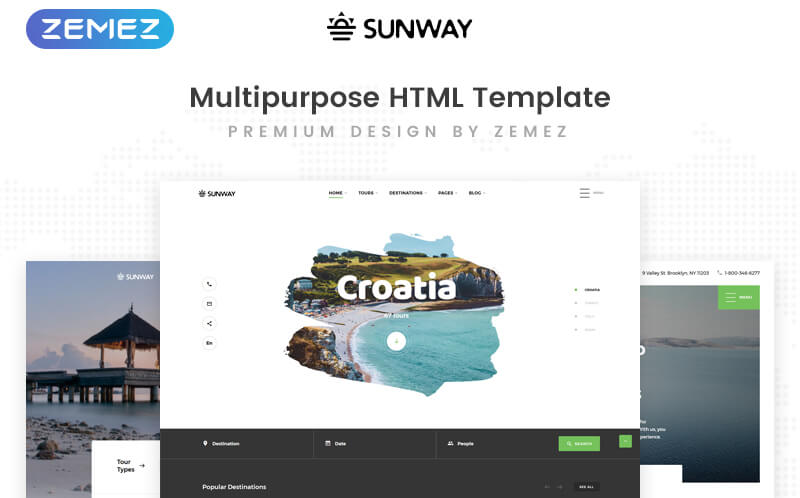 In today's fast-paced world, having an effectively designed travel agency website can mean a difference in your bottom line. It's a very competitive market, so it's in your interest to make sure your website creates demand. Sunway could be right at home for any holiday or travel website. Being one of the best-selling bootstrap website templates, Sunway is worth the trouble. Indeed, responsive, SEO-friendly and powerful, your website has a better chance to cut through the online noise. So, it's time to increase your revenue.
---
Winter Tour – Holiday & Travel Agency Online Website Template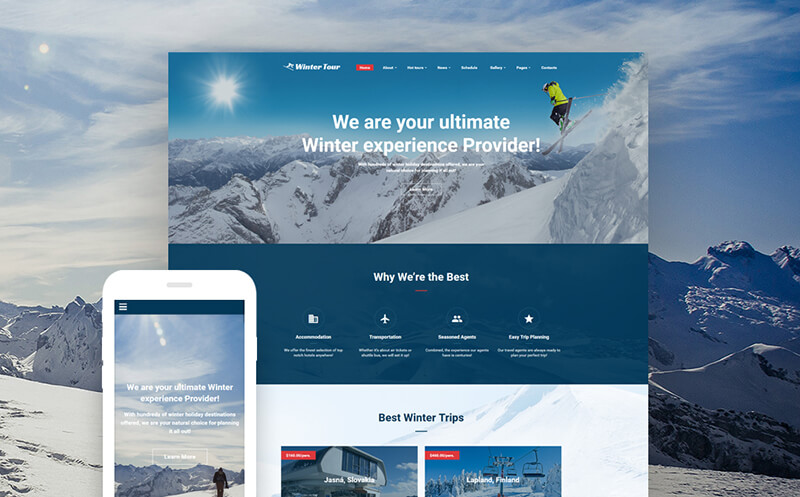 Enjoy Winter Tour. This specimen of the bootstrap website templates can help get you started quicker. Designed for winter sports and travel websites, it does its job better than any other website template. Winter Tour is totally responsive, so your users will enjoy its browsing experience on any modern device. Sure, the number of pre-designed elements abounds. Pages, gallery layouts, and various web forms, what else could you dream of? Take advantage of multiple headers & footers to corner the tourism market from day one. At last, entice your users to stay with you longer and sign up for your news.
---
Summer Trip – Travel Agency Online Web Template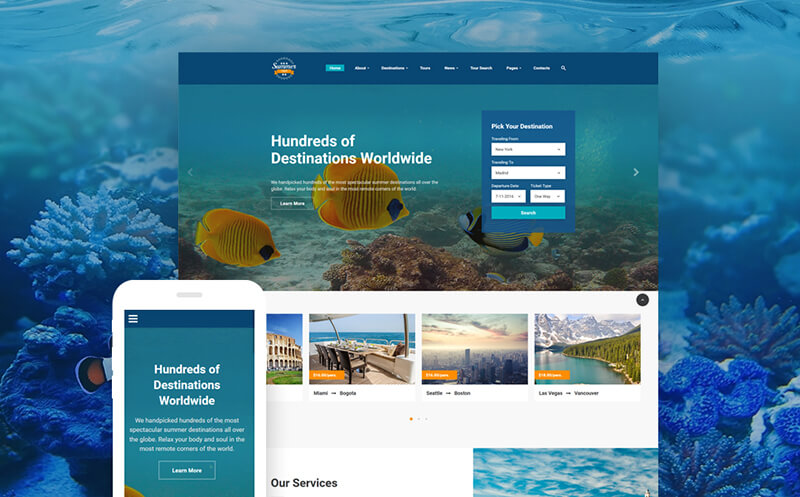 Having a great website is not enough. Much better if your great website creates demand and grows conversions. Give Summer Trip a shot to see how effective your website could be. Clean, modern and powerful, Summer Trip has everything you need to increase the value of your travel agency. Responsive layout, Parallax scrolling effect, over 50 pre-made layouts, and multiple blog styles can help make your users go wow. All in all, this eye-catching representative of the bootstrap website templates is nothing but surprise.
---
Cruise Travel – Tourism & Tour Operator Web Template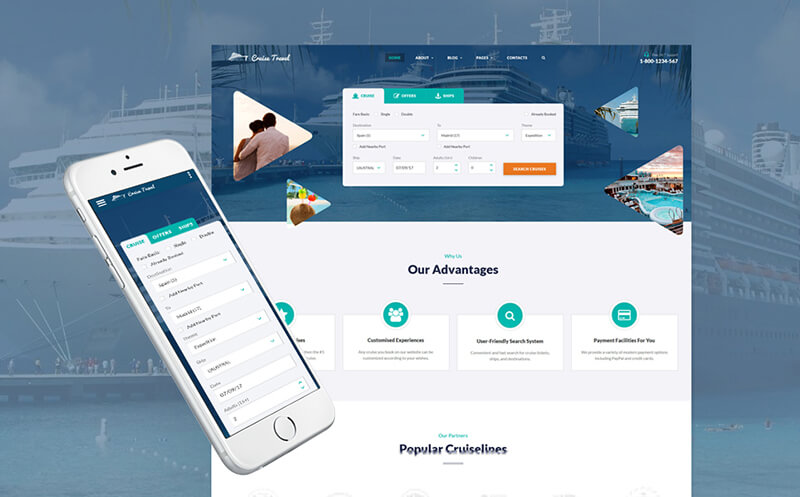 Do you live and breath your travel business but struggle to market it? Cruise Travel offers you a quick and easy way to make your dreams a reality. Express your brand's vision through a clean-cut website that convinces your visitors to choose your offering over the others. Thanks to the carousel slider and diverse animated elements your website can catch every user's eye across all modern devices. Besides, optimized in line with the latest SEO guidance, your website is more likely to appear top of the search results. Go on, give your travel business a raise.
---
Cruise – Clean Cruise Company Multipage HTML Website Template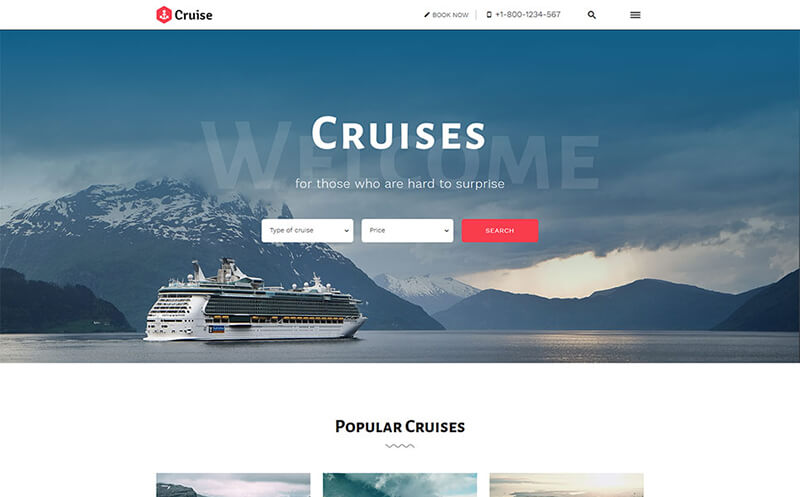 You may offer the best travel services in your niche, but if your website looks mediocre, your business is doomed. Make no mistake and go for Cruise. If your website doesn't give your target audience a reason not to forget you, you're losing revenue. Let Cruise take care of the tricky things that stay on your way to success. Modern, fresh and responsive, Cruise is one of the best bootstrap website templates that can make your life easier from the start. Take time to enjoy its elegant design that adapts correctly to all modern devices. On top of that, jam-packed with the Parallax scrolling effect, your website impresses and engages users more online.
---
Tourist – Tours, Travels & Hotel Booking HTML Website Template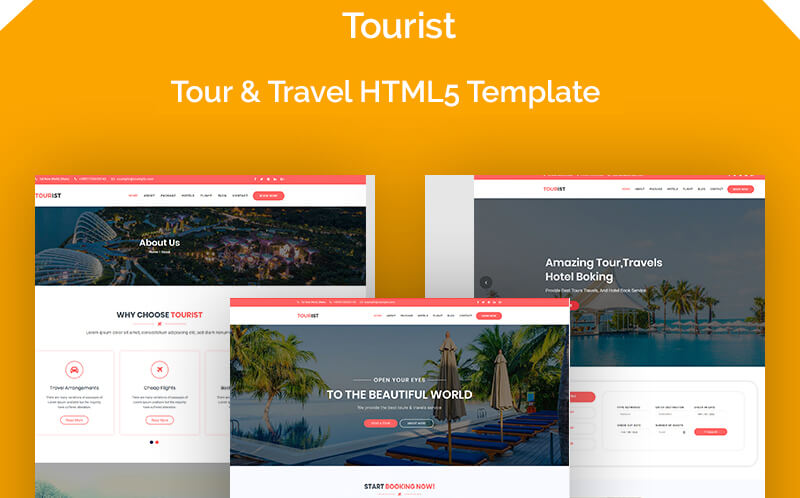 Is your travel website doing what you expect of it? If not, it's time to doctor it up with Tourist. Powerful, fresh and eye-catching, it suits all kinds of business websites providing hotel booking, travel & tour booking services. So, whether you offer hotel, car rental, cruises, vacation services or flight tickets, Tourist is second to none. Built on the powerful Bootstrap framework, your website provides a great browsing experience no matter what. What's more, it comes with multiple unique sections, 5 homepage layouts, and an awesome set of icons. The more inside, take the plunge.
---
Travello – Tour Management & Travel Agency HTML Website Template
No matter how much effort you put into strategy, campaign and sales, if your website's design is poor, everything comes undone. Once you decide to go for Travello, your travel agency website can evoke different emotions. Trendy, clean and attractive, Travello is one of the most alluring travel agency HTML templates worth a mention. Jam-packed with tons of advanced features & pre-designed pages, it makes it easier to bring your travel agency business up a notch. What have you forgotten? To check its live demo.
---
Wrapping Up about Travel Agency HTML Templates
All in all, you certainly can't go wrong with any of the travel agency HTML templates on this list. The best thing is that if you haven't built a website yet, don't fret, these bootstrap website templates can help you bridge your gap in knowledge. At the end of the day, you'll see that developing a website with HTML templates is not all that difficult. All in all, don't skip them till you try it. Chance are you'll be surprised by what they have you to offer.