Becoming a freelance graphic designer is not a simple task, and can involve a lot of effort and time.
Getting clients, building an impressive reputation, and securing a dominant position on the market is among the more arduous tasks.
The reason for the difficulty is that more and more people are now choosing to be their own bosses and handle their work in the way that they prefer. Hence, there is a lot of competition to contend with.
However, once you establish a name, your earnings and reputation will repay your efforts.
Using this guide to become a freelance graphic designer will surely help you go through the process quickly and accomplish your goal.
Let's get right to the point.
1. Identify Your Niche Of Expertise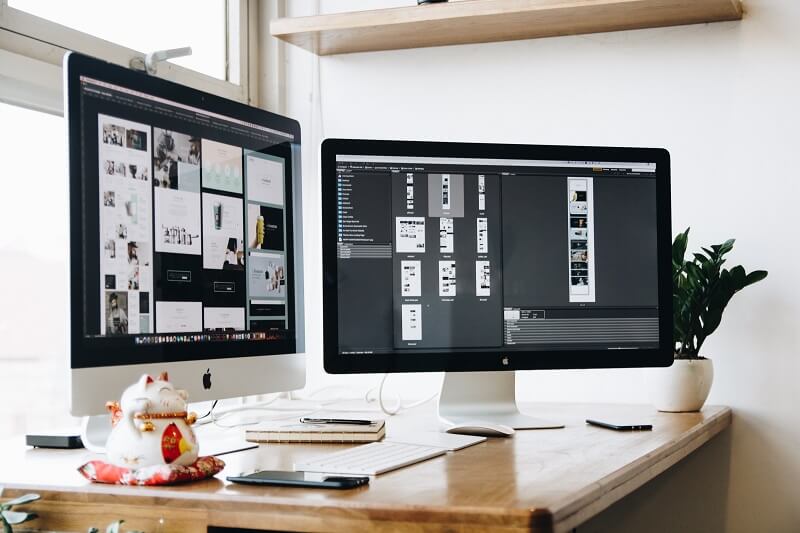 Graphic design is a vast field that includes multiple disciplines, as you are probably already aware of. Working on and providing services for all of them can be quite challenging and sometimes confusing for potential customers, who may think you do mediocre work for each.
Therefore, if you are starting a freelance business, you should identify your area of specialization and focus on that. Once you build a name, you'll then be able to expand your services.
The following are some of the most common graphic design types of work from which to choose:
Brand Identity And Logo Design
Graphic designers creating brand identities make sure that the visual elements of brand identity communicate the brand's intangible qualities through images, shapes, and colors.
Marketing And Advertising Graphic Design
Graphic designers create advertisement materials such as brochures, flyers, email marketing templates, and much more, in order to help companies communicate a message effectively.
Packaging Design
Packaging designers develop design concepts, mockups, and print-ready files for a product in order to communicate with consumers.
User Interface Graphic Designers
UI design user interfaces that are easy to use and provide a positive user experience. UI design focuses on the visual experience of the user and on-screen elements, such as buttons, menus, and micro-interactions.
Publication Graphic Designer
This type of design includes traditional types of publications, such as books, newspapers, magazines, and catalogs.
Motion Graphic Design
Motion graphic designers create animation, audio, typography, imagery, video, and other effects that are used in online media, movies, and so on.
2. Create A Strong Portfolio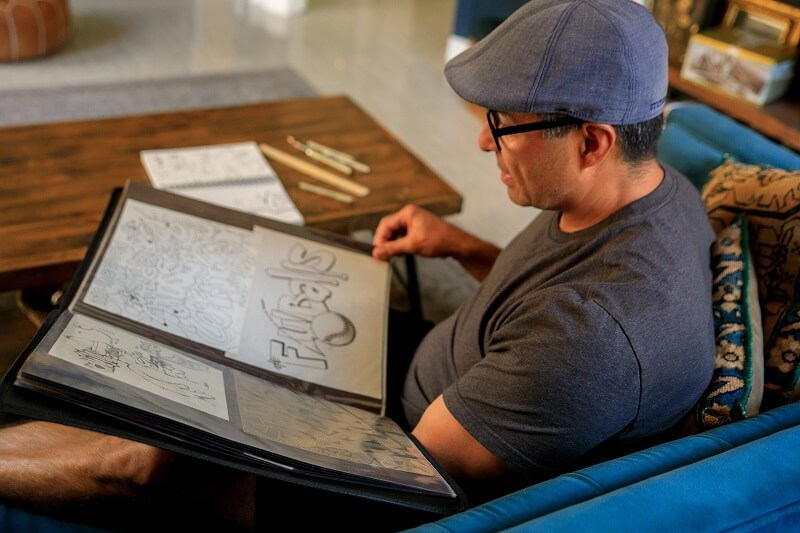 Creating a strong portfolio is one of the first steps to starting a freelance career. Having a portfolio will serve you well to show your potential clients what you've done so far and who you've worked with.
You can build a portfolio using your own work if you are just starting out and have not worked for a client yet; this will prove your expertise and experience within your field.
Starting with a small portfolio of your best work, you can then add more projects as soon as you get new clients.
To build a portfolio, you can either create a dedicated website or a presentation.
When creating a portfolio, make sure to follow these tips:
Introduce yourself, your skills, and your experience
Clearly describe your projects or works
Describe the creative brief and the client (if any)
Describe what you did
Outline the results
3. Brand Yourself And Name Your Business
The two steps of branding yourself and naming your business should be taken and addressed in the early stages of your freelance career.
The point is important since word of mouth has a great deal of influence on most freelance graphic designers.
If this is the case, you may wonder if a business name would be better than using your own name.
You should decide based on your expectations for the future; if you intend to work as one individual forever, then choose your own name.
Instead, if you intend to expand, and build your team, you should choose a business name.
4. Search For Reliable Clients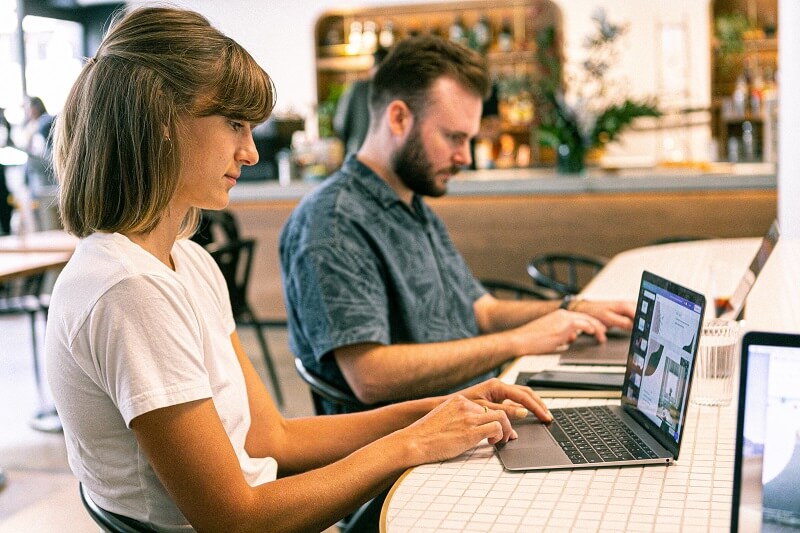 One of the most difficult tasks for a freelance graphic designer is to find and recruit reliable clients.
You might find it difficult when you're new to the market and have no reviews to convince clients to choose you, but it's not impossible.
Here are a few steps to take in order to recruit and attract your first clients.
Join A Reputable Freelance Platform
You can find new clients by joining some of the most popular freelance platforms, like Fiver and Upwork.
Although these platforms are already full of freelance graphic designers, you can still find your way on them by offering very low prices at first and then increasing them as soon as you gain enough reviews.
Use Your Personal Network
Using your personal network is another method of gaining clients. For instance, you may want to inform your family and friends about your new business so that they can help you spread the word and refer you to others.
Leverage The Power Of Social Media
Many studies have shown how powerful social media can be for promoting businesses and professionals, and for free.
Because of this, you can take advantage of these channels and begin posting your work. The consistency of posting is one of the most important things to take into consideration.
So if you want people to notice you, you should post frequently and be active on your social media accounts.
Your work will hopefully be noticed and potential clients will contact you.
Aside from posting your work online, you can also consider recruiting by yourself, such as by reaching out to potential clients on professional platforms such as LinkedIn.
5. Learn How To Make A Graphic Design Contract And Invoices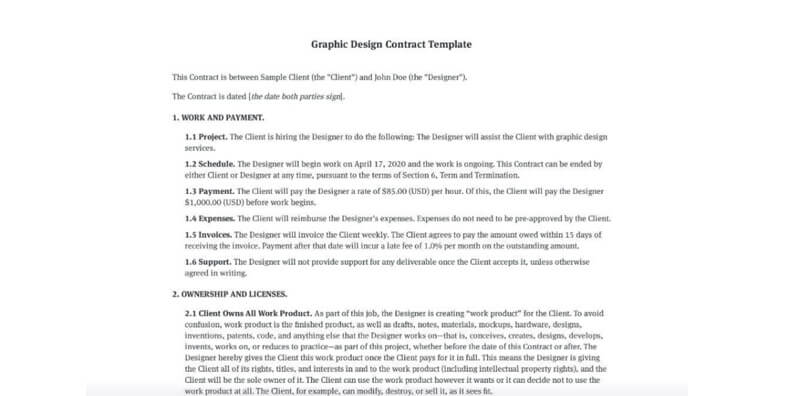 Learning how to write a graphic design contract and make invoices is another important aspect of becoming a freelance graphic designer.
As a freelancer, you'll be expected to handle this work yourself. As a result, you must create them yourself, for example using a simple word processor such as Google Docs or Google Sheets, or by using specialized software that will greatly facilitate your freelance business.
6. Take Care Of Your First Clients
First-time clients are crucial. Their impression and reviews of your work will determine the success of your career as a freelance graphic designer.
As you can imagine, having a bad review at the beginning of your business is not ideal and will discourage other potential clients from contacting and hiring you.
As a result, you should make sure your first deliveries are flawless. It is imperative that you are impeccably competent not only in terms of your creative work but also in your communication, which must be fast and clear, respecting deadlines and requirements advanced by the client.
Here are some rules you must follow when freelancing:
Ensure that your work is delivered on time
Comply with the client's requirements
Ensure efficient and fast communication before and during the project
Know your strengths and weaknesses and be honest about them
7. Ask For Feedback And Get Referrals
It is important that you may request a client review as soon as your work is finished and delivered. This will help you grow your freelance business and attract new clients.
As an alternative to asking only for a review, whenever you deliver outstanding work, you can also request a referral. For example, you can ask your clients if they know anyone who might be interested in and benefit from your work.
Referrals will be necessary only until you get a good amount of clients, then acquiring new ones will almost be automatic.
8. Always Search For New Clients
Once you've begun working for clients and gained some reviews, your work as a freelance graphic designer doesn't stop there.
You'll still have to find new clients and nurture your business until you get a strong reputation, whether as a freelancer or as a business.
9. Keep Your Work High-Quality At All Times
As soon as you create your client database, you will be taking on increasingly more work. Despite this, a large workload can tempt you to produce subpar work to deliver all projects on time.
It's something that shouldn't happen. When you deliver mediocre work with the intention of getting more clients, your career as a freelance graphic designer will soon crumble. As a result, if clients start seeing poor-quality work, they'll write bad reviews and contact other professionals.
Therefore, you should always deliver quality work and adhere to the deadlines. In the event you take on more work than you can't handle on your own, you might want to hire a collaborator or team up with another freelancer.
Conclusions
Nowadays, becoming a freelance graphic designer is neither an easy nor a quick process. You need to take several steps before establishing your business and making a name for yourself in your niche.
Once you reach your goal, you may benefit from all of the advantages of working as a freelancer, including handling your work yourself, being flexible, and choosing when, where, and how to work.
If you follow the tips outlined in this article, you will certainly be able to gain your first client and accelerate the process of becoming known in your professional field.
Thank you for taking the time to read this article. Hopefully, it was helpful and informative to you.
Here is an article about the best work tips for graphic designers if you want to learn more.