So, you are to create your music? Making catchy music is one of the most exciting hobbies/jobs ever. But, if you want to stand out from the pack, you need the best free music creation apps.
With zillions of apps out there, it becomes difficult and such a hassle to begin your journey to creating catchy tunes. But, there is also the problem with costs.
Spotify is one of the favorite music streaming sites and both musicians and music listeners love the platform. Musicians find it so easy to buy Spotify plays to boost their profile. But many music creators will be looking for free apps to use, others want to try their hands on certain apps before they can commit their hard-earned money for future upgrades.
Regardless of whether you need free music creation apps or not, it is always worth it to start with these free versions.
They give you the needed insight and knowledge to choose the best professional and paid apps later should you wish to upgrade in the future.
However, if you like free music creation apps like me, you will find these 5 best free music creation apps very useful. We have taken the pain to review them and let you know why you need them.
Without wasting time further, we present the 5 best free apps for music-making.
List of The Best Free Music Creation Apps:
2. Soundtrap
3. BandLab
1. Music Maker Jam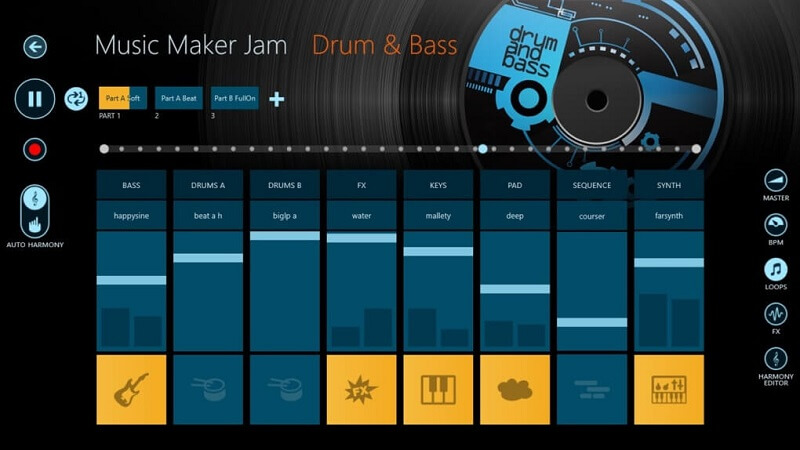 Music Maker Jam has got to be the first music creation app. This mobile app comes with a full 8 track music mixer. It is a music production app that uses the loop function to make your music.
Users will have enough loops to make their catchy music as this free app comes with 2,000 pre-loaded loops. If you are feeling creative, you can head to their store online where another 500,000 loops can be used to stoke your creative genius.
Music Maker Jam gives you live musical effects to add to your music. You also get the option to record your sounds and mix them up with the loops.
Music Maker Jam has an in-built social platform that allows you to upload your track straight to SoundCloud, Instagram, Twitter, Facebook, and many more.
This free music creation app will make you produce music like a genius.
---
2. Soundtrap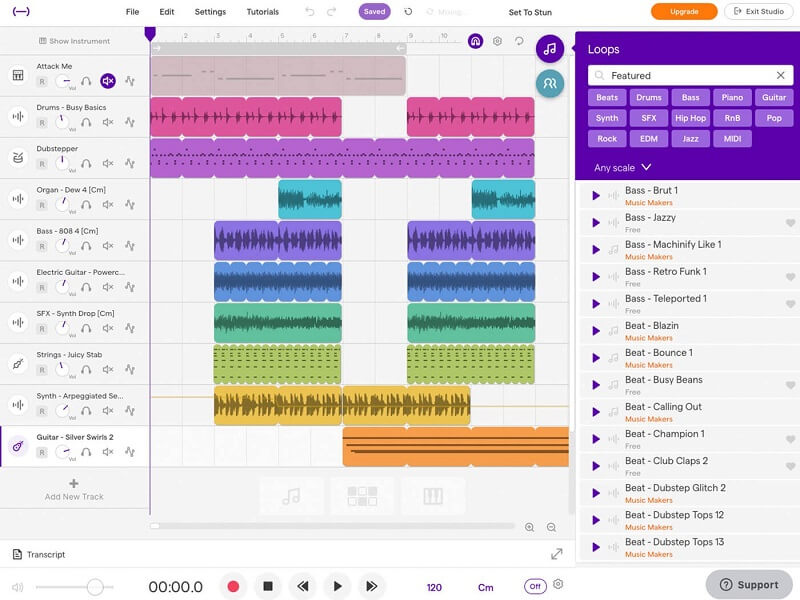 Soundtrap is the next best free music creation app in 2021. This is a very user-friendly music creation app and lots of users are currently excited about it. Soundtrap is available for users of desktop, iOS, and Android devices.
With Soundtrap, you get to create music by using MIDI instruments, loop libraries, and samples. You also get to sing your song and export it into the app. You can also import any MIDI data. Best of all, you get all of this for free.
The app comes with free tutorials once your account has been created. This means that you do not have to spend ages trying to get a grip on the technology. The reason Soundtrap is highly recommended is that it is friendly to beginners.
---
3. BandLab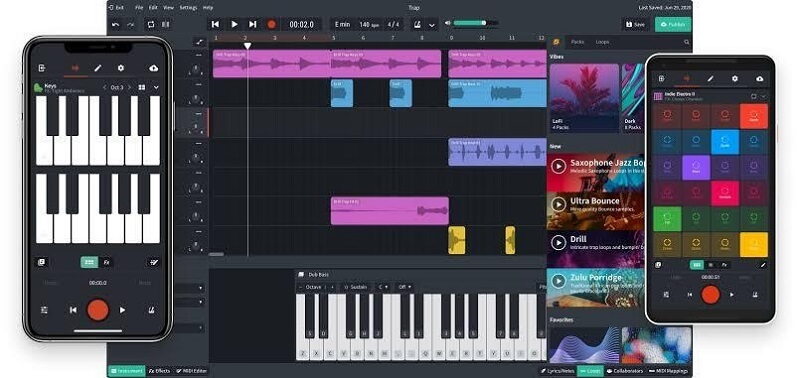 BandLab is another free music creation app that is among the best in 2021. This free music creation app will make you compose tracks like a genius.
It is compatible with multiple platforms, comes as a free download, and offers no in-app purchases. The app will help you put your musical ideas in motion. What is next, you get to work on one piece of music with your peers.
BandLab acts as a music library for modern sounds as it comes with an extensive collection of in-built instruments. You get free loops with BandLab to serve as an inspiration for the creation of catchy tunes.
Then again, BandLab comes with an extensive collection of free samples especially catchy musical packs that have been created by your favorite artists.
The icing on the cherry is that you can produce musical compositions that are as long as six minutes. What is next, you get to create them with 12 instrument channels.
BandLab has got to be one of the top-rated free music creation apps in 2021. The app doubles as a social media platform for sharing your music.
BandLab allows you to instantly upload your music tracks to competitions, social media channels, and to easily collaborate with other people.
BandLab is a free music creation app that is useful for entry-level, intermediary, and expert music creators and producers.
---
4. Reason Compact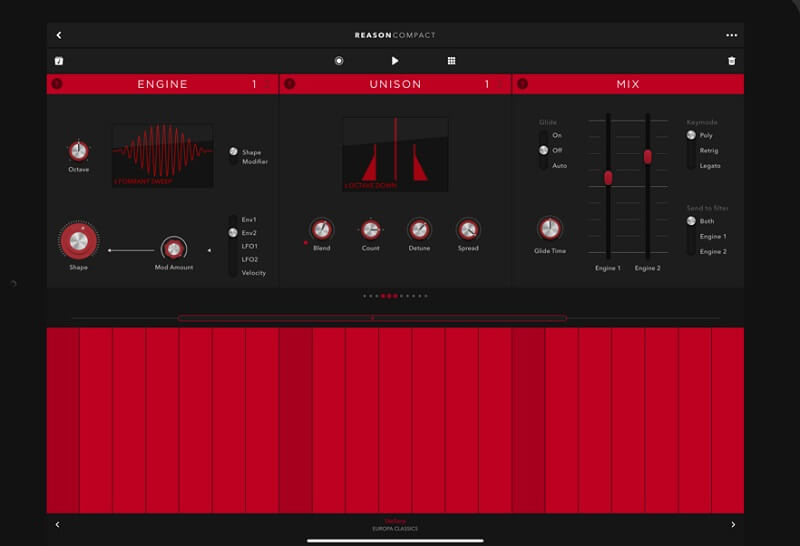 Reason Compact is the best free music creation apps that were developed to cater to the musical tastes of beginners. It is an entry-level music creation app and can be used by experts too.
Reason Compact is an app that comes with a mesmerizing user interface. It has a fluid response to the touch and has an immersive overall user experience.
This music-making engine comes with thunderous drum engines and powerful synths all for free. Available for both iOS and Android users, this nifty app seamlessly connects with the PC version for a more enhanced immersive user experience.
The app comes with a user-friendly and unique interface and has numerous high-tech features like the Audiobus support, Inter-App Audio, and the Ableton Link.
If you want more amazing functions from your Reason Compact, you will have to upgrade to unlock further in-app features.
---
5. Arturia iSpark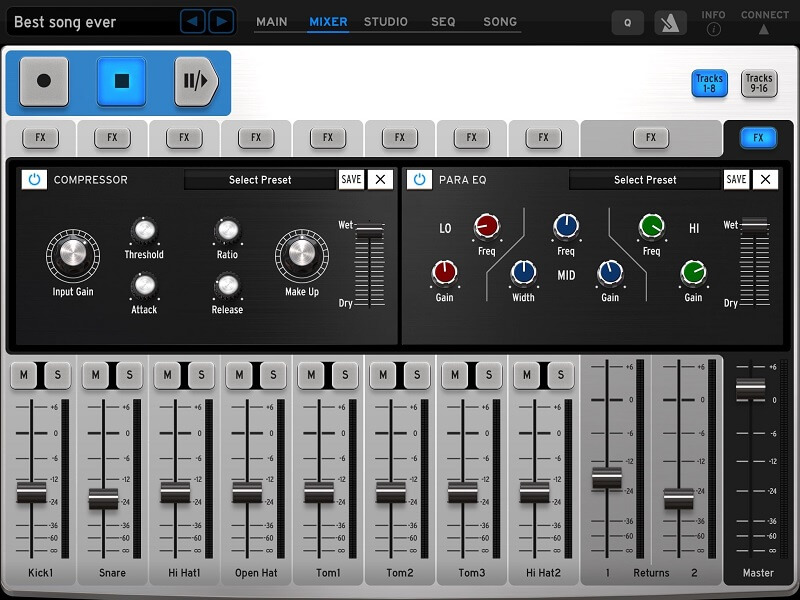 Arturia iSpark is also a frontline music creation app for those entry-level music makers on the move constantly. This is certainly among the best free music creation apps for 2021.
Users are blessed with multiple musical features as the app comes with 640 instruments and has 40 drum kits for immersive musical play and sequencing.
Arturia iSpark comes with a first-class and premium sound design. The app comes with sounds that were developed based on lovely and immersive acoustic kits and drum machines.
This is one of the best apps to create your skis, jingles, short songs, fun sounds, music, and commercial music with.
The app comes with shift and shuffles modes to help you humanize your music rather than sounding robotic.
We love the Arturia iSpark because it is one of the best free music creation apps in 2021 that comes with a mixture of professional and fun features.
It has a wide collection of musical functions that allows you to create music like a Pro. Best of all is that they all come for free and allows you to compose your music while on the plane, train, bus, or just out and about.
The Arturia iSpark offers a 16 track mixer that comes with special musical effects such as the Equalizer, the multi-band compressor, reverb, delay, distortion, and chorus.
These are a collection of features that inspire you to become a musical genius.
The user interface is very friendly and the app can be used by entry-level, intermediate, and expert music makers.