Inventory management tools and plugins have come a long way and are great to use on your website, whether you have built your website from scratch or are using WordPress or Wix.
And let's not forget that the demand for inventory management tools has doubled in the past five years! Hence, inventory management tools and plugins are free or paid, depending on which one you use.
Most free ones offer the necessary features and functionalities you need for you to scale up your business.
However, you might fall into the category where your business will grow to a point where you'll need to update your inventory management solution.
Well, that's not much of an issue when you know which inventory management tool or plugin to go with.
Furthermore, this article will show you the top inventory management tools and plugins you can consider using for your site.
Let's dive right in!
7 Inventory Management Tools And Plugins You Should Consider Using For Your Website
Table of Contents:
1. Lightspeed
3. InFlow
4. Upserve
6. NetSuite
1. Lightspeed – Best For Retail Stores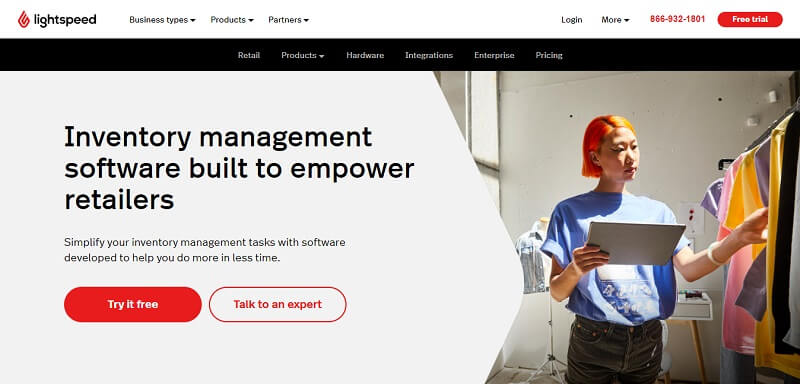 Lightspeed is a web-based inventory management tool built to fully empower retailers. Along the line, it has streamlined stock management that you can add to your store, seeking to meet the needs of e-commerce stores.
This is effective when you are selling items that require different variations. The cloud-based inventory management platforms allow you to do the following:
Track inventory levels from multiple locations, no matter the location you are at.
Creating product variants to manage different colors, sizes, and more
Break down boxed inventory when you sell by packs and singles
Moreover, the inventory control software allows you fully optimize your sales by granting you these features when setup with your website:
Creating bulk pricing changes to adjust prices on your store
Setting price rules on your selected inventory for VIP discounts and seasonal sales that are made
Offering "buy one get one" promotions
Calculate COGS
Works well with bundled products
Managing giveaways and donations
Customer reorder guidelines and much more
Lightspeed's retail program comes along with an iPad version that allows you to check your sales floor quickly and supports the FIFO and average cost methods.
Additionally, it provides many great retail inventory tools and integrates well with SkuVault, a warehouse management system for increased capabilities.
Furthermore, you can learn more about Lightspeed's inventory management system here.
---
2. Cin7 Orderhive – Best For Beginners And Advanced Users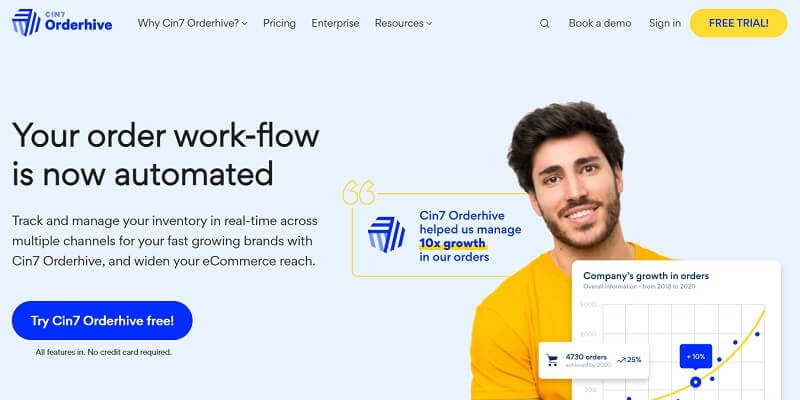 An affordable inventory management solution that grants you many integrations and offers you an all-in-one inventory with advanced features associated with it. It's free to use for Shopify users and grants you a 15-day free trial.
Orderhive grants you unlimited stock-keeping units (SKUs) and many integrations with its paid plans.
It is a web-based software tool that works with major browsers such as Chrome and Firefox, whereas it supports the first-in, first-out (FIFO) method and uses a Kanban method for reordering stock.
Key features with Orderhive include:
Low and out stock alerts
More than 10 e-commerce automation tools
Link or unlink products with different SKUs or names
Reporting on Cost of goods sold (COGS), and much more
Orderhive's most expensive growth plan starts at $299.99 per month with 3,000 orders and up to five users. Additionally, you also have an Enterprise plan that offers custom pricing with unlimited users.
---
3. InFlow – Best For B2B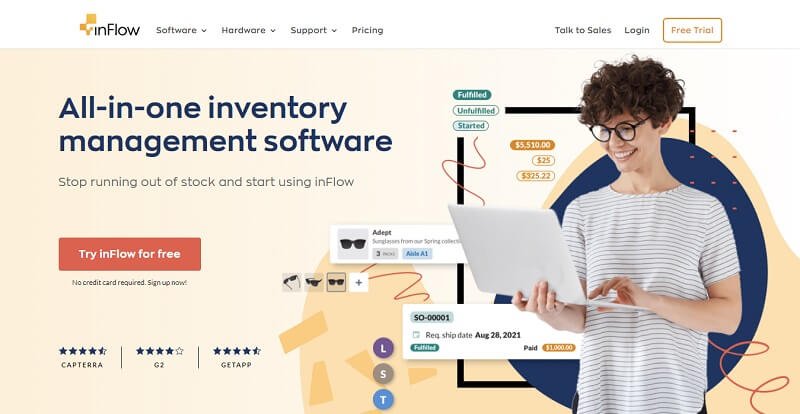 InFlow is one of the best inventory management software to use that provides an easy-to-use and central inventory database with B2B showrooms where customers and clients can shop all of your products.
It offers powerful software for B2B wholesalers, online retailers, sellers, and manufacturers. It's web-based and computer-based, which offers an app on iOS and Android devices.
Additionally, it supports FIFO and LIFO methods.
Key features with InFlow include:
Ability to create B2B showrooms for particular clients
Vendor payments
Order histories and purchase orders
Email invoices & receipts
Contact information along with order histories
Backorder capabilities and much more
Integration with powerful tools such as Shopify, WooCommerce, Amazon
Pricing with InFlow will depend on your custom options with each plan you choose. There is a range you can pay, but it firmly depends on the extra users you add to the monthly payments.
However, if you choose to pay annually, you will get a 10% discount.
---
4. Upserve – Best For Restaurants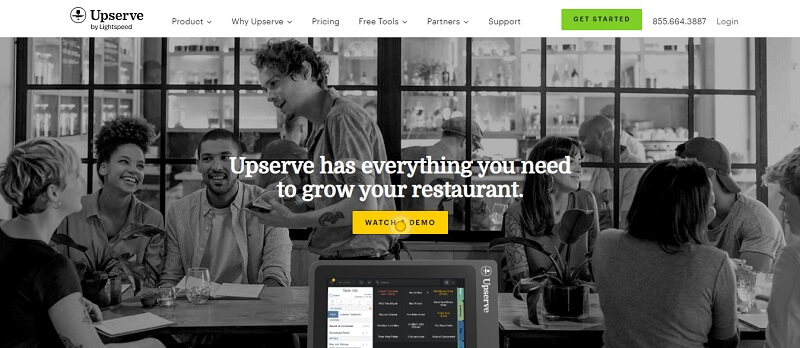 Upserve is an inventory management solution that is acquired by Lightspeed and has a robust POS system and inventory capabilities.
It's an app and cloud-based, allowing you to download its app on both iOS and Android devices. In short, you can view what is going on in your restaurant from anywhere.
Key features with Upserve include:
One-click purchasing for inventories
Real-time ingredient tracking
Inventory scanning from mobile app
Offline mode
Low-stock alerts and more
Pricing with Upserve begins at a flat rate of 2.49% and $0.15 for every additional transaction.
With the Pro Plus plan, you pay $359 per month per location along with an additional $40 terminal fee for advanced management on your account and API access.
---
5. WooCommerce Stock Manager – Best For WordPress Sites

Woocommerce is used by 0.2% of the websites worldwide and is one of the most used inventory management plugins for WordPress websites.
Overall, it is a paid plan, and costs range anywhere from $39 to $46 per license acquired.
Here are some great features that come along with Woocommerce stock manager:
Adaptability for variable and simple products
Low stock alerts
Easy to export data
Allows updating and tracking of inventories regarding Amazon, eBay, and many e-commerce platforms.
User-friendly interface that allows you to search and filter products easily.
Allows inventory management over many warehouses
Moreover, with the woo-commerce stock manager, you get an alternative option that you can use along with it, and that's the SkuVault alternative.
The Skuvault Woocommerce inventory management integration suite allows you to trace and track very complex variable products easily.
The software allows you to collect data regarding your WooCommerce business to allow real-time and transparent reporting, so you don't have to stress over losing valuable information.
Furthermore, the SkuVault team offers 24/7 standby support, so if something happens, they'll address the issue right away.
---
6. NetSuite – Best All-In-One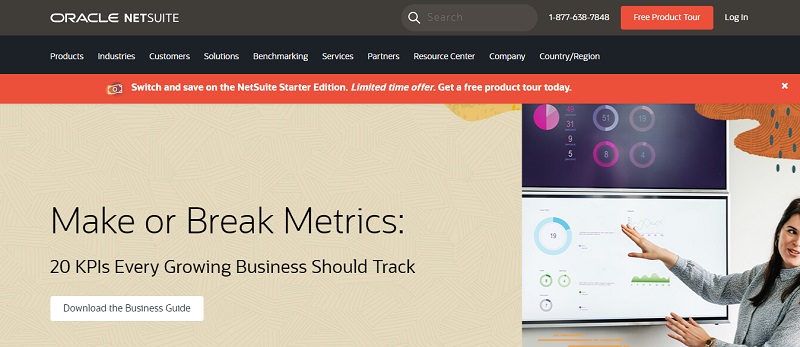 Netsuite can be perceived as an all-in-one business inventory management tool that helps you with inventory management, marketing, and accounting. Regardless of your business size, you can use the tool.
Back in 2016, NetSuite was acquired by Oracle and now possesses the assets of a billion-dollar company along with it. Some of Netsuite's main features include:
More than 350 integrations
Forecasting
Integrated POS
Supply chain management
Multilingual support
Tax compliant
Global support
Retail inventory management and much more
Pricing with NetSuite begins at $99 per month. Moreover, you can sign up for a free demo to use on your website in order to see if this tool fits your needs or not.
---
7. ATUM Inventory Management – Best Additional Plugin For WordPress Sites

This inventory management tool is built along with WooCommerce's inventory management and comes with an advanced plan associated with WooCommerce.
Primarily used for WordPress websites, ATUM shapes in well with the WordPress interface and is user-friendly to use.
It's a free plugin to use and provides you with complete assistance with managing your online store items.
Additionally, you can quickly edit anything in your WooCommerce inventory, weight, prices, and more. The dashboard is informative and provides a quick link to business stats, documentation, and support.
Key features with ATUM include:
Stock control system
Gives complete control of stock in WooCommerce
Easy to use interface
Advanced search option with the auto-fill feature
The inventory logo allows you to reduce or increase WooCommerce stock
Allows you to pair products with suppliers and much more
---
Wrapping It Up
Well, that's all for this article. Hopefully, now you have a significant level of choices you can consider using on your website.
After all, inventory management software and plugins are necessary to save time and better manage all of our items in our inventories.
Time is money, so you want to make sure someone is doing the hard work for you while focusing on more important things in your business, and in this case, that is an inventory management tool.
After all, even though you are paying for a monthly subscription, you want to reduce your workload and have your e-commerce business operate more smoothly.
Use the financial resources you have and see which business category you fall into in order to choose the right tool for you.
Either way, we recommend you spend a great amount of time reading through each tool to see which one best suits you.