Hey guys, today in this article, we are going to discuss the 11 best SaaS user onboarding tools you should know about. So keep reading. As a business owner, you must know how to optimize your user onboarding, especially when promoting a SaaS product. This can be done by leaving a good first impression and ensuring that you onboard your users as quickly as possible.
Moreover, complicating the process and prolonging the time for onboarding your users will only result in them going to your competitors. So, what is the secret formula to quickly onboarding them? There are a few tips you can follow, but there are also many SaaS user onboarding tools you can use to help simplify the process.
Don't go anywhere because, in this article, we will show you the best SaaS user onboarding tools you can use.
9 SaaS User Onboarding Tools You Should Use
1. Appcues
2. Product Fruits
3. UserGuiding
4. MailChimp
5. Userpilot
6. Chameleon
7. Userflow
8. Hubspot
9. Encharge
10. Pendo
11. ProofHub
1. Appcues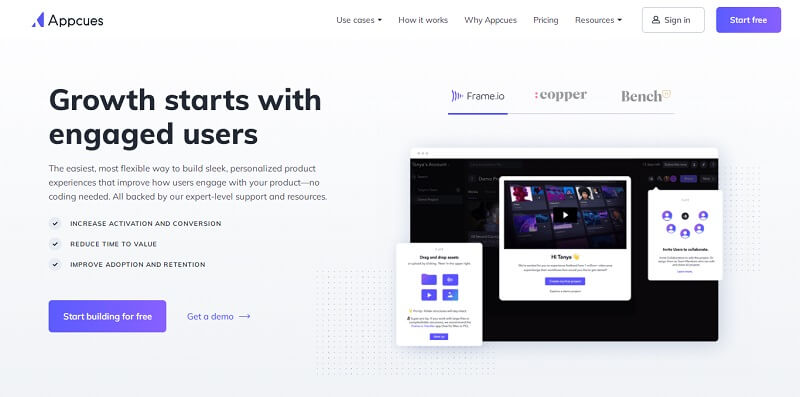 Appcues allows you to activate your users with many different things, such as feedback loops, precious insight tools, and action items. Moreover, you can guide your new users to quickly learn your product by targeting specific customers based on their attributes or behavior.
Appcues possess code-free event tracking, which allows you to quickly and easily monitor the user onboarding process and gain behavioral insights through Appcues data visualization tools. Moreover, you can use the new feature adoption that includes in-app feature announcements or even the survey tool to collect feedback from them quickly.
Appcues has an exciting price plan. You can start free, and its essential plan starts at $249 per month that grants you three user licenses, up to 2,500 monthly active users, and much more. However, if you want more advanced features, you can follow their growth plan, starting at $879 per month.
---
2. Product Fruits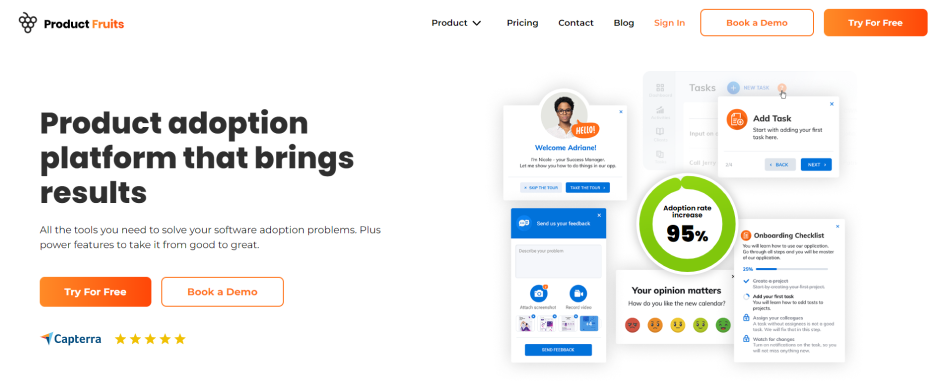 Product Fruits is a no-code user onboarding platform for web-based apps. It allows you to guide users step by step and show how to derive value from your product.
Powerful feature set gives product owners everything they need to drive adoption, conversion, and retention:
Interactive product tours & walkthroughs for guiding users through your product
Hints, beacons & tooltips for highlighting new features and explaining less intuitive UI elements
Onboarding checklists for showing users the progress of their onboarding journey
Announcements for publishing important news directly in your application
Feedback widget for tracking moods as well as making it easy for users to report bugs and share ideas
Life Ring Button for providing one centralized location for all your onboarding and support documentation as well as any 3rd-party chat widget
Knowledge base for allowing users to solve problems without having to contact your support
Custom events for triggering flows based on user behavior in your application
Segmentation for tailoring experiences to personas and showing different content to individual cohorts
Analytics for understanding where users get stuck, what they like, and what needs improving
The editor is built with a non-technical user in mind and you don't need any coding skills to create beautiful onboarding experiences. Product Fruits pricing starts at $79/month which represents the best value in user onboarding tools. You can get up and running in 10 minutes or under, a free trial is available.
---
3. UserGuiding

During the sign-up process, your users may miss a few points that can lead them to get more value from your services. This is where the power of user onboarding comes in. Hence, Userguiding is a great user onboarding tool for SaaS and is cost-effective for its value.
What's so great about this platform? Well, you need absolutely zero coding skills to create onboarding flows since it has a unique feature- the drag-and-drop interface! Additionally, this reduces abandonment rates and increases the level of product adoption.
Key features include:
Drag-and-drop interface
Net Promoter survey
A wide range of customization options
Ability to create self-service
Highly interactive walkthroughs
In-depth analytics tools to track performance levels concerning your guides
Pricing with Userguiding begins at $99 per month with up to 2,500 monthly users. Resulting in a much cheaper option compared to its competitors.
---
4. MailChimp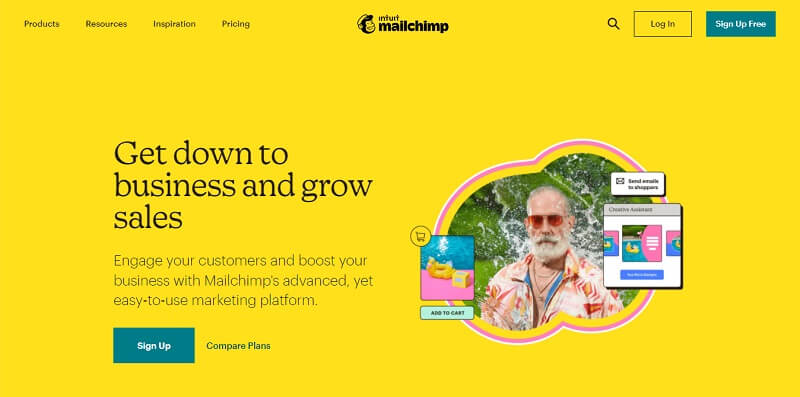 If you want one of the best email & CRM tools for SaaS, MailChimp dramatically stands out from its competitors since it offers a simple and easy-to-use drag-and-drop email builder. Moreover, it has various content blocks that assist you in creating outstanding email campaigns for your users.
Key features with Mailchimp include:
Email templates
CRM
Various marketing automation features
Personalized emails
Analytics tools, and more
Since it specializes in email, Mailchimp is a cheap option and starts with a free plan. Monthly subscriptions begin at $9.99 per month and offer you many advanced features.
---
5. Userpilot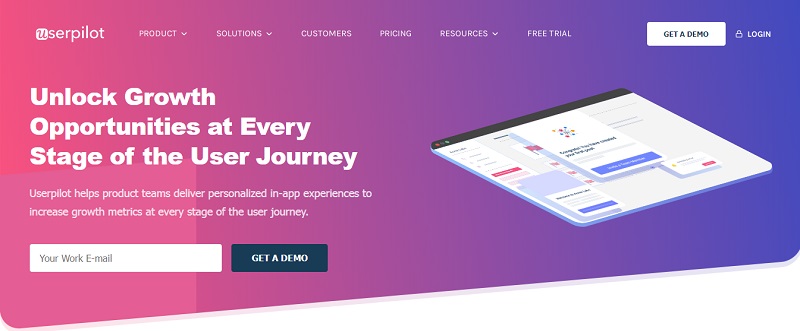 Suppose you want to use an excellent customer onboarding tool. In that case, Userpilot is the top choice you should consider, especially when you are concerned about getting the best out of SaaS companies and aiming to achieve the highest level of customer success.
Userpilot allows for creating new "experiences." These unique experiences are composed of interactive walkthroughs and even simple tooltips. Additionally, you can choose from various models, slideouts, and much more. Nevertheless, it is code-free, and this means that you don't have to learn about development.
Above all, Userpilot grants user segmentation, which allows you to contextualize onboarding and identify in-app behavior. In addition to that, users can find themselves using self-serve support whenever they access the help center widget.
Monthly pricing with Userpilot begins at $249 monthly and grants you all functionalities with up to 2,500 active monthly users. In short, if you want a platform that perfects the onboarding process and keeps customers engaged, Userpilot is your best option.
---
6. Chameleon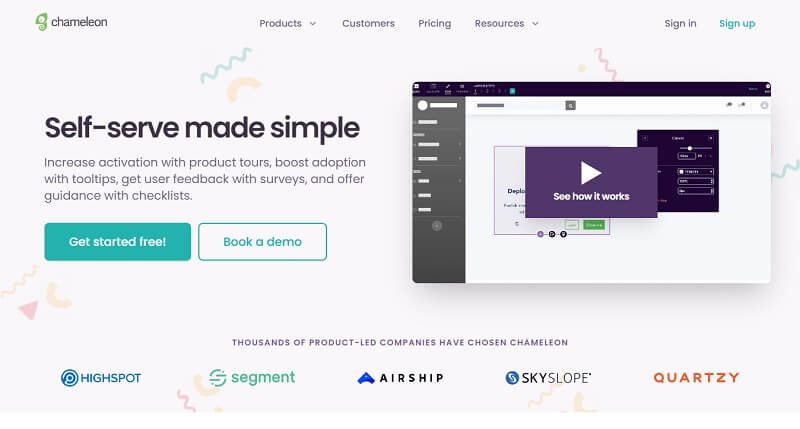 Chameleon comes from the various visual UI options it offers to SaaS companies concerning the onboarding process of new users. Let's not forget that many choices are available, including launchers, banners, hotspots, tooltips, and more.
Whatever kind of onboarding element you wish to build, there's a great chance you can do it with Chameleon. Best of all, most elements used for building can be made without knowing CSS. Moreover, in-app communication is available with micro surveys, and these functions are simple and easy to use. Finally, let's not forget that Chameleon has one of the most advanced Analytics tools out there too!
Key features include:
User segmentation
Data analysis
Audio-visual walkthroughs
No coding
Behavior response messaging
Ability to custom tours by persona
Pricing starts at $279 per month with 2,000 monthly active users.
---
7. Userflow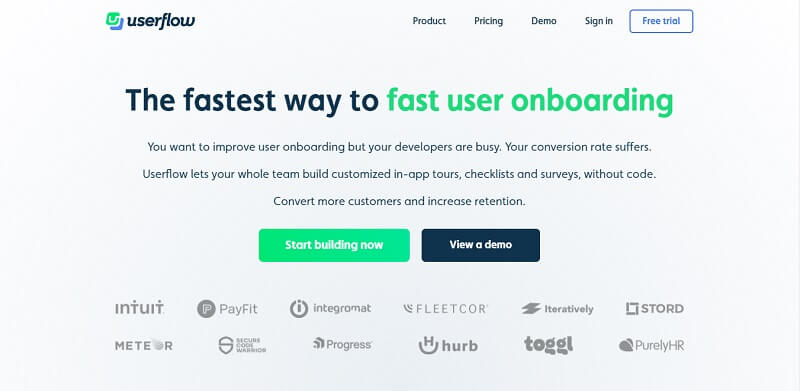 Userflow is a complete user onboarding software that allows you to build onboarding checklists and product tours to tailor your product. One of the biggest key features with Userflow include:
Text bubble walkthroughs
User segmentation
Surveys and NPS
Branched flows
Analytics and event tracking
Multi-language support
Interesting integration with any web apps
Customizable checklists and flows, and much more
Pricing with Userflow begins at $250 per month with an enormous amount of monthly active users- up to 3,000!
---
8. Hubspot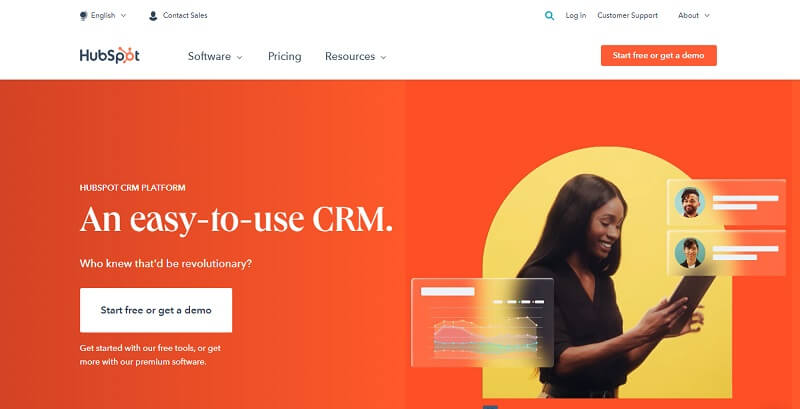 Hubspot has shown the world that they are a complete CRM globally. From engaging follow-up sequences to generating leads, Hubspot has a vast amount of special features that you can use to create automated and engaging onboarding emails.
Hubspot's dashboard provides many unique features for customer engagement, marketing & sales, and others to help you communicate with new users and existing ones. Furthermore, you can integrate it with popular tools like Zoom, Outlook, and more.
Hubspot's pricing plan begins at $50 per month and is much more expensive if you wish to use its advanced features.
---
9. Encharge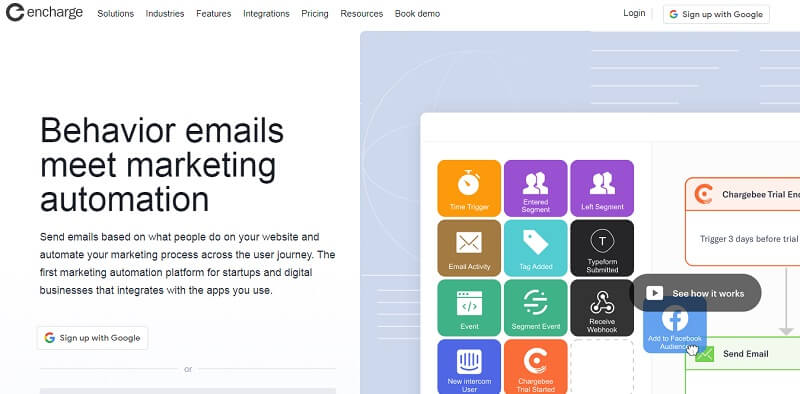 Encharge is more than just an email onboarding tool and enables you even to send Facebook ads. Moreover, it has a drag-and-drop interface, making it easier to build email workflows. Even if you don't have much time, you can still choose from many tested templates like Airtable or Dropbox.
Additionally, you have access to advanced user segmentation to send campaigns to relevant new users. Finally, Encharge can integrate with other excellent tools such as Hubspot, Intercom, and more.
Pricing plans with Encharge starts at $49 per month and goes up to 2,000 subscribers. This is an excellent price and offers many unique marketing features from a competitive perspective.
---
10. Pendo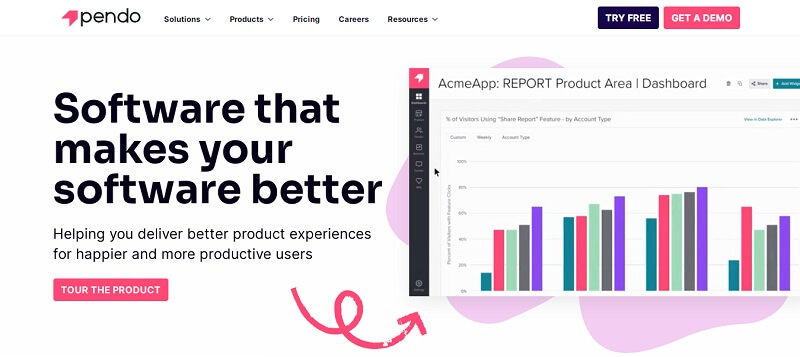 Pendo is an interesting onboarding tool that combines new employees and users into one platform. Undoubtedly, it's an enormous player in the SaaS world. But, simultaneously, it is similar and different to Userpilot and offers excellent quality.
Even though Pendo doesn't have many UX patterns, checklists, and product tours, its offers are of great quality. In addition, Pendo is excellent in segmentation and analytics. Joining these two features makes it easier to compare churn rates concerning user segmentation and respond better to user feedback. This is especially true for businesses that have thousands of users. Fortunately, even the pricing plan of Pendo seems to be aimed at enterprise buyers.
However, Pendo seems best for large enterprises that seek to combine both employee and user onboarding.
Key features with Pendo include:
Entry and exit pages
In-app guides
Product analytics
Product feedback
Customer segmentation
Digital analytics
Event tracking and engagement
Pendo is forever free and is available for up to 1,000 monthly users with limited features. However, if you want to know more about their paid plans, you must contact them directly.
---
11. ProofHub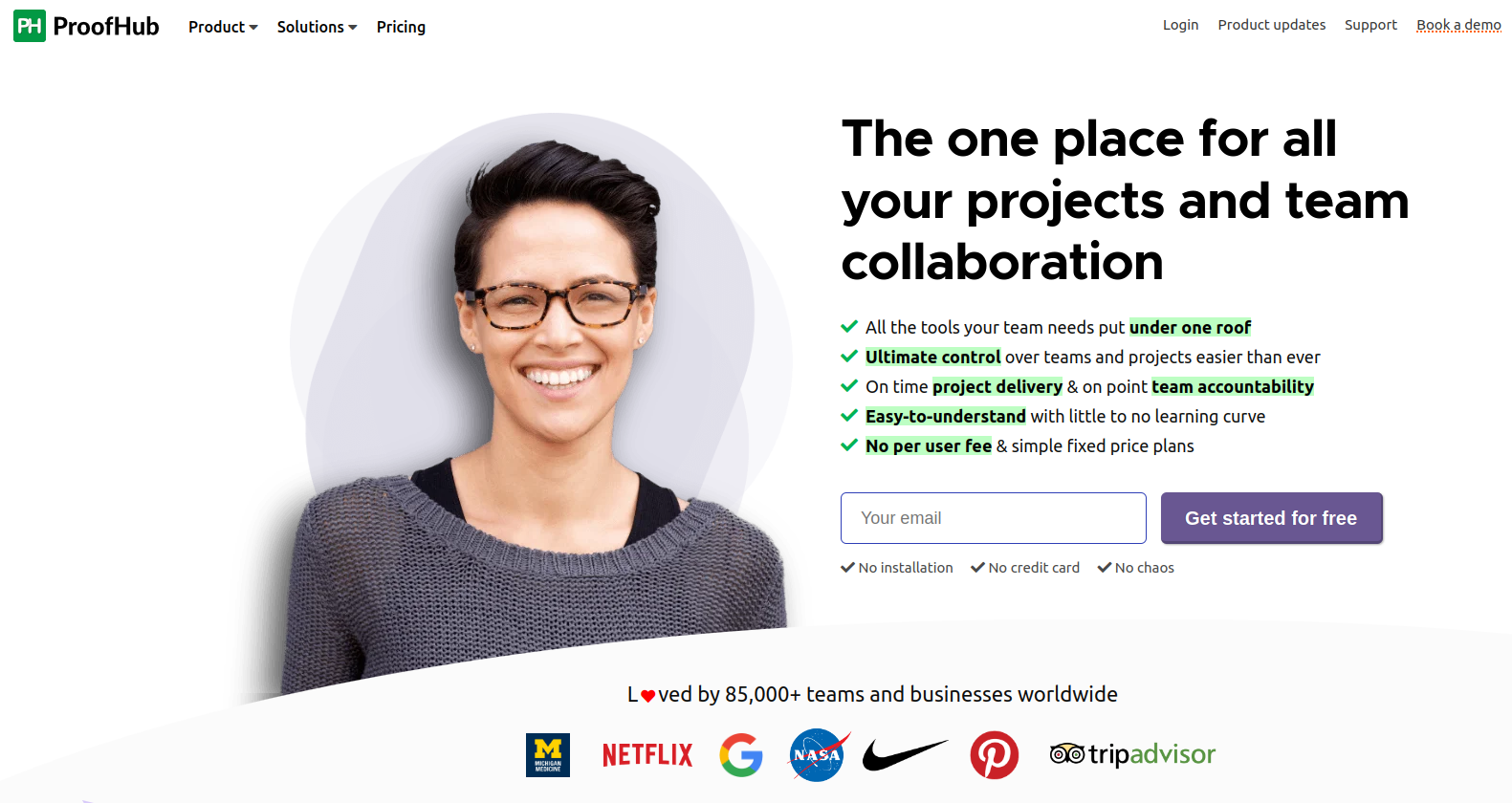 ProofHub is a top-rated SaaS work management and team collaboration tool that allows a simple, hassle-free user onboarding to even less tech-savvy users. Though ProofHub is high in functionality, it has a simple learning curve that allows users to get familiar with the tool in minimum time and achieve a success rate in your startup.
The intuitive interface makes it easy and effortless for users to navigate through features, Excellent customer support service and "Help Center" on the website's home page make it convenient for new users to timely seek any guidance related to the usage of the tool. Having a comprehensive suite of features under one roof makes it easy for users to manage multiple aspects of their work from a single platform.
Key features with ProofHub include:
Online proofing
Drag-and-drop Kanban boards and Forms
A simple learning curve
Table view
Custom fields
Multilingual interface
Group chat
Real-time updates
ProofHub is easy on your pocket. The tool offers fixed pricing plans allowing you to add an unlimited number of users. Fully-loaded, Ultimate Control plan is priced at $89 per month when billed annually.
---
Wrapping It Up
Well, that's all for this article. These were our top 11 best SaaS user onboarding tools you should consider using. The SaaS world has evolved greatly over the years and is most likely the future. Therefore, it's essential you know how to optimize the user onboarding process for SaaS products and ensure customer loyalty.
Carefully take into account every tool we mentioned and see how it fits with your business. We can agree that not every business is the same and the way one business may perceive these tools will differ. Read through them carefully and ensure that it is what you are looking for. Additionally, don't forget to check the price as well. There are some tools that may offer better quality at a lower price and you don't want to risk paying more and getting less!