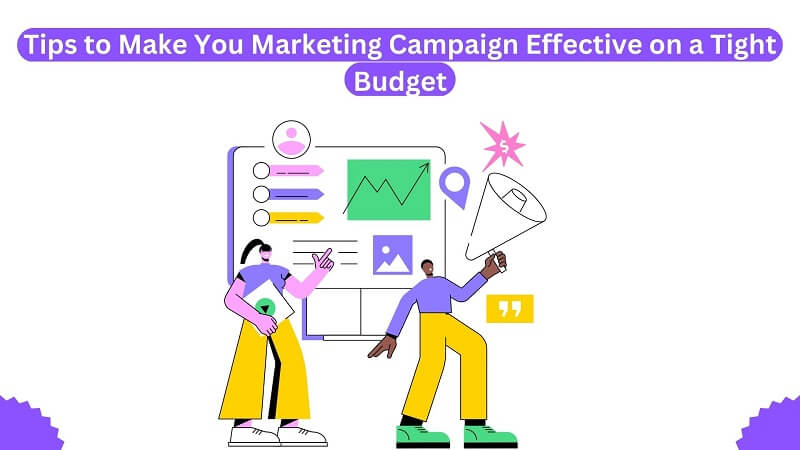 Tips To Make Your Marketing Campaign Effective On A Tight Budget
in
Detailed Guide
on December 26, 2022
Hello there, today in this article, we will discuss the tips to make your marketing campaigns successful. So keep reading.
Digital marketers spend much time, effort, and money to leverage the best output. However, not all of their efforts come through with flying colors. They have to see failures, hard times, and things they didn't expect.
These tips can help you make the most of your marketing efforts and achieve what you aim for as a digital marketer.
1. Find Out What Is Working for Others
Marketing campaigns are often compared to recipes. You can't just take any old ingredients and expect your recipe to turn out well. You need to know what works and doesn't to make your marketing efforts effective.
Getting caught up in running your business is easy, but it's important to remember that marketing is about building relationships with customers and prospects.
If you can't find any information, you may need to get creative with ways to research online. If you're unsure what is working for others, you can use tools like Google Trends or BuzzSumo to see which keywords are popular at different times of the year or in different geographic areas.
It's easy to say that your brand is unique and different, but it's also important to know what is out there. Look at other brands in your industry and find out what they are doing well.
2. Start A Social Media Campaign
Social media allows you to reach more people than ever, but it also requires much more time and effort than traditional advertising methods like TV or radio commercials.
However, this type of advertising can be extremely effective for businesses that want to build their brand and increase sales on social media sites like Facebook and Twitter.
Social media has become one of the most effective ways for businesses to reach their target audience (and stay connected with them). The average person spends over four hours per day consuming content online, so if you want people talking about your product or service, social media is a great place to start.
But how do you get started? Plenty of tools available can help manage your social media accounts and track performance – but don't forget that it takes time and effort.
3. Get Your Customers to Spread the Word
The best way to reach your target audience is to get them talking about you. Social media is a great place to start, and you can use it to promote your products, services, and events online.
You can post photos, videos, and links on Facebook, Twitter, Instagram, Pinterest, and LinkedIn. If you have a website, you can post there as well. You can also use YouTube, Google+, and other sites if they are relevant to your business or industry.
If you have found a piece of content that relates to your business and help you reach target customers, you can use it as part of your marketing strategy. However, make sure to rephrase it through a reliable sentence rephraser. This way, you will not have to worry about plagiarism.
4. Use Email Marketing Wisely
Email marketing is an extremely effective way to reach customers and potential clients. The good news is that it's also one of the least expensive forms of marketing; especially if you use an email service like MailChimp.
The trick here is to send emails only at times when they'll benefit from being read rather than sending them out every day (even if nobody's going to open them).
That way, when people open them and read them; they'll find something useful or interesting – a new product announcement or an exclusive offer for a certain audience segment.
However, it's important to use this medium wisely and not waste any money on ineffective campaigns. Here are some email marketing tips:
Make sure that your email campaign is optimized for mobile devices.
Ensure your target audience has an opt-in form on their website or blog.
Offer an incentive for people who sign up for your list – whether it be a freebie or a discount code for future purchases from you or a related business.
Make sure you have an easy unsubscribe process in place so that people aren't inundated with emails from you if they don't want them anymore.
5. Network with Other Businesses.
Partnering with other businesses can help you reach more people and make your marketing campaigns successful.
You'll also have a large network of contacts to help you with future campaigns.
6. Use Your Employees as Brand Ambassadors.
The best way to get in front of customers is to use your employees, especially local ones. You might not have a big budget for marketing, but you can still use the employees in your company to help spread the word about your business.
It's not unusual for companies to use social media to promote their products and services – but only if those companies are already well-known and popular.
A company that is new or not well-known may not be able to afford to hire an influencer to help them promote its product or service. Instead, you can use your employees as brand ambassadors and ask them to post about the company's products and services on their social media accounts. The more people who see the posts, the better.
7. Don't Shy Away from Public Speaking
If you don't have time for a traditional marketing campaign involving paid advertising, and other traditional marketing tactics, consider using influencers instead of traditional marketers.
Many people are willing to share their knowledge for free or at a minimal cost (like a speaking fee) in exchange for exposure and recognition from their peers.
8. Collaborate with Influencers
Influencers are people who have influence over other people's decisions and actions online. Whether it be through their social media accounts or blog posts; influencers have a huge impact on what people think about the products and brands they're promoting.
Collaborate with influencers who are excited about what you're doing and help them spread the word about your company's product or service offerings on social media platforms such as LinkedIn and Instagram.
So that's all from our side. I hope you like this article on tips to make your marketing campaigns successful. Thanks for reading.