Hey guys, are you looking for the best eCommerce platforms that you can easily use in 2023. If yes, then keep reading this article.
eCommerce platforms are becoming a reliable source for online marketing and product selling. Some eCommerce platforms drive over tens of million web stores across the world. In general, an eCommerce platform lets you build an eCommerce website, manage Products & Services and their details, gauge shipping rates, multi-channel sales, etc.
Furthermore, eCommerce platforms have become an essential part of modern product marking. Therefore, it is crucial to find an eCommerce that suits your business and helps you outrun your competitors. There are lots of amazing eCommerce platforms out there that can help you to do this. However, finding the right is not an easy task. We recommend you these top 5 best eCommerce platforms that you use to manage and upscale your business.
List of Best eCommerce Platforms:
Table of Contents:
1. Shopify
2. BigCommerce
3. WooCommerce
4. Wix
5. Zyro
1. Shopify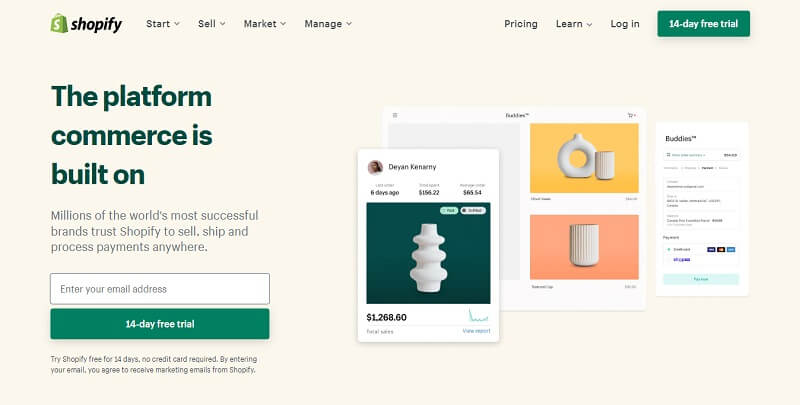 We are opening our list with one of the well-known best eCommerce platforms Shopify. This powerful and well-known eCommerce platform was developed by Scott Lake ab Tobias Lütke and is widely used across the globe these days. Shopify is easy to use and offers a powerful POS lite system. Furthermore, it lets you access lots of intriguing features such as Built-in abandoned cart recovery tools, an Online invoice creator, a live chat function, 1-Click selling, and many more.
In addition to this, This powerful eCommerce platform also provides you with a powerful CMS ( Content management system) that lets you manage the Content, layout, and functionality of your online store. The best thing about this platform is that it lets you manage the whole web store from its mobile apps. Furthermore, Shopify is so responsive that you can easily manage, track, and update the store any time anywhere you want with its mobile app or desktop.
Tableau Shopify app allows easy export of key analytical data to Tableau for further visualization and analytics.
Shopify offers 14 days of free trial for all users after that you have to buy its paid plan. You can choose 1 plan out of 3 different plans according to your business and need.
Shopify plans-
The basic Shopify plan – starts from $ $29 per month.
Shopify plan – starts from $79 per month.
Advanced plan – starts from $299 per month.
Pros:
Drag-and-drop interface.
Easy to set up
Certified partners
1-Click selling
Fast website load time.
14-day free trial, no credit card required.
100+ payment gateways.
Syncs with Instagram, Facebook, and Amazon.
Allows multiple channels and social selling
Integration with over 3,200+ Shopify apps.
Cons:
For international currency, a third-party app is required.
Limited five free themes.
Unable to customize the checkout process
Need technical skills for advanced features
Additional transaction fees on all non-Shopify payments.
---
2. BigCommerce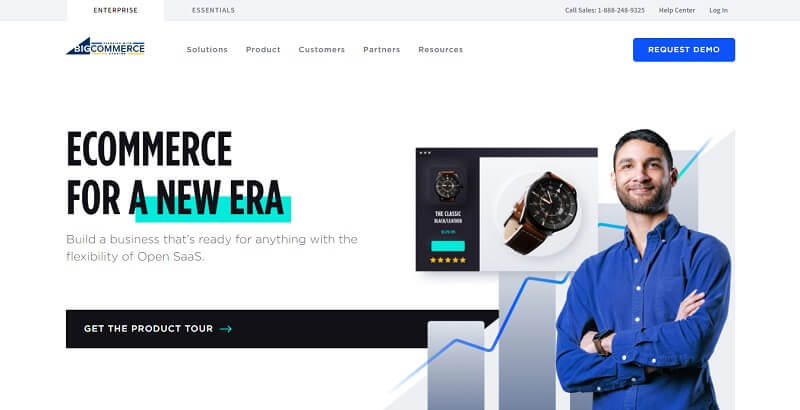 BigCommerce is a NASDAQ-listed SaaS-based eCommerce platform. In 2009, Eddie Machaalani and Mitchell Harper launched this open-source platform. BigCommerce offers you some advanced features to boost development and content marketing skills. Also, it allows you to promote your products and services in various ways to improve your conversion rate. BigCommerce is pretty good, flexible, and scalable for all kinds of businesses. Therefore, it is a good option for those who want to expand and scale their business.
Moreover, BigCommerce lets you keep track of customers and earnings and change the settings of channels you use. It supports lots of different channels via third parties in the BigCommerce App Store. It is one of the most highly rated platforms for upscaling your business. Also, BigCommerce offers a vast range of themes. However, only seven themes are accessible at a time across all stores. You have to spend some of your fortunes if you want premium themes.
The pricing plan of BigCommerce starts from $29.95 per month for The Standard Plan and $79.95 per month for Plus plans, which covers all features and functionalities of the Standard Plans.
Pros:
Drags and drops visual editing tools.
Ideal for both mid and large businesses.
24*7 customer support.
Excels with multi-channel selling.
Impressive SEO capacity.
Customizable URLs.
Comprehensive abandoned cart feature.
55+ payment gateways with no hidden and extra charges.
Cons:
Hard to install and set up.
No 1-click Selling/Upsells
Only 5 free themes.
Complex due to Its variety of features.
Expensive for high-volume stores.
Cart abandonment is not available in the basic plan.
---
3. WooCommerce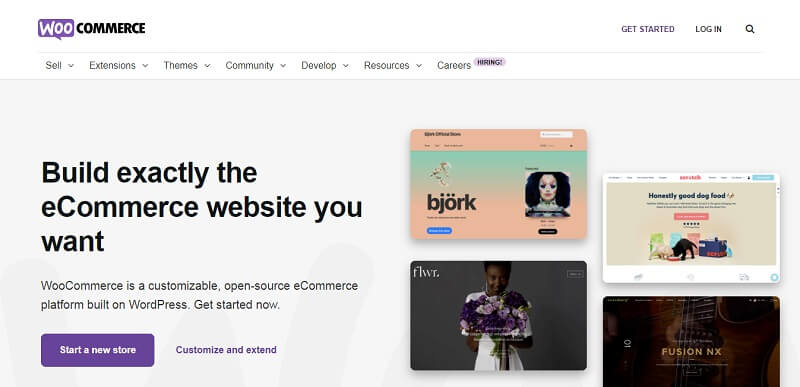 WooCommerce is a highly customizable open-source eCommerce platform. On 27th Sep 2011, Automattic launched this platform. It is also available as a WordPress plugin. WooCommerce is a superficial and easy-to-use platform that can integrate with any current WordPress website. This platform has high visitor gauging, however, its scalability is a little complex, and for advanced features and functionality, you have to buy its premium plans. But apart from that, WooCommerce offers everything you need to run an eCommerce website.
Furthermore, With WooCommerce, you can build mobile-friendly websites with ease after purchasing the hosting. Websites created on WooCommerce are highly responsive and quick. WooCommerce also has a good number of dropshipping and fulfillment integrations. However, they are not as flexible as Shopify. Also, WooCommerce has both free and paid versions for its users. The basic plan supplies all the basic features you will require to create a simple website. On the other hand, the premium plans offer you some value for money features.
The pricing of WooCommerce plans starts from $10.00/ month.
Pros:
Sell unlimited products on your web store.
Thousand of free extensions.
1 Click selling app available.
Easy to install and customize.
WordPress site integration.
No additional transaction fees.
24*7 customer support.
Cons:
Dedicated hosts are needed for better hosting.
No free SSL certificate and domain hosting.
Extra added core features impact the website performance.
Technical skills required for running an eCommerce store to the fullest.
---
4. Wix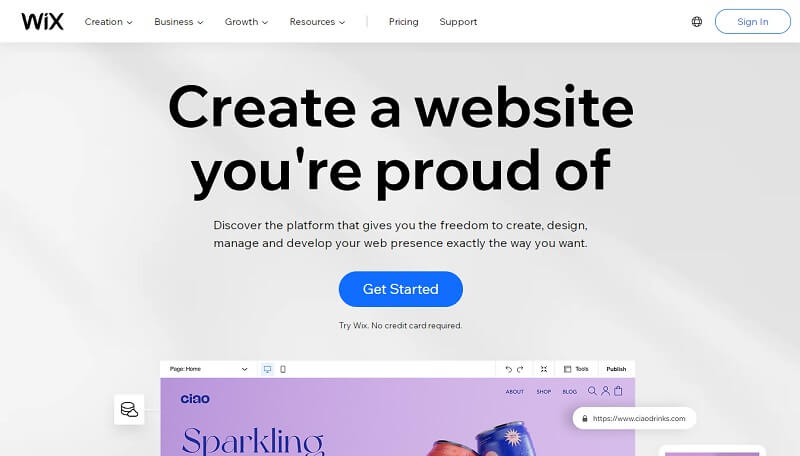 Wix is famous among developers because of its simplicity and easy-to-use interface. This intriguing platform was launched in 2006 by Nadav Abrahami, Avishai Abrahami, and Giora Kaplan. Also, Wix provides you with a wide range of customizable themes, templates, sleek editors, apps, and many more.
Furthermore, Wix lets you build websites in two different ways – 1. By ADI(Standard) 2. By Wix Editor(User customized). This best free eCommerce platform works on drag & drop HTML and is preferred by both novice and advanced users.
The pricing of Wix's Business basic plans starts at $3/month for 20 GB storage, and the Wix Business Unlimited plan at $4/month for 35 GB storage and a free domain name.
Pros:
Easy to use interface.
Free version available.
Multiple options for online selling.
No transaction fees.
Drag and drop feature.
Free templates and themes.
Free domain in premium plans.
Offers marketing automation.
Email marketing is available with all paid plans.
24*7 customer support.
Cons:
Limited storage of 50GB.
Weak Upscaling capabilities.
Limitation on traffic and bandwidth.
Poor SEO.
Weak AWS integration.
1-click upsells are not available.
Limited options for payment gateways.
---
5. Zyro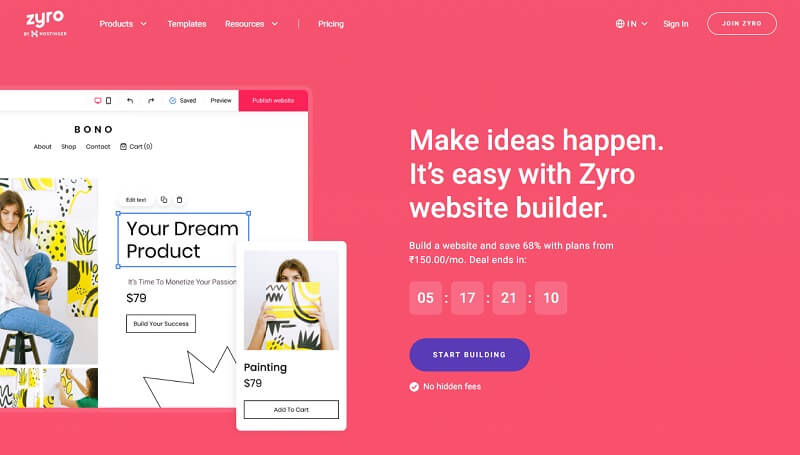 Zyro is a SaaS platform that provides website building, artificial intelligence (AI), and eCommerce solutions to clients. This affordable platform was founded in 2019. Therefore, it is a relatively new platform in the market. Zyro is a product of web hosting company Hostinger, and they provide lots of AI tools to help business owners Resize, upscale, and remove backgrounds from images, Make logos and favicons, Create a business name, and slogan, and Scale-up their business.
Furthermore, Zyro offers a drag-and-drop platform that lets you build a website and further customize it with no prior coding knowledge. With Zyro, you will get a variety of free themes for your design as a reference. In addition to this, This eCommerce platform also lets you sell both digital and physical products online. This is the best eCommerce platform for small businesses.
The pricing of Zyro starts at $4.41/month for the Business plan, $8.01 for the online store plan, and $ 14.31 for the advanced store plan.
Pros:
Unlimited storage and bandwidth on all plans
AI tools to handle many tasks
24/7 Customer support
70+ payment methods
Sell in multiple languages
Abandoned cart recovery
Product filters
Marketing integrations included all plans
Cons:
Inventory limits- max of 2,500 products for sell
Lean eCommerce features.
Not enough integrations.
Room for improvement in SEO
---
Conclusion:
As I mentioned before, there are a lot of eCommerce platforms available in the online market, and finding one that fulfills your conditions is not an easy task. You can Try these recommended best eCommerce platforms mentioned in our list, compare their features and price, and you may be able to find what you are looking for.