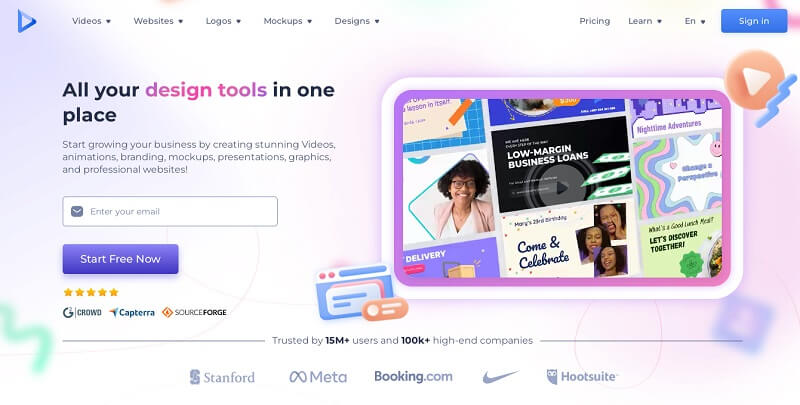 5 Important Considerations When Looking For A Graphic Design Tool
in
Detailed Guide
on November 23, 2022
Having a vast number of graphic design tools in front of your screen can leave you hanging and contemplating which is which. Will you go with the graphic design software that has advanced editing tools? Or go with awesome customizable templates? Or push for something simple to use and budget-friendly? At the end of the day, it is still you who will decide. To help you choose the best for your graphic design journey, read this article about the five vital considerations when looking for the appropriate graphic design tool, plus some design tips and examples of software you can enjoy.
Introduction
Giving your brand a unique identity and attracting customers may require graphic design. This form of visual communication helps businesses interact with their customers more efficiently and influences consumer perception and behavior, but most importantly, it can improve overall business performance. This stands true since people's brains process visual information 60,0000 times faster than words. Besides, the brain absorbs and remembers information made out of text and image combinations 650% more than other forms of content.
Graphic designers worldwide use a variety of communication strategies to reach audiences ranging from clients to general audiences. Like musicians, graphic designers require more than skill or competence to create works of visual art. To capture the ever-evolving colors and patterns in their minds, graphic artists use both fundamental and sophisticated graphic design techniques. With this, graphic design requires a lot of dedication, passion, creativity, and, most importantly, tools that can help accomplish tasks and reach goals. But the question is, "how will you choose among several graphic design software available online?" Don't worry; here are some design tips and considerations you need to remember in exploring various graphic design tools.
Things You Should Consider When Looking for a Graphic Design Tool
1. Price
This is at the top of the list for a reason. It is undeniable that it is extra challenging to move around and gather your creative thoughts and execute them without sufficient resources. Even other industries require money to reach their goals and connect to consumers. It is also the same when it comes to graphic design. You need to canvas and search for the right platform where you can make the most out of your budget.
If you are starting, it is better to try free and introductory offers of different graphic design apps available to you. Explore them and when you think they are suitable investments, allocate enough capital and maximize their use. As most people say, the higher the price, the better the perks. It is unfortunate, but it is accurate. Money is essential, so always check the costs, and hopefully, you will arrive at the most fitting, affordable, and workable platform for you.
2. Efficiency
After knowing the prices and their use, you need to fully grasp whether the platform you will be using is efficient and can serve its purpose in the long run. You need to know if the graphic design tool can help you complete a task with the least amount of time, resources, effort, or performance competency. This is equally vital since you are the only one who can determine whether one is efficient. Is it easy to use? Are you comfortable with its design tools? Can you reap a good amount of benefits? Will it help you achieve your objectives and profit from it? All these questions are the things you need to answer along the way.
3. Effectiveness
Typically, a platform's effectiveness is determined by a specific metric. But in visual communication, what is effective for you can be ineffective for others. Personal preference becomes the standard in recognizing what platform is effective. For graphic artists focusing on text and patterns, they need to study the tools revolving around these elements. At the same time, those who want to explore photographs must know what platform best offers stock photos and other photo-related features like background removal and resizing. After all, you need to check the design tool's ability to deliver the desired outcome or result you want to happen. Remember: effectiveness is the quality of having an intended or anticipated product or leaving a lasting, profound impression.
4. Professional Quality
Everyone can be a graphic designer, but not everyone can achieve a professional-looking output. It indeed takes a village to produce professional quality material using different graphic design tools. You must establish your skill set, widen your experiences, hone your existing talent, explore various graphics-related activities, and study others' works. It is more challenging to pretend that you already have the characteristics of a professional designer when you only know a little about the in-depth techniques needed.
Color matching is something that you need to know, as well as the use of typographies, where to put icons and other elements, and other technical skills. To achieve professional quality output, graphic design software will support you and inspire you to level up your artistry. After all, everything can be learned and enhanced. Just be patient, continue knowing more about these platforms, and eventually expose your creative materials to different people and accept their criticisms. Nevertheless, you will learn from people in the industry, design tools, and more experiences.
5. Suitability for Teams
When working in a group, it is crucial to look for a good graphic design for everyone. Do not pick a graphic design tool that is convenient for one person. A team cannot function well if you will keep using a design app they are not comfortable with and hinders their artistic vision. Thus, this is a significant consideration when looking for the perfect graphic software. Refrain from letting the team sink because of wrong decisions. Always consult them and consolidate their feedback about a particular design app before buying or subscribing to their deals. Know what suits everyone, and from there, you will have a remarkable and thriving collaboration toward your goals.
Graphic Design Tools for Your Needs
After knowing the considerations you need to consider, the next step is to get familiar with several graphic design tools that most likely suit and address your needs. Here are the seven (7) graphic design software you should explore, plus some vital information about them to further understand how they can support your creativity to greater heights.
A web-based graphic design tool with thousands of customizable themes is called Kittl.com. It is an effective tool that seeks to reduce the complexity of designs and lessen your workload when producing creative materials. Kittl, as a platform, is cloud-based and browser-based. This can make your app navigation and tools familiarization more fulfilling and hassle-free.
By utilizing Kittl.com's extensive toolkit, you can access various logos, icons, portraits, typographies, and patterns that you may incorporate into your project. Another highlight of this creative tool is that, with real-time text morphing, you can effortlessly deform any text, change its color, and merge it with various features like texture cutting, magic recoloring, and pre-made templates to improve your work further.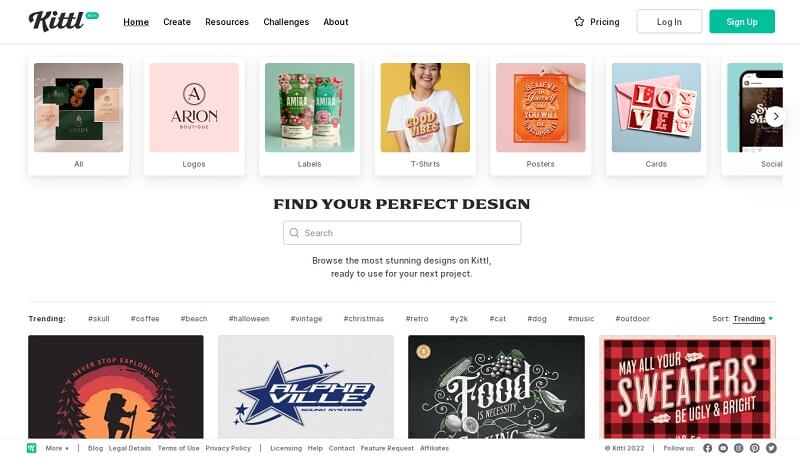 Best Advantages:
No need to install software
On their website, you may view how-to videos to learn about design tips and build your imagination.
User-friendly design platform
Many graphic elements and templates.
Comprehensive options for premium graphics, posters, and font styles that help you execute your ideas
Without investing any money, unique layouts can already be made with Kittl.com. Yet, to access limitless vector export projects, a full commercial license, and 1GB of upload space, Kittl's Pro subscription, which runs just $10 per month, is strongly advised. You may also opt to use the platform's professional templates and 10 GB of upload space with Kittl's Expert subscription, which charges $24. While Kittl.com's Business subscription, which costs $79 a month, can allow you to collaborate with up to five more people on a single account and includes advanced customer support and unique branding options.
Many creatives seek support from various graphic design tools since creating exceptional designs frequently requires tedious, time-consuming tasks. Without a doubt, IMG.LY can support you in developing original use cases for your app and assist you with your daily editing process.
IMG.LY enables creators to expedite production without jeopardizing the caliber of their finished products. Use many free options to customize the graphics for your applications. This graphic design tool has gained respect from various experts because of its outstanding pre-made elements and templates that efficiently assist groups in increasing innovation and output distinctiveness.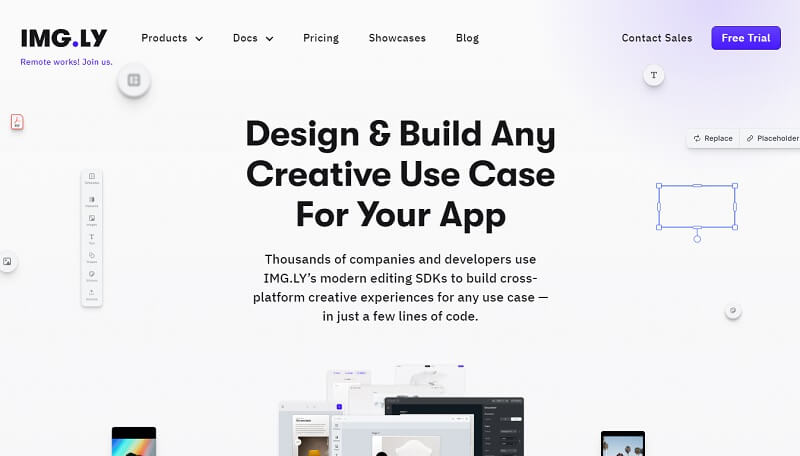 Best Advantages:
CreativeEditor SDK is an innovative design editor that is straightforward and adaptable enough for many use cases. You can design a striking UI using the SDK's headless API and extensive customization capabilities. You can create cross-platform creative experiences with just a few lines of code for any use case.
Photographer's SDK is an excellent Android, iOS, and web photo editing app. Any use case for the PhotoEditorSDK may be tailored, from simple changes and filters to unique templates and annotations. You may recreate social media creatives, picture books, postcards, collages, apparel, and more. The SDK can be flexibly adjusted to match the look and feel of your application.
VideoEditorSDK is a market-leading suite of essential video editing tools, including filters and transforms and video and audio composition. Thousands of prestigious companies rely on it to include video creation in their applications.
After all, IMG.LY's primary goal is to assist you considerably in creating excellent designs. IMG.LY wants to help your team by providing tools that make graphic design and video editing much easier and more effective than your usual routine. If you want to go beyond the free access, you can avail of their special subscription deals, which are always viewable on their sophisticated website and will direct you to contact their sales team if you have further inquiries.
Removal.AI is a known graphic design tool with advanced software. It provides a range of services that enhance images at the touch of a button using innovative technology. Its power manifests in its photo-editing program with superior background-removal abilities for photographs and artificial intelligence technology optimization. This graphic design tool blends knowledge-based processes and data-centered approaches to produce distinctive and astounding designs.
By adjusting its platform to meet your demands, Removal.Ai advances its program regularly. Using this graphic design app, you can eliminate background promptly and turn your images into stunning artwork, captivating banners, presentations, product catalogs, and other visuals.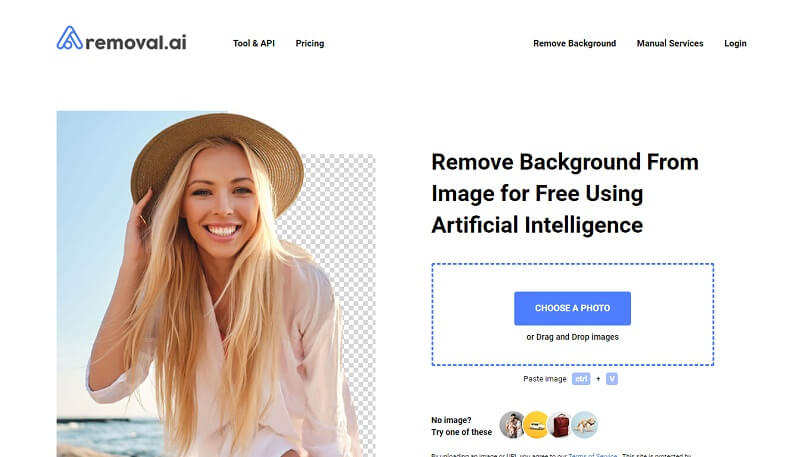 Best Advantages:
In three seconds or less, you can get pictures with a translucent, white, or custom background.
Processing one upload containing more than a thousand photographs
Set up your text and effects based on your preference
Intelligent subject identification for images
Many market-specific presets
With these benefits, there is an assurance that you can boost your style in an approach that you are most comfortable with while leveraging different tools of Removal. AI. You can enjoy this graphic design tool for free. But it is better if you unravel its exclusive features at affordable prices. You may also test out a monthly subscription that allows you to access and edit 500 photographs for just $63.99, or $0.13 per page.
On the other side, a lifetime subscription costs $8.99 for ten photos or $0.90 for each picture. Undoubtedly, it only takes a click to get Removal.Ai. This user-friendly graphic design tool will drive your creativity, build your credibility as an artist, and assist your clients in accomplishing their brand objectives.
If you are looking for graphic design software to support your brand assets and visual content generation, go for Easil. This leading graphical design tool leads you to go down the DIY creative approach by showering you with inspiration to start your creative process. Employing this online graphic design app can secure a superb design execution that can bring new clients and audiences.
You can enjoy Easil's brand kits, which include color palettes, fonts, reels, and about a million free stock photographs. You may also use their customizable templates to get started right away. Depending on your preferences, you can select from a myriad of options. These editable templates can be formal or informal, colorful or minimalist, academic or personal, and the list goes on.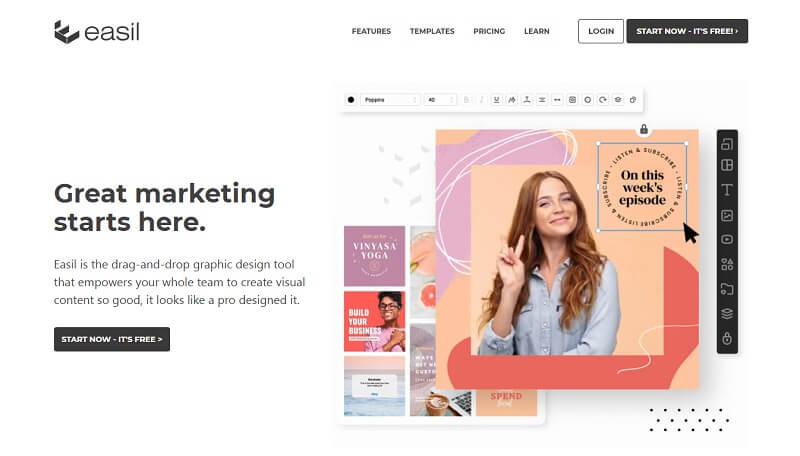 Best Advantages:
Graphic design software that is simple to use
Design workflow approval
You can store and access all the components in one location with a brand kit.
Flexible locking permission
Pick from tens of thousands of beautifully crafted and innovative templates.
With Easil, you can quickly reposition graphics, photos, and text using its drag-and-drop editing format. That is why there is no way that this tool and its design tips will fail to transform your ideas into many magical manifestations so that you can make money and spread your incredible inventions throughout the world.
Take note: The core features of Easil are all offered free of charge. However, Easil Edge, which provides better designs and unlimited premium templates, is only $59, and Easil Plus, for just $7.50, is also there to elevate your creative plan and game.
Companies and organizations can expedite the development and implementation of multichannel designs with Flexitive.com. This graphic design tool varies from other graphic design software due to its unique features that you can use for free. Various industries can present themselves at their best and enhance their visuals and communication materials with the help of Flexitive's designed "responsive" and "dynamic" design solutions.
Because Flexitive.com improves productivity across many metrics by leveraging a wide variety of designs and A/B testing, you can produce modified versions of your work without any struggles. Therefore, with this online editing app, you can create different layouts that best fit other platforms you wish to utilize.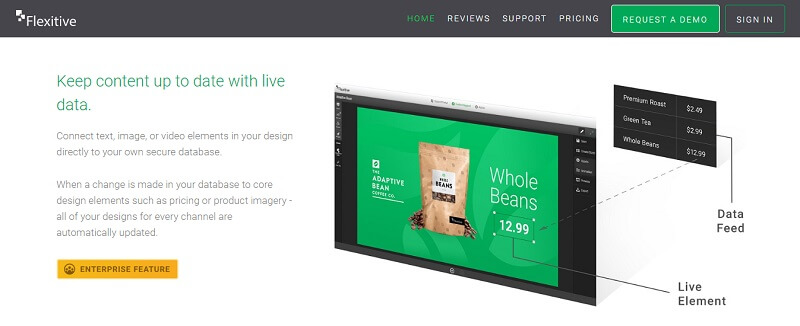 Best Advantages:
Automate the manufacturing and dissemination of omnichannel designs
Dynamic and responsive design production
Produce universal materials that can be instantly updated across a vast array of designs.
Create a single base design that can be adjusted to meet a variety of sizes
Improve the designs for use on all platforms.
With 100 GB of cloud storage per user available with Flexitive's Team Membership, you can design for cross-platform omnichannel communications, access video tutorials, free google font styles, and standard templates. For just $59 per month, this offer allows for managing several users, their access settings, and the collaboration of design folders between coworkers to increase productivity.
Additionally, the monthly cost of Flexitive's Enterprise subscription is $89 per month. This subscription is perfect for businesses looking to share and create stunning brand designs. It comes with 200 GB of cloud storage per user, customizable templates, workflow consultation, live data elements, and many more.
Due to the intense competition in many industries, artists and other professionals in the visual communication environment must adapt and meet these standards. Hence, a growing illustration library that you can make your own and elevate your performance is a must. Here's where DesignStripe comes into play.
With this well-known graphic design tool, many designers can concentrate on their fields of expertise, conserving their resources and time when determining where to commence their work. With the help of the many user-friendly editing tools provided by DesignStripe, artists can rely on exhibiting and honing their skills rather than starting from nothing. You can efficiently turn your designs into amazing mockups in your browser through this graphic design software. You can also enjoy many impressive templates that differentiate you from other pools of graphic designers. During this pandemic, where teams work remotely, DesignStripe will guarantee you a healthy and productive collaboration because of the following: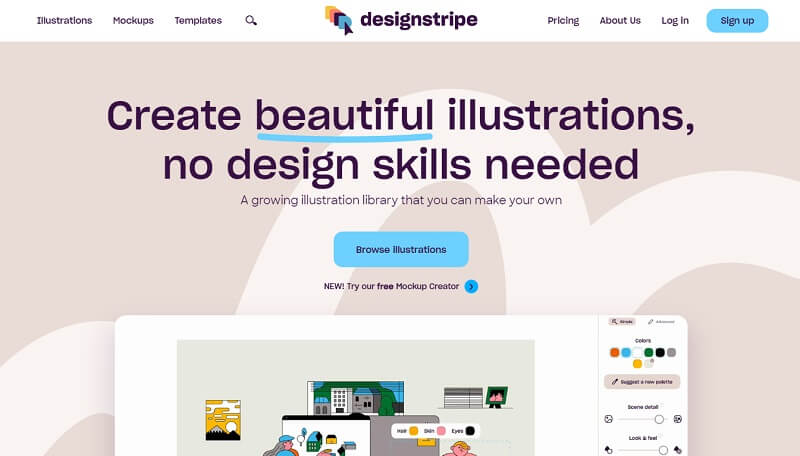 Best Advantages:
It's simple to switch and change items to suit your creative vision.
New styles are added daily to keep your work modern and relatable for your target market.
Easy adding or removing objects from your layout while maintaining the original composition and topic.
You can enjoy color matches according to your branding and personal choice.
Beyond everything, DesignStripe strives to help businesses bring out new items, including posters, mockups, online posts, and other design-related content. You can effectively harness its strength for free.
However, if you want to make the most of its features, you may upgrade to its $20 per month offer to have unlimited access to its styles and downloads of SVG, PNG, and JPG files. The company also intends to provide a Team subscription soon, allowing your company access to high-class products and other premium services like multi-user assistance, brand identity, and style unification.
Drawkit is presently a top design tip recognized by several creatives globally because it has already established itself as a go-to source for images and graphics online. You can utilize Drawkit to get access to stunning hand-drawn vector graphics that go well with your company's plans and brand objectives. The platform of this comprehensive graphic design tool has grown over time as new designs are added on a day-to-day basis for your benefit.
Additionally, it offers a wide range of alternatives that can help you demonstrate your creativity even more. These are tools appropriate for animations, illustration kits, and breakthrough designs and templates that can draw customers to your business or help you craft outstanding strategies for personal consumption. Besides, Hand-drawn vector graphics have a certain allure that makes them perfect for use by anyone, whether in e-commerce, SEO, advertising, or digital marketing. Consequently, it is a fantastic opportunity that you should seize.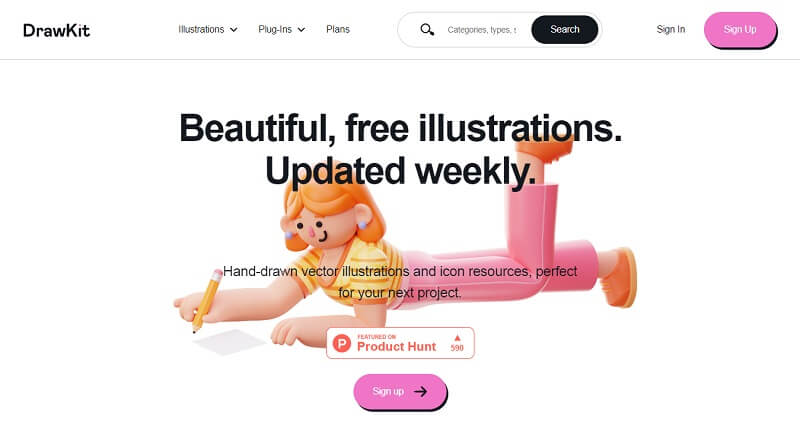 Best Advantages:
Availability of 2D, 3D, icons, animation, and mockups
Enjoy personalizing free images.
Bulk of hand-drawn vectors and icon resources
Assist you in making your website more dynamic and interesting.
Offer a variety of examples per topic, depending on your theme, whether for formal or informal purposes
Drawkit's fundamental materials are already available to you for free. However, for just $79 a year, you can have unrestricted access to its pro materials and priority access to its new collection. But with their lifetime subscription, you can get a great deal of access to endless professional and fresh content for just $295.
If you're looking for an easy and affordable way to create professional videos, Renderforest is the perfect tool. With a wide range of templates to choose from, anyone can create impressive videos in just a few minutes. Plus, all the designs are fully customizable so you can tailor them to your specific needs. So whether you need branding materials or website designs, Renderforest has everything you need – and more!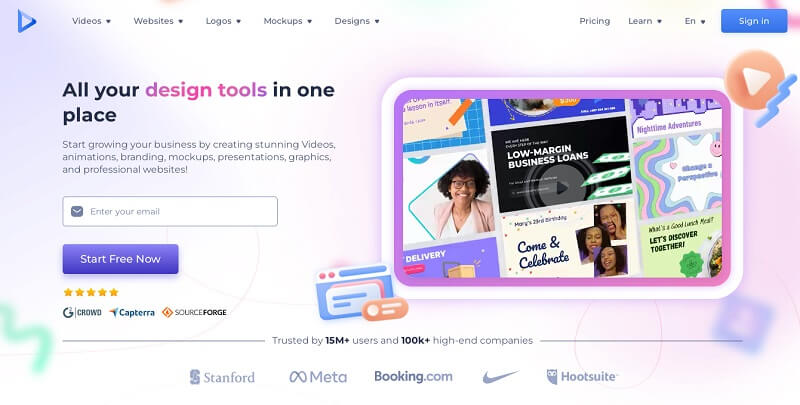 Best Advantages:
Create top-notch quality explainer and promotional videos, intros, and outros for broadcast standards, music visualizations, and more
Ready-made logo templates, branding guidelines
Mockups to make your brand more recognizable
Create responsive, high-speed websites that are optimized
High-quality presentations crafted by experienced designers
Create printables, documents, and more, use high-end designs
Other creative tools to edit and create online
Renderforest prices are designed to be affordable for businesses at any stage of growth. Our Lite package, perfect for growth-stage businesses, is just $9.99 per month. Pro, an advanced package containing growth tools and premium websites, is only $19.99 per month. Lastly, Business, for enterprise and team solutions promising top-tier results, costs $19.99 per user.
Conclusion: Graphic Design Tool
Remember that becoming a skilled graphic designer necessitates original ideas and implementation and the appropriate tools and equipment. You will have a solid basis to communicate the concepts and streamline the process as a designer using the best tools that suit you and your team. Thus, all you need to do to advance from being an excellent designer to a great one is to amass a set of tools for professionals in online and graphic design. Study them, know their advantages and disadvantages, seek advice from experts and co-workers, and always check the prices, efficiency, effectiveness, professional quality outputs, and suitability. You will never be lost when you master these considerations when looking for a graphic design tool.
Short Bio:
Lyn Pasco is a full-time graphics designer and photo editor at Ephotovn – an international photo retouching company. With over 3 years of experience in the design and photography industries, she has provided creative solutions for both personal and commercial clients.