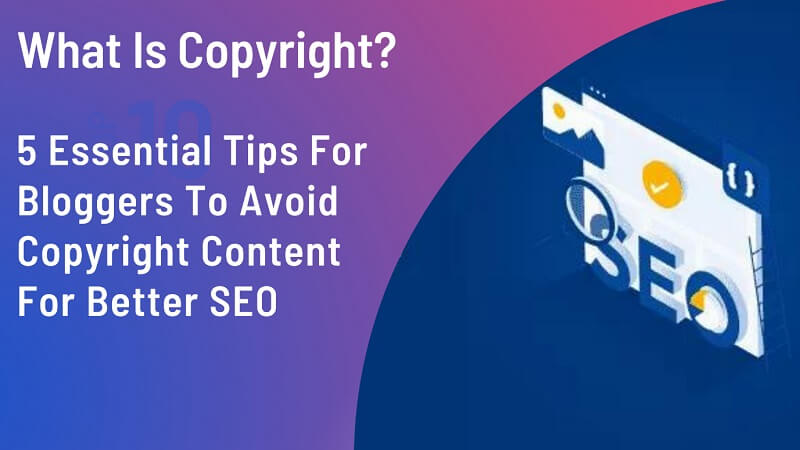 What Is Copyright? 5 Essential Tips For Bloggers To Avoid Copyright Content For Better SEO
in
Detailed Guide
on March 14, 2022
Hey guys, today in this post, we are going to discuss what is copyright? And 5 essential tips for bloggers to avoid copyright content for better SEO. So keep reading.
One of the common causes of copyrighting is plagiarism. Writing similar content to use another author's writing without any credit can become a cause for copyright strikes within no time.
According to Moz, there are around 29% of websites on the internet feature duplicate content. So, do all of them receive copyright strikes? Well, most of them do, and that's why it's necessary to avoid it.
But, how do you avoid it? What is the essential process of understanding copyright strikes and removing them from your content?
These are all viable questions, and they require us to dig deeper. Therefore, let's do that and find out how to avoid it for better SEO and content marketing.
What Is Copyright?
Copyright or copyrighting is the tactic that people use to protect their intellectual properties. This practice has been around for ages, as the local government or law provides the copyright owner the right to sell or distribute their creative work.
In violation of such terms, the violator is prosecuted and, in many cases, forced by the law to pay for the damages in sum. Most commonly, a copyright owner would own something, which is their own intellectual property.
It can include music, writing, or other kinds of creative material that might get used without permission.
3 Types Of Copyrights In Marketing
Copyrighting in marketing is vastly different than other forms, such as entertainment, literature, etc. However, it does fall into some of the same categories, as it's important to understand those.
Therefore, to avoid particular types of copyrights, here are the three main you should remember:
Literary Works
If a website is copyrighted, then every piece of content that gets posted on it by the owner is their own literary work and intellectual property. Plagiarizing such content might end up in legal penalties or prosecution—all depending on the local laws and rules enforced by the government.
Dramatic Works
Dramatic works include videos or other visual types. This mostly includes YouTube or Facebook video content where the marketer or business posts their videos under copyright law.
In case of violation of these copyrights, the penalties are the same. Moreover, these can lead to more severe punishments too.
Pictorials & Graphic
Pictorials and graphic laws help protect the copyright owner from violating their images, visuals, or another website/blog material in order to protect their visual, intellectual properties, and websites file for copyrights.
This way, they can protect their website design, images, or other visual content that their website, blog, social media, or other marketing mediums use.
5 Essential Tips For Bloggers To Avoid Copyright Content For Better SEO
Avoiding copyright requires you to lead with originality. The more you focus n originality, the easier it will be for you to create exclusive content. That's why we'll be discussing the top tactics to help you avoid copyright without any hassle.
We'll focus on:
Researching properly
Paraphrasing properly
Checking and removing plagiarism
Citations
As these are the four pillars of avoiding plagiarism, we'll be diving into each method to understand just how you can keep your blog clear of any copyright strike—and in the process, advance in the SERP ranks. So, here are the 5 essential tips to avoid copyright:
1. Understand The Key Concepts Of Your Topic
The key concepts of your content are going to be the paramount section of your writing. That's why it's imperative that you grasp them properly. Therefore, whenever you're given a topic, it's a necessity that you focus on:
Finding out the topic's basics
Learn the intricacies
The common opinion, aka what the common audience thinks
Debunk any theories, if you can
Develop your own opinion about it
The last aspect is especially important since it can help you create an article in your own words. Therefore, focusing on learning the complexities of your topic before you write will make it a lot easier.
2. Learn The Art Of Paraphrasing
Paraphrasing is an art when done right. When done wrong, it's plagiarism. That's why it's imperative that you learn how to do it properly. So, how do you go about doing it properly?
Read the content you wish to paraphrase
Note down the key ideas behind it
Formulate words in your mind, describing the same idea
Just use a paraphrasing tool
If you're short on time, then you can simply use a paraphrasing tool and be done with it. If not, then rewriting any written content yourself should always be your priority to ensure 100% originality.
3. Check For Plagiarism After Writing – Every Time
One of the most common occurrences of copyright strikes is when content is written and posted without being checked by a plagiarism checker. That's why it's an important process to check for plagiarism before you post your content. So, how should you do it?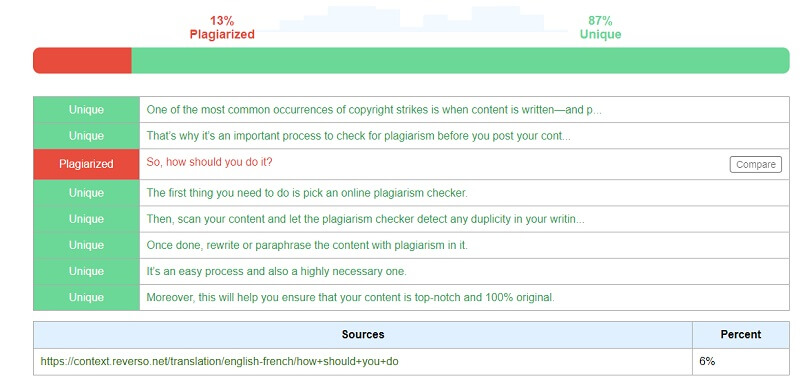 The first thing you need to do is pick an online plagiarism checker. Then, scan your content and let the plagiarism checker detect any duplicity in your writing. Once done, rewrite or paraphrase the content with plagiarism in it.
It's an easy process and also a highly necessary one. Moreover, this will help you ensure that your content is top-notch and 100% original.
4. Mention Your Sources – Cite Properly
One of the most common reasons that plagiarism or copyright strikes happen is because lack of citations. That's why you need to be able to cite your content properly to ensure it's 100% original.
How do you cite them? Here's a proper format to use in blogs:
Author's Name (Date of the blog)
Blog Post title in sentence case
Blog post [URL in the bracket]
You can add an outbound link as well. However, referencing your source blog at the end of your content like this will help you avoid plagiarism and any copyright strike chances.
5. Directly Quote The Author
Directly quoting the author will help you avoid plagiarism as well. If you're using content from another blog, try to quote it directly. So, if your information is related to SEO blogs, then a direct quote would look like this:
"Since some experts suggest that "content is king," it's important to understand just why that is the way it is."
As you can notice, the part mentioned in the quotes is the direct quote from Bill Gates. And it's a viable way to avoid any copyright strikes.
Conclusion
These are the viable ways to avoid copyright strikes and ensure that your blog is ideal for SEO. The idea is to ensure that you lead with content originality. Then, focus on creating content that's original, integral, and led by examples.
I hope you liked this post on what is copyright? And 5 essential tips for bloggers to avoid copyright content for better SEO. Also, if you have any queries related to this post then feel free to ask in the comments section below.