Are you looking for the top social commerce platforms for your business growth? If yes, then your answer is here. So keep reading.
Social Commerce has grabbed attention given how it helps brands and businesses boost sales via social media platforms – people's go-to online platforms.
A social commerce platform provides solutions to businesses to make social promotions and sell through social media.
But since every business has its personal objectives, only a specific social commerce platform would suit them to achieve those business objectives.
So, here is a list of the top 6 social commerce platforms that we think are the best going around.
Top 6 Social Commerce Platforms
Here's a list of the top 6 social commerce platforms that are doing rounds in the online business market.
1. Taggshop
Taggshop, in recent years, has risen as one of the best social commerce platforms that helps brands boost their sales through social media content.
Also, Taggshop is known for its shoppable galleries such as shoppable UGC, shoppable social feeds, shoppable Instagram feeds, product page galleries, on-site UGC lookbooks, and much more.
It provides visitors with a one-of-a-kind social shopping experience while they are on the website.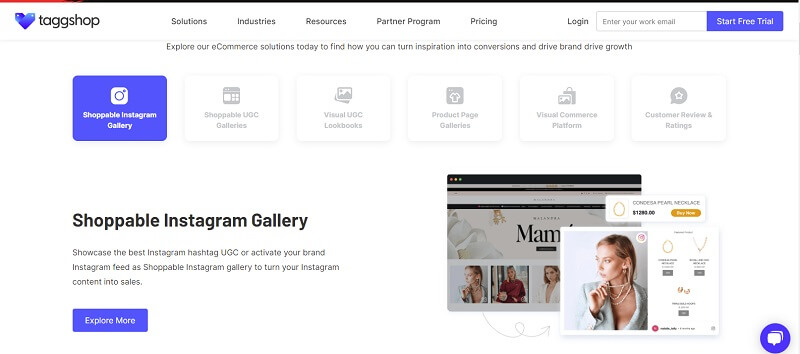 The authentic shoppable social galleries offer real-life experiences, entice users to explore your products, foster brand engagement, and encourage customers to purchase.
Taggshop is constantly adding new features to enhance the shopping experience and Shoppable hotspots are one such feature.
The shoppable tags for the shoppable galleries on your eCommerce website ensure a seamless shopping experience.
2. TikTok
TikTok's association with social commerce is still in its early stages, but the video-sharing platform has been conducting trials in this area. It has already forged a global partnership with Shopify.
By installing a new TikTok channel app from the Shopify App Store, business merchants can create, run, and optimize TikTok marketing campaigns directly from the Shopify dashboard.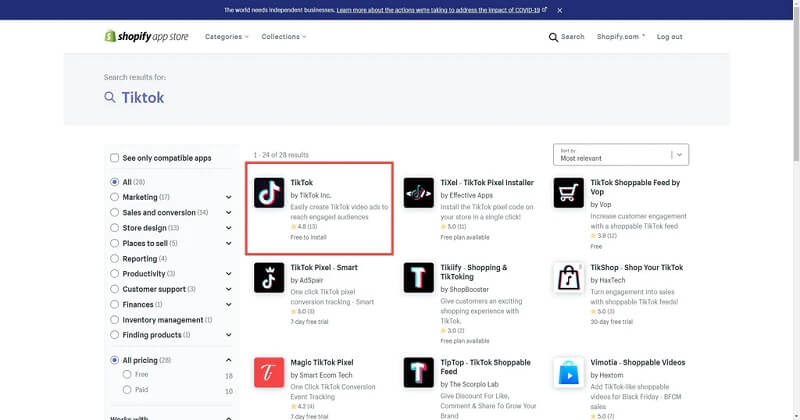 Brands and businesses can create native, shareable content that converts their products into shoppable In-Feed video ads.
Shopify and TikTok social commerce also tested a new shopping button, allowing TikTok creators to link to their Shopify storefront from their videos.
3. Amazon Live
Amazon has recently introduced social eCommerce in their work. Brands are combining social shopping and influencer marketing with Amazon Live. The overarching goal is to generate as much traffic as possible.
Brands can create live videos showcasing influencers using their products with the help of influencers in their network. In addition, they can also provide viewers with discount coupons and other incentives.
It persuades viewers to purchase the product and services. Their favorite influencers demonstrate the product's use case, and they also receive discount coupons. Amazon Live boosts brand engagement and sales opportunities.
4. Instagram
Instagram has always had an advantage over many of its social competitors because of the inherently visual nature of the platform.
It has always been considered the top social platform to display products, particularly if you make an effort to make your images eye-grabbing.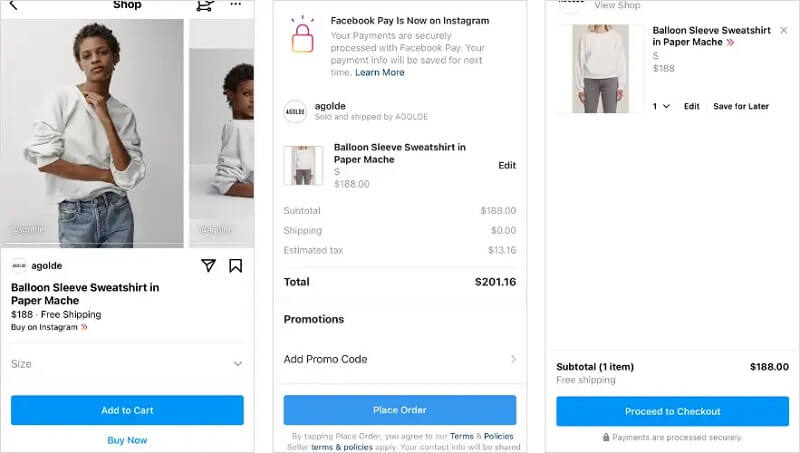 Initially, Instagram didn't allow for pure social commerce. When somebody clicked on one of your Shoppable Posts, they followed a link to the appropriate page on your online store, rather than making the sale entirely on Instagram itself.
However, Instagram social commerce has since upgraded the basic features of Shoppable Posts. Instagram now has an in-app checkout feature, so customers never have to leave Instagram to make their purchases.
5. Facebook
Facebook has developed a set of social commerce tools to assist brands and businesses. It now allows many US businesses to use Instagram's in-app checkout, allowing customers to complete their purchases entirely within the Facebook app.
Merchants can use Facebook Shops to create a customizable store from which customers can shop on social commerce Facebook and Instagram.
Facebook Shops are designated areas on the platform where customers can browse and make purchases.
Also, Facebook Shops include a messaging button, allowing customers to communicate with sellers via Instagram, WhatsApp, and Facebook Messenger.
Facebook also encourages brands to Livestream and is exploring the possibility of allowing consumers to buy directly from a live stream.
6. WeChat
WeChat has played an immense part in the growth of social selling. Also, WeChat mini-programs are the focal point of the platform's success in social commerce. They enable users to share content and shopping experiences related to eCommerce.
Besides this, using WeChat mini programs, businesses have created marketplaces. Pinduoduo is probably the most well-known, as it sells to users and offers steep discounts if they team up with other users to make bulk purchases.
The real benefit of WeChat mini programs is that users can make purchases and communicate with sellers directly from the app.
They can recommend products to their friends and family. They can, in fact, participate in all stages of the purchasing process without leaving WeChat.
Up To You!
As we mentioned before, social commerce has emerged as one of the most active online businesses in recent years. Social commerce platforms are rising and brands are starting to integrate them into their business process.
In this blog, we mentioned the top 6 social commerce platforms that would instigate or improve your business growth. Pick the one that goes with your business model and start reaping the benefits.
Moreover, a good business website is essential for success in today's digital age. Discover the key elements that make a website stand out and attract customers.
Author Bio:
Saurabh Sharma is a Digital Marketing Expert at Taggbox, a leading UGC platform. He has two years of experience in the Information Technology industry. He spends his time reading about new Digital Marketing trends.