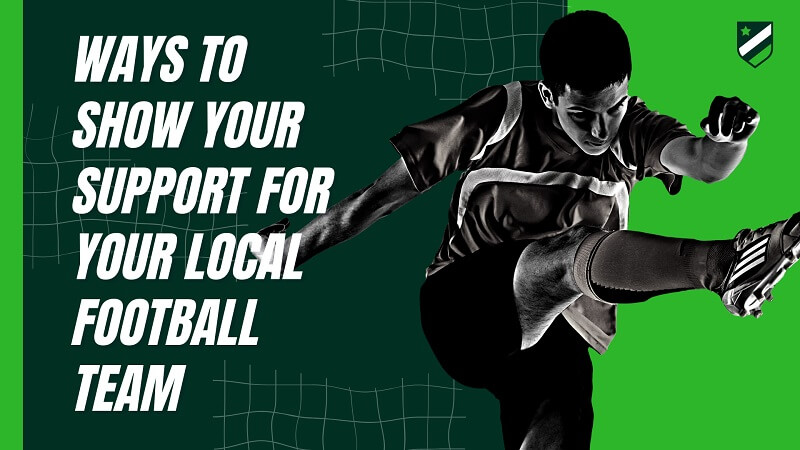 5 Fun and Creative Ways to Show Your Support for Your Local Football Team
in
Technology
on April 27, 2023
Football season is upon us, and as a devoted fan of your local football team; you're always on the lookout for unique and creative ways to show your unwavering support. Cheering from the stands is just the beginning! In this blog post, we'll explore five fun and creative ways to show your support for your local football team beyond the game itself.
Wave Your Team's Colors with Custom Flag Templates
Designing and raising flags can be a captivating way to display your team's colors and demonstrate your support. With PosterMyWall's collection of flag templates, you can easily create a custom flag that captures the essence of your local football team. Choose from a variety of eye-catching designs and customize them.
Raise the flag high at the stadium or display it outside your home to show your team's pride to the world. A custom flag not only adds a visual spectacle but also serves as a rallying point for fellow fans, creating a sense of camaraderie and unity among supporters.
Join a Fan Club and Connect with Fellow Fans
Joining a fan club is an excellent way to connect with fellow fans and create a strong community of supporters for your local football team. Fan clubs often organize events, watch parties, and other activities to celebrate the team and bring fans together. You can also participate in discussions; share your thoughts and opinions, and stay updated with the latest team news and updates.
Being part of a fan club allows you to immerse yourself in the team culture and build meaningful relationships with like-minded individuals who share your passion for the game. Fan clubs also provide an opportunity to collaborate on creative initiatives; such as organizing team-themed events or fundraising campaigns to support the team's needs. Being actively involved in a fan club can enhance your overall experience as a supporter and deepen your connection with your local football team.
Volunteer at Game-Day Events
Another way to support your local football team is by volunteering at game-day events. Many football teams rely on volunteers to help with various tasks, such as ticketing, concessions, and game-day operations. Volunteering not only helps the team but also allows you to be part of the action and contribute to the overall game-day experience.
You can meet other fans, interact with players and staff, and get a behind-the-scenes look at the game-day operations. Plus, you'll feel a sense of pride and fulfillment knowing that you're playing a role in supporting your local football team. Volunteering can also be a rewarding way to give back to your community and make a positive impact. It's a win-win situation for both you and your local football team!
Create Team-themed Social Media Content
In today's digital age, social media is a powerful tool for expressing your support for your local football team. Get creative and design team-themed content to share on your social media platforms. You can create custom graphics, memes, and videos, or even write blogs about your team. Share your thoughts, predictions, and excitement for upcoming games, and encourage others to join in the conversation.
Tag your local football team in your posts and use team-specific hashtags to increase visibility and engage with other fans. Your social media content can help spread team spirit, generate buzz, and create a sense of community among fans; even beyond your local area. It's a fun and interactive way to show your support and connect with fellow fans who share the same passion for the game.
Get Your Game Face On with Sports Poster Templates
Another creative way to support your local football team is by creating sports posters using PosterMyWall's sports poster templates. Get your game face on and design a poster that showcases your team's players, stats, and achievements. You can even add your photos and personal messages to make it extra special.
Hang the posters around your local community, at your workplace, or in your own home to generate buzz and excitement for your team. Sports posters are not only a great way to show your support, but they also make for fantastic keepsakes to cherish the memories of the football season. The posters can serve as a visual reminder of your team's accomplishments and help create a sense of anticipation and enthusiasm among fans.
Last but not least…
Supporting your local football team is not just about the game. It's about being a part of a community and making a positive impact. It's about coming together with fellow fans, creating memories, and building lasting connections. Whether it's through physical displays of support like flags and posters or virtual engagement through social media, every effort counts.
One final thing to remember is to always respect the intellectual property rights of the football team, and use their logos, colors, and slogans with permission if required. Also, make sure to follow local guidelines and regulations when creating and displaying team-themed content. I hope you like this article on five fun and creative ways to show your support for your local football team.